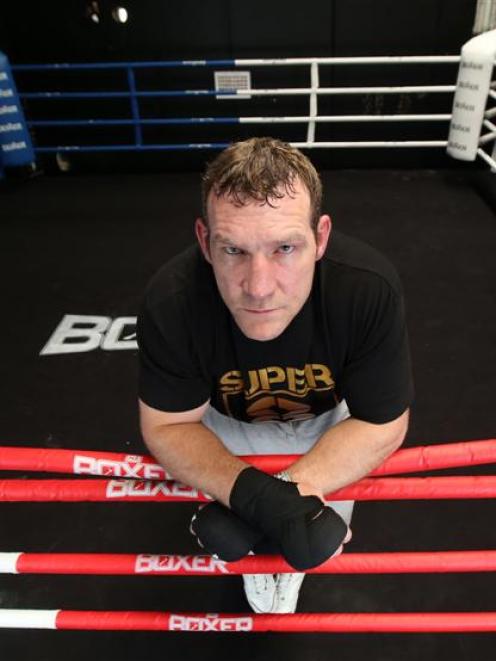 Martin Rogan is getting ready to throw some bombs.
The Northern Irish heavyweight hopes to put his huge fists to good use when he competes in the Super 8 tournament in Auckland on Wednesday night.
The tournament will feature five internationals and three New Zealanders, competing in an elimination format for a $500,000 prize pool. The winner will pocket $200,000 and the runner-up $100,000.
Rogan was in Christchurch last week, where he connected with the large Irish community helping to rebuild the city, and trained at a local gym.
He looked sharp and lean during his workout and showed some great variations on his left hook, mixed with some menacing power.
Rogan (43) said he was ready to give the tournament a shake-up.
''Unlike a couple of my last fights, I have had several months to prepare and have been training really hard and feel in the best condition I have in ages.''
He said he went into his last fight, against Germany's Erkan Teper, in November on the back of limited preparation, and paid a hefty price with a first-round knockout loss and a broken jaw.
Rogan said his jaw had healed, he was in a much better place mentally, and was looking forward to squaring off against England's Michael Sprott in his Super 8 quarterfinal.
Rogan turned professional in 2004 after about 45 amateur fights, including several for Ireland, while Sprott (39) went professional in 1996.
Both are former Commonwealth champions, but they have never fought each other.
Rogan said it was ironic he had to travel to the other side of the world to get the match-up.
''Life has a strange way of planning things out. I believe all things happen for a reason and my reason for coming here is to beat Sprott and move on,'' Rogan said.
He is expecting a fierce battle from Sprott, who won last year's United Kingdom heavyweight prize fighter tournament.
''Michael is a cagey and brave fighter who knows the sport really well, so I will have to put pressure on him, stay on him and use my better hand speed to catch him.''
Rogan won the inaugural UK heavyweight prize fighter in 2008 and was beaten on points in last year's semifinal by Audley Harrison.
His record is 16 wins and five losses, while Sprott has 40 wins and 21 defeats.
One of those wins was against New Zealander Joseph Parker's next opponent, Brian Minto.
Fighting in an elimination tournament was completely different from a one-off fight, and experience in the format and superior fitness would be crucial, Rogan said.
He said it required ''sharp bursts of energy'' and a ''solid defence'', or a 10-8 round could see a fighter in dangerous territory.
Fights are over three three-minute rounds.
If Rogan wins, he will face New Zealander Kali Meehan or Australian Hunter Sam in his semifinal, before a possible final showdown with Hasim Rahman, Antz Nanson, Brice Ritani-Coe or Alonzo Butler.
While Rogan, who hails from west Belfast and is married with three children, came to New Zealand with the sole purpose of winning the Super 8, he is also looking forward to chatting to long-lost cousins in Palmerston North.
His uncle had settled in New Zealand in the early 1970s and it would be nice to put that piece of his family's puzzle together.