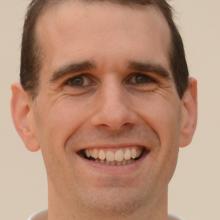 Rugby looks set to remain Jono Bredin's priority next year, but that is not stopping him featuring at the highest level in netball.
The Dunedin umpire is set to attend the Commonwealth Games on the Gold Coast next year, as well as officiating in January's Quad Series in England and South Africa.
One of the country's top umpires, he was unable to commit to this year's ANZ Premiership.
However, he is in talks with Netball New Zealand about featuring in next year's competition.
That is not a bad effort for someone whose main focus is in another sport.
Rugby had ``morphed into'' being Bredin's priority and he is committed to returning to the Dunedin club fields next winter.
Having had a successful year, which culminated in being the assistant referee in the Mitre 10 Cup Premiership semifinal in Christchurch, he was stoked with his year in the sport.
Still relatively new to the game, he is enjoying the challenge.
However, he is not looking too far ahead as to whether he could end up as a dual international referee.
``I've always said with rugby I'll just keep doing the hard yards and that starts with what I do on a Saturday here with premier footy and whatever happens, happens.
``I'm ambitious. I obviously want to work hard, to do the best I can in anything I do and I guess rugby's no different.
``The experiences I've got this year have certainly lit my fire in terms of that desire to keep pushing in rugby.
``I'm not in control about where that will or won't end up but I'm just going to do the best I can and, hopefully, some opportunities will open for me.''
He has stayed involved in netball umpiring this past winter through doing midweek club games, as well as some Southern Steel training runs.
However, it had been hard to commit to doing more at a higher level.
Alongside his rugby involvement, Bredin also has a young family, is the chairman of Dunedin Netball and works a fulltime job at Keogh McCormack Ltd.
Despite that, he is looking forward to attending the Commonwealth Games and hopes to perform well there.