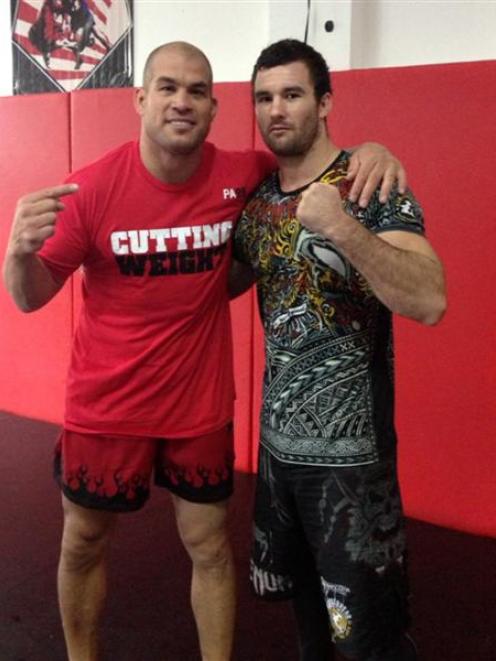 Dunedin man Brogan Anderson knows what it is like to put in the hard yards with some of the toughest in mixed martial arts.
Anderson (25) returned home last week after about seven weeks in Phuket, Thailand, where he trained with fighters such as Ultimate Fighting Championship welterweight Brian Ebersole and former UFC light heavyweight champion Tito Ortiz.
The Team Hammerhead fighter spent four weeks working on his striking and wrestling at Ebersole's Tiger Muay Thai, before training at Dragon Muay Thai and Phuket Top Team where his ground game was the main focus.
Anderson said every day with Ebersole he learned something new.
''While I have a bit of experience, training with Brian was a lesson in how much I don't know because he is so knowledgeable,'' Anderson said.
He said it was not hard on his body, and more about technical improvements.
The durable Ebersole (33), who held a seminar in Dunedin in 2012, has an astonishing 68-fight, 50-win record, including a four-win two-loss record since joining the UFC in 2011.
Anderson said in his last week with Ebersole he began training at Dragon Muay Thai and carried it through during his final weeks at Phuket Top Team where he spent his afternoons wrestling, doing jiu jitsu and much MMA ground-based striking.
Anderson said he had shed about 5kg, and the ''32degC temperatures in the shade were really hard'', but it was well worth it.
At Phuket Top Team, Anderson took part in a seminar run by Ortiz.
Ortiz (39) is a UFC great who made his debut in the promotion in 1997.
He won the light heavyweight title in April 2000, defended it five times up until September 2003, and was inducted into the UFC Hall of Fame prior to his retirement fight in 2012, but since signing with rival MMA promotion Bellator in 2013 the UFC has removed him from its list.
Anderson described the seminar as an ''awesome experience''.
''In part it was the small things that make the big changes, like precise ground striking.
''Not many people can say they have had elbows rained down on them by Tito,'' Anderson said.
Anderson's record is nine wins and four losses, seven wins being first-round submissions.
He debuted in 2011 and won the Supremacy Fighting Championship New Zealand light heavyweight title last year, and has defended it once.
He is prepared to defend it when an appropriate challenger comes up, but Anderson sees his immediate future in the 84kg middleweight division, and he wants to fight at that weight on the Hammerhead Productions show in Dunedin on October 11.
Anderson said StrikeForce Auckland fighter and UFC-contracted Dan Hooker had proved that if you worked hard enough opportunities would come.
''Within the next couple of years, I would certainly like to sign with a worldwide promotion.
''That may not necessarily be the UFC, but it is certainly a goal,'' Anderson said.
Team Hammerhead coach Matt Toa said Anderson would defend his SFC title against whomever the promotion put in front of him, but it was time for him to have another crack at the middleweight division, because it offered him more opportunities.
Toa would like to see him take on the winner of the bout between SFC middleweight champion Dan Digby and Arthur Lasike.
Anderson lost to Lasike as an amateur middleweight in 2012.