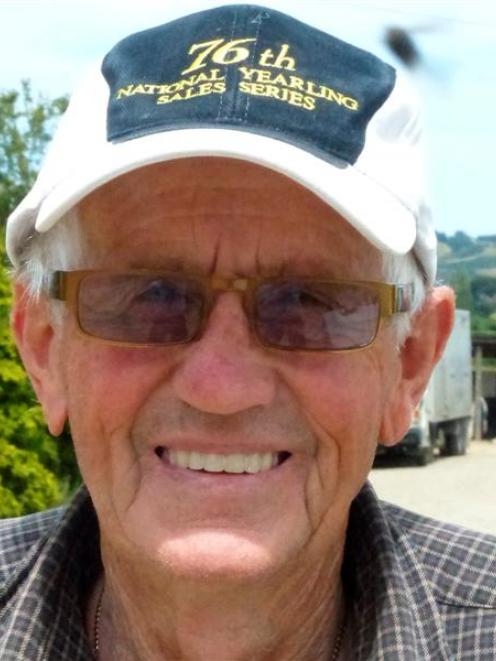 Inferno is a long way from home, but Brian Anderton is trying to make things as familiar as possible for the mare before she tackles the $200,000 group 2 Wellington Cup tomorrow.
The mare is one of three horses from the Taieri Plain engaged for the 2400m journey. The other two - The Solitaire and The Glitzy One - also bear the Anderton name in the trainer's column, that of Brian's nephew, Steve.
Brian Anderton, who prepares the Yamanin Vital mare with son Shane, has been in contact with his brother Hec, who is looking after all three mares at Howie Mathews' property in Otaki.
''She was a couple of days getting back on her tucker but she's done well since,'' Anderton said of Inferno.
''[Hec] rang me up [on Tuesday] and said she looked immaculate. He's very happy with her.''
Inferno will have one regular friend with her on the track at Trentham tomorrow. Shankar Muniandy's record with the mare has earned him the ride in the stayers' event, replacing Michael Coleman from last week's third in the Trentham Stakes ''It will be Shankar's first ride at Wellington but he's the only jockey that's won on her, and I feel I've got to be loyal. If you don't get the opportunities, you can't make it.''
Inferno showed Anderton everything he wanted to see in her Trentham Stakes run and should make the most of her draw of eight in the 18-horse field.
''What I liked about it was when she started [her run] a furlong and a-half out, she kept it up for the last bit. I felt she was probably doing her best work [at the finish].''
Anderton will have his ''toes and fingers crossed'' as he watches the race unfold, knowing that luck still plays a big part in prestigious races with big fields.
''As long you get an uninterrupted run over the last 600m - you don't want [horses] coming back on to you and carting you through the field.''
Steve Anderton is more than happy with the outcome of Wednesday's barrier draw with The Glitzy One jumping out of gate two, and The Solitaire drawing 15. The Solitaire will likely start from gate 12 assuming the ballots are scratched tomorrow morning.
''If either one of them had to get the outside draw, I'd prefer her anyway,'' Anderton said.
''The other mare should get a good run as she should get back a wee bit, get a bit of cover and go to sleep, hopefully.''
The reports from Hec Anderton were very comforting as the week had gone on.
''He's very happy with The Glitzy One and the other mare has come through good,'' Steve Anderton said.
''[The Solitaire] just did a bit of pace-work this morning, but she didn't need to do much this week.
''As long as they can get off the pace with a bit of cover, they get their opportunity.''
TAB racing fixed odds bookmaker Stephen Hunt said the Otago trio, who opened at prices ranging from $18 to $21, had been nibbled at by punters. but the biggest mover in the fixed odds market was Mungo Jerry, who was moved in from $18 to $14 on the back of several bets. Last week's Trentham Stakes winner, O'Fille, was the best-backed horse for the Wellington Cup, but remained at her opening quote of $7 yesterday.
---
Three to watch:
Spiro
The 2011 Wellington Cup winner is a big fan of Trentham, winning three times and placing five times on the Wellington turf, including a nice second in last week's Trentham Stakes. The 59kg might be too much for him to haul around though.
Ransomed
The 5yr-old Handsome Ransom gelding had had no right to win the Marton Cup from his back-field position on a slow pace. He is a very good stayer in the making, and in-form jockey Johnathan Parkes can choose his spot in the running from barrier seven.
My Scotsgrey
Best known for his 2009 New Zealand Cup, My Scotsgrey has endured an injury-plagued career but is still soldiering on, including a nice run for second behind Ransomed in the Marton Cup. He's no sit-sprinter, so expect him to start a long, steady run from about 800m out.
---