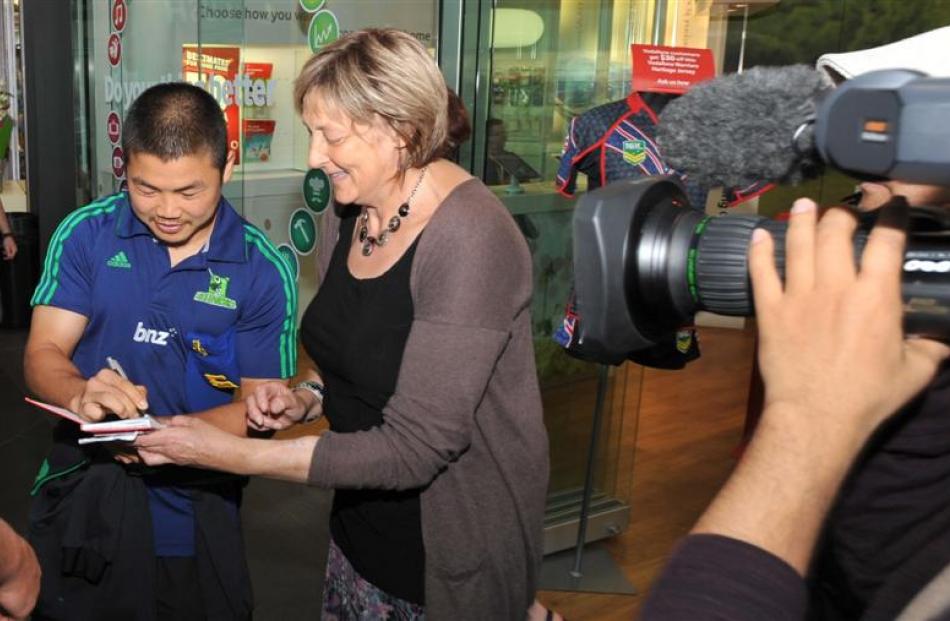 You can have your World Cup-winning All Blacks, your home-town boys, and your blokes who have played both union and league to the highest level.
They all have to bow to the wee man.
If the title of ''most popular Highlander'' can be judged on requests from the media, that title must go to Japanese halfback Fumiaki Tanaka.
He may have made his first start only last week but Tanaka has been on the cover of magazines, will be the subject of a documentary and has also made the pages of the New York Times.
It seems being the first Japanese player to play the game at this level, and in New Zealand, is big news back in Japan.
Tanaka (28), along with Panasonic Wild Knights and Otago team-mate Shota Horie, are the first two Japanese players to play in the Super 15 (Horie joined the Rebels this year).
Tanaka, who had a standout year for Otago last season, has been the most requested Highlander for media interviews, Highlanders marketing manager Doug McSweeney said.
Japanese public broadcaster NHK is doing a full documentary on Tanaka and followed him for a month as he trained and sat on the reserves' bench for the Highlanders.
Another Japanese broadcaster, Wowwow Television, has also done pieces on Tanaka and his adventures.
Other broadcasters have produced items on the Japanese international, while the New York Times, out of its Sydney base, wrote an article on Tanaka last month.
He has also graced the cover of a couple of Japanese rugby magazines.
Total Rugby, the television programme produced by the IRB, taped an item about him last week.
Tanaka, who stands 1.63m tall and weighs 75kg, does not speak much English, though he is learning. He has an interpreter, Shogo Tanaka - a PhD student at the University of Otago, who is no relation - to help.
Tanaka made his first start for the Highlanders last Friday night, and was praised by coach Jamie Joseph for his performance.
The halfback is likely to turn out for Otago again this season.