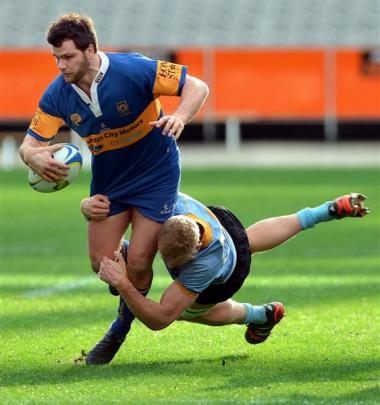 Flanker Willis Scott was the outstanding forward on the paddock and played a key role in Taieri's record-breaking win in the final.
Taieri won its third Speight's Cup Dunedin rugby championship title when it beat University A 51-6 at the Forsyth Barr Stadium on Saturday.
It was the biggest winning margin in a club final in 40 years.
In 1992, University A beat Harbour 44-3 and the following year downed Southern 51-8.
Taieri returned to premier rugby in only 2009 after eight years in the wilderness.
It has been the most successful team in Dunedin club rugby over the past four years and has won three premier banners.
Scott joined the Taieri club from Nelson in 2012 when he began his commerce studies at the University of Otago.
His grandparents, Coral and Ian Ibbotson, always came to Peter Johnstone Park to watch him play for the Eels.
His grandfather died shortly before last year's final but his grandmother has supported Scott again this winter.
She was joined on Saturday by her daughter, Helen, who travelled from Nelson.
Scott was a tackling machine and cut down the students in their tracks.
''We were a bit gutted losing to Dunedin in the final last year and we tried to make amends today,'' Scott said.
''Everything clicked for us and we came away with nearly a 100% performance. All the boys did their jobs and that is why we had such a complete performance.''
A key member of the Taieri backline was Michael Collins at second five-eighth.
''They gave us a game plan and we stuck to it pretty well,'' he said.
''On a field like this we can play pretty expansive rugby.
''The game plan was to take it through the middle and try to hold up a couple of defenders and then have a go out wide.
''The most pleasing thing was to hold our opponents tryless in the final and semifinal.
Highlanders first five-eighth Hayden Parker played a key role with his accurate goal kicking. He landed nine goals from his 10 attempts and scored 24 of Taieri's points.
''I always enjoy coming back and playing for the Taieri boys,'' he said.
''It was an awesome result today. It's the best performance I've been part of since being with Taieri.''
Parker recalled the tense final two years ago when he kicked a last-minute, long-range penalty goal to give Taieri a 24-22 win over Dunedin.
''I was thinking about that this morning and was praying that it wouldn't come down to something like that. I was happy.''
University B beat Taieri 18-17 in the premier division 2 final after Taieri had led 17-10 at halftime.