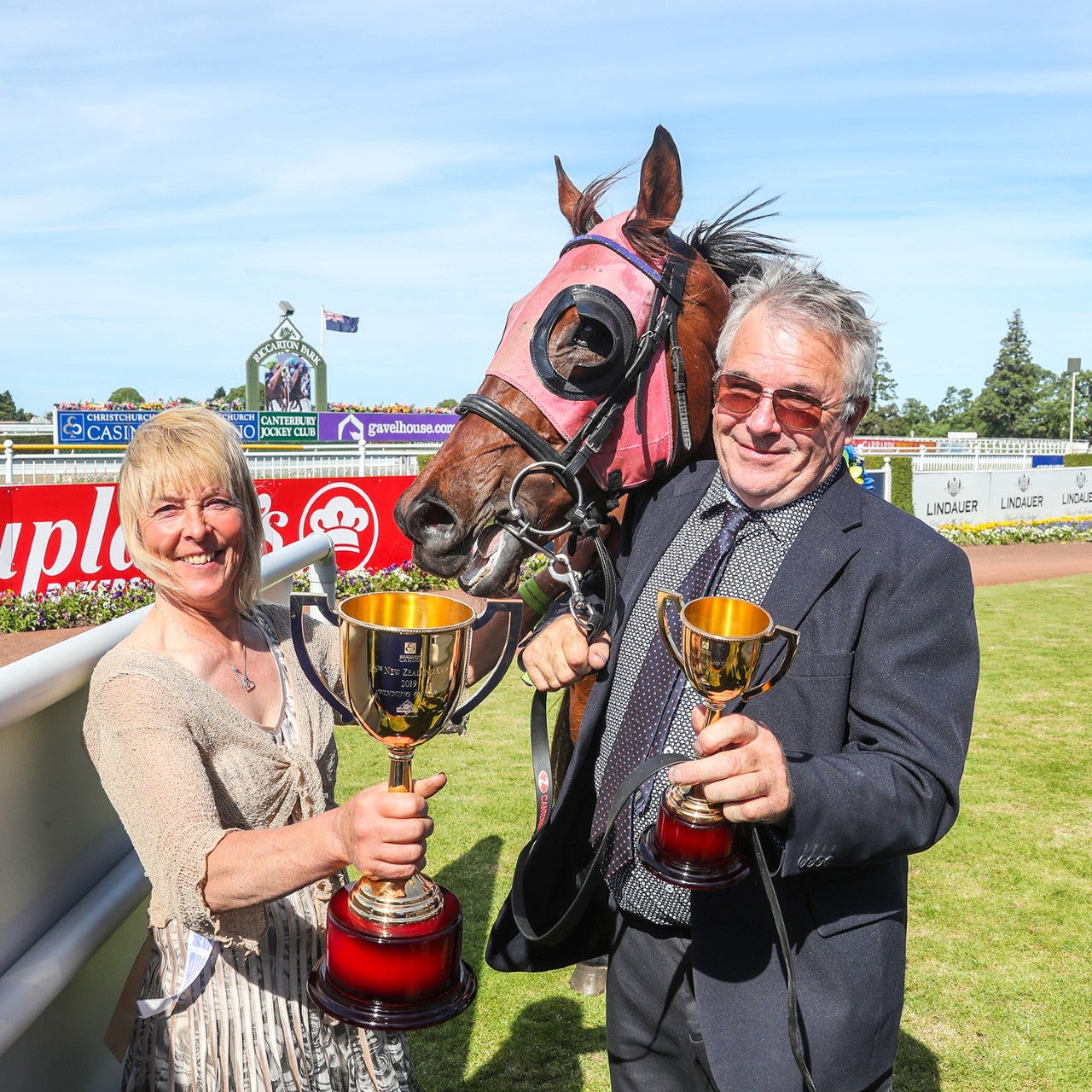 A year on from producing the pinnacle of her trainers' career, Dee And Gee prepares to defend her New Zealand Cup crown without the woman who dotes on her the most.
The seven-year-old mare has gone about her work ahead of the Riccarton Park race on Saturday while Terrill Charles lies bedridden in Ashburton Hospital, waging a renewed and likely forlorn battle with cancer.
First diagnosed with a brain tumour in March 2015, Charles and her partner in equine matters and life – Peter Corbett – persevered with their boutique team of horses to give her some respite.
Dee And Gee is the undoubted star of the stable thanks to the bonny stayer running the race of her life to win the Cup last November.
And although a repeat performance seems improbable, Dee And Gee – who hasn't won or placed in nine subsequent starts – has already served her purpose in 2020 as Charles and Corbett face a grim future.
"I've kept her going on this year because Terrill got crook again," Corbett explained.  
"I turned down a couple of reasonable offers for her because I thought if I aim at another Cup it might give Terrill something to keep her mind off things."
Unfortunately, Charles has been unable to perform her usual track work duties since she had an operation a week before the Covid-19 lockdown in March.
The couple had just returned to Ashburton after taking Dee And Gee to Ellerslie for the Auckland Cup, where she trailed winner Roger That by 14 lengths.
"We had to fill her up with steroids to get her up there," Corbett said.
Charles forged on but her health deteriorated to such an extent she was hospitalised on Monday.
"I suppose it was always in the back of our minds that it could come to that, but it hasn't made it easier," Corbett said.
Conditioning Dee And Gee, plus their other Cup runner Owen Patrick and emergency King Of The Dance, also provided a welcome distraction for Corbett, who heads to Christchurch on race day.
"I'm going to push ahead, that's been our life for the last 30 years. It would be disrespectful if I chucked the horses in now. I've got to keep going," he said.
Reflecting on last year's Cup was also therapeutic for Corbett.
"Do I think back on it? Yeah, mate. That was always the aim. I always promised Terrill we'd get one, so we got one. That kept her going."
Corbett revealed Dee And Gee had also battled adversity as she is set for her 46th, and possibly last, career start.
"She got galloped on quite badly in the Wellington Cup (in January) and that took a lot of confidence out of her. It's taken her a long time to get over it," he said.
"We were lucky to still have a horse, she's lucky she didn't go down."
Meanwhile, Riccarton Park chief executive Tim Mills expected a capacity crowd of 15,000 to be locked in before race day.
"I'd be very surprised if we're not telling people by the end of Friday that we're sold out," he said.
The crowd limit is governed by the earthquakes-enforced closure of the Grand National stand, not Covid-19. Tickets are available through the Riccarton Park website.
•Field for the $250,000 Christchurch Casino New Zealand Cup (3200m), race 10 at Riccarton Park on Saturday at 4.06pm:
() denotes barrier
1: Major Tom (7)
2: Gorbachev (4)
3: Hurry Cane (8)
4: The Good Fight (16)
5: Lincoln King (18)
6: Owen Patrick (13)
7: Robusto (12)
8: Dee And Gee (22)
9: Riviera Rock (19)
10: Sitarist (3)
11: Diorissimo (17)
12: Orepuki Lad (20)
13: Splendior (6)
14: Five Princes (23)
15: Dr Velocious (9)
16: Dragon Storm (10)
17: Nesta (15)
18: Baby Manaka (5) SCR
Emergencies
19: Divine Duke (14)
20: Sulcifera (1)
21: King Of The Dance (21)
22: Plushenko (11)
23: Seemax (2)