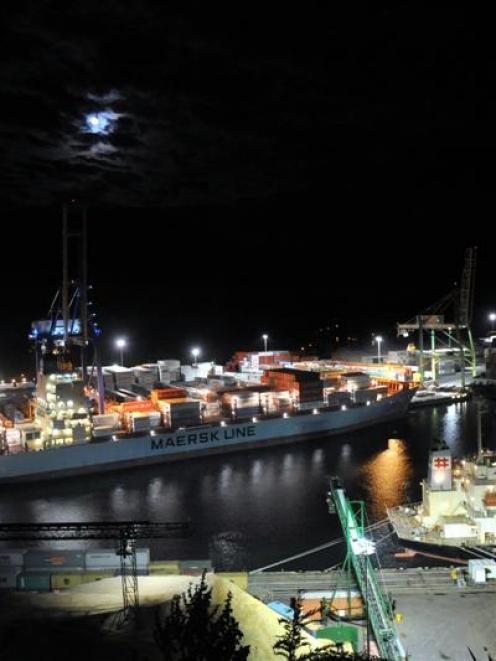 Last week, I mentioned a return visit by Seven Seas Navigator, a vessel originally laid down for the Soviet navy.
Other vessels built for the former USSR have also turned up here in a cruise ship role.
One of these is the oldest and smallest of this season's callers.
The 1759gt, 48-berth Spirit of Enderby was back on its 10th visit to Dunedin at the weekend. This vessel, which undertakes cruises to the Antarctic area annually for Christchurch-based Heritage Expeditions, first appeared here on December 11, 2004.
It replaced sister ship Akademik Shokalskiy following four visits it made to Dunedin from January 5, 2000 to December 8, 2003.
Both of these ice-strengthened ships were built at Turku, Finland, for USSR account and registered at Vladivostok as hydrographic weather research vessels.
Akademik Shokalskiy was delivered in October 1982, and its sister ship four months later. While this vessel cruises as Spirit of Enderby, its official name is Professor Khromov.
It is owned and managed by Far Eastern Research, of Vladivostok.
Vladivostok was also the home port of Russ, which berthed at Dunedin on February 20, 1993, and again on November 4, 1994.
Sister ship Mikhail Sholokov made one visit to the upper harbour on January 25, 1995. Both were 12,798gt vessels with berths for 376 passengers.
They were of the B492 design built at Szezecin, Poland, in 1986.
Russ received this name in 1988 and was formerly known as Konstantin Chemenko.
It was the sixth of this type be built, Mikhail Sholokov the fifth.
But neither came under the category of what would be termed as a true cruise ship. Complete with stern doors, they were classed as passenger/RoRo/car ferries.
And I notice they could boast a container capacity of 120teu.
While the two ships seemed to have dropped off the radar from time to time, they are still afloat today.
Russ, laid up at Stockholm in 1999, was operating between Odessa and Haifa in 2000, then on the Vladivostock-Fushiki route the following year.
This globe-trotter, now named SC Atlantic on the Marshall Islands register, is owned by Sea Ferry Shipping Ltd.
It operates on the St Petersberg-Helsinki-Stockholm-Tallinn circuit.
When sold in 2004, Mikhail Sholokov had the suffix deleted from its name before Greek buyers renamed it Ougo Foskolos later that year.
The vessel was then laid- up at Zakynthos and despite being reported sold in late 2008, was still idle there at one stage last year.
It is now registered at Panama under the name Fos 1.
Some of the cruise ships that have called here since December 1961, were built as conventional cargo ships.
There have also been some interesting conversions, such as Song of Flower and Caledonian Star.
The latter, a visitor to Port Chalmers on January 5, 1997, was a 3095gt, 110-berth vessel.
Built in 1966 as a fish factory stern trawler, it was converted into a small cruise ship in 1983.
Song of Flower made three calls at Dunedin and three to Port Chalmers from January-March 2000.
This 8283gt, 265-berth visitor was a Ro/Ro cargo vessel dating from 1974, that was converted into a cruise vessel in 1986.