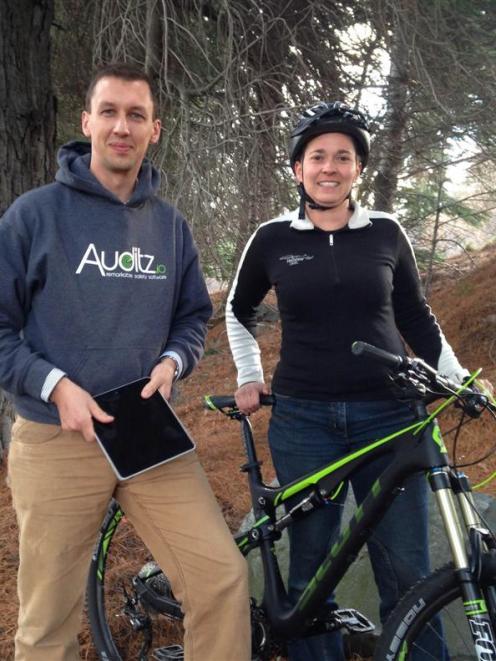 Cromwell man Duncan Faulkner wants to help reduce the number of tragedies in the adventure tourism industry.
The first step in doing that was providing the tools to manage safety in the industry.
Mr Faulkner is the co-founder of Auditz.io, an online safety management system which was launched just over a month ago, to help ensure businesses were compliant with health and safety legislation and industry best practice.
He has first-hand experience in the industry, having been involved in adventure tourism for about 16 years.
That started as a kayaking instructor in the United Kingdom and France and continued with an involvement in extreme sports and high-risk environments.
Previously a police officer in both the UK and also in Queenstown, he remembered his first day at the Queenstown police station, when he saw the riverboard and wetsuit used by English tourist Emily Jordan (21), who was killed while riverboarding in the Kawarau River Gorge in 2008.
That was when he first became aware of some of the challenges the adventure tourism industry faced, in terms of providing better safety management systems.
An adventure tourism review was ordered by Prime Minister John Key the following year, after he received a letter from Miss Jordan's father.
Mr Faulkner later became a helicopter pilot. While working at Aurum Helicopters, he spent a winter developing and writing a helicopter safety management system.
Although they knew how to fly helicopters and operate safely, it felt like they were also being tested on their ability to create ''a beautiful looking document'', he said.
He believed adventure tourism operators genuinely wanted to comply with the legislation but they lacked the tools.
Adventure activity operators have until November 1 this year to undergo and pass a safety audit to become a registered adventure activity operator under the Health and Safety in Employment (Adventure Activities) Regulations 2011. They otherwise face prosecution under the Health and Safety in Employment Act.
New Zealand's tourism industry was diverse, with ''hundreds'' of operators ''in every little corner'' of the country and that was what made the industry ''world class', Mr Faulkner said.
While the regulations were put in place for the best reasons - to prevent lives being lost - the tools were not there for people to build those systems, he said.
About a year ago, Mr Faulkner and Brian Graham formed Peak Software, modelling it on Xero - ''they've got beautiful software that makes accounting a breeze'' - and they wanted to replicate that for safety.
It gave operators, regulators and industry associations the ability to put in information that was relevant, he said.
If people suddenly started to get audits done, there was potentially going to be a ''huge bottleneck''. But with the software, auditors could log in and instantly view a company's safety management systems.
It reduced that bottleneck and it also meant safety consultants could give operators the knowledge they had to manage safety, while for the operators themselves, they had a simple platform to pro-actively manage safety.
It was ''as easy to use as Facebook'' and it had already attracted interest from companies such as Southern Discoveries. Feedback had been ''phenomenal''.
Mr Faulkner was particularly keen to help smaller operators and he hoped that industry associations and the Government would get behind it.
There had been a lot of ''really desperate'' operators looking for tools in terms of technology, but the technology had not been there.
There was the ability to customise the software to any industry in any country and the potential was ''unlimited''. Every industry had problems with health and safety, he said.
Jolanda Foale, from Heliview Cromwell, said Auditz.io took the pain away from building a safety management system for the company's new heli biking operation.
''Safety is our number one priority and, for us, it isn't a headache anymore,'' she said.