* It's a sea of red! Labour surges to victory - and can govern-alone with 97% of vote counted
* Jacinda Ardern hails historic win, promises to govern for "every New Zealander"
* Judith Collins crushed, says she has congratulated Ardern on an "outstanding result"
* National deputy leader Gerry Brownlee among list of high-profile Nat MPs who have lost electorate seats in a night of misery - just 27% of the vote
* NZ First and Winston Peters out of Parliament with just 2.6%
* Greens (7.6%) and Act (8%) will have 10 MPs each, Maori Party on verge of getting back in, thanks to Rawiri Waititi in Waiariki
* The Greens' Chloe Swarbrick wins Auckland Central in one of night's biggest upsets
Labour leader Jacinda Ardern has been rewarded by voters with a landslide win — delivering her power in her own right, and an absolute drubbing to the National Party.
Labour has almost 50% of the vote — the most any party has achieved under MMP and easily enough to govern without relying on another party, meaning it will get more than the 61 seats needed for a parliamentary majority.
However, the night is an absolute bloodbath for Judith Collins' National Party — and Labour's former coalition partner NZ First was kicked out of Parliament. It came in well under 30% — a result that would give it about 35 seats. That is 20 fewer than the last election.
Walking out her front gate in Sandringham tonight, bound for Labour HQ, the Prime Minister was greeted by raucous cheers as the crowd gathered close in to greet her.
Ardern arrived at the Auckland Town Hall to scenes of jubilation and was joined on the stage by her partner Clarke Gayford and fellow Labour MPs.
"Tonight New Zealand has shown the Labour Party its greatest support in at least 50 years," she told supporters.
She acknowledged voters who had switched allegiances from National.
"For those amongst you who may not have supported Labour before... to you I say thank you. We will not take your support for granted."
She said Labour would be a party which works for "every New Zealander".
Labour was committed to key infrastructure, 100% renewal electricity, the environment and supporting those at risk.
"Over the next three years there is much work to do. We will build back better from the Covid crisis; better stronger with the answers to the [things] New Zealand already faces."
The Green Party is on track to get about 8% of the vote, and MP Chloe Swarbrick is well-placed to win the Auckland Central electorate.
Ardern would not say whether or not she still intended to invite the Green Party to be part of the Government, or what role they might have. She said many voters who had never voted for Labour before had done so to give the party the ability to move quickly to address the issues Covid-19 had left it with.
"They have done that because they want us to crack on with it, they want us to move with haste and speed on the recovery. They don't want too much complexity so I'll be keeping all that in mind in the work we do going forward."
Green co-leader Marama Davidson congratulated Ardern for "an extraordinary win" and said the Greens were hoping to be part of a "strong, truly progressive government".
Former Deputy Prime Minister NZ First leader Winston Peters accepted his party's loss graciously but gave no indication of his plans.
"As for the next challenge, we'll all have to wait and see."
Ardern indicated deputy leader Kelvin Davis would become the Deputy Prime Minister.
Act leader David Seymour was set to get about 10 MPs into Parliament.
The Maori Party was in with a chance of getting back into Parliament — the contest between Labour's Tamati Coffey and the Māori Party's Rawiri Waititi was paper-thin.
Ardern was at her Sandringham home as the results rolled in.
Gayford spent the evening on the barbecue and surprised media and residents with fish bites made from his catch on a fishing trip with his father and brother in law. He also made venison patties after killing a deer during a hunting trip.
Earlier in the day Ardern delivered homemade cheese scones to Labour volunteers at Polish House in Sandringham.
Former Prime Minister Helen Clark said tonight there would be "a huge number of novices"entering Parliament for Labour.
The final count and special votes, are unlikely to change Labour's election night result very much: Labour usually picks up a seat on those votes.
Speaking to supporters at National's HQ at the Royal New Zealand Yacht Squadron in central Auckland, Collins said she had phoned Ardern and congratulated her on an excellent result for Labour.
"Just to avoid any doubt, tonight is the start of the next campaign. Bring on 2023," she said as she ended her speech.
National is also in danger of losing more than 15 of its electorate seats — including several traditional strongholds.
They included Ilam, the Christchurch seat held by the party's deputy leader Gerry Brownlee since 1996. However Brownlee would make it back in on the list if he decided to stay on, and Paul Goldsmith also seemed safe.
Brownlee acknowledged it was a bad night for his party, putting it down to Covid-19 rather than Collins' leadership or the campaign he had led.
Other National MPs were less forgiving — Simon Bridges and Mark Mitchell pointed to mistakes in the campaign, but both said Collins did not deserve to cop all the blame.
Collins had to start from a standstill in July after the leadership changes from Simon Bridges to Todd Muller in May, and then to Collins in July after Muller stepped down.
That and a slew of resignations by high-profile MPs such as Paula Bennett and Nikki Kaye
proved too much to come back from.
Ardern had hammered home the message of stability and certainty to voters in an election that was inevitably about who voters trusted most to contend with the Covid-19 environment — and she was rewarded accordingly.
NZ Herald
Recap of election night
11.59pm - Swarbrick wins Auckland Central
Green Party candidate Chloe Swarbrick has claimed a narrow upset in Auckland Central with 100% of votes now counted. The 26-year-old won 9060 votes, to Labour's Helen White on 8568 and National's Emma Mellow with 7566.
The seat was previously held by National's Nikki Kaye, who has retired from politics. 
11.10pm - Ardern won't comment on alliance with Greens
After her speech, Ardern would not be drawn on whether she would seek a governing arrangement with the Green Party, and if so, whether it would be a coalition of a confidence and supply agreement.
"I do just want to wait until we see those final results come through and take a bit of time to take stock."
She said she now intended to implement every aspect of Labour's election manifesto.
11.05pm - National still nervous in Invercargill 
National candidate Penny Simmonds has the majority of votes but said she would not call the victory until special votes were counted.
"I prefer to wait.
"It was a pretty up and down night." 
With all non-special votes counted, Simmonds holds a lead of 685 votes over Labour's Liz Craig. 
10.50pm - Labour romps home in Te Tai Tonga
With 95.8% of the vote counted Rino Tirikatene (10,555) is easily beating the Maori Party's Tākuta Ferris (5129) in Te Tai Tonga. Labour is winning the party vote with 59.7% with Green Party on 11.5%.
10.28pm - Ardern declares victory
"Tonight New Zealand has shown the Labour Party its greatest support in at least 50 years," Ardern said in her speech.
"Elections aren't always great at bringing people together, but they also don't need to tear one another apart."
She said Labour would govern positively, just like she said it had campaigned.
"Now more than ever is the time to keep going. So let's step forward together. Let's keep moving."
She said Labour was committed to key infrastructure, 100% renewal electricity, the environment and supporting those at risk.
"Our plans are already in action and working."
10.20pm - Ardern set to make victory speech
Prime Minister Jacinda Ardern has just arrived at Auckland Town Hall.
10.17pm - Labour heading for huge victory
10.13pm - Reaction in Dunedin to Judith Collins' speech
Supporters at Dunedin's National Party event have gathered to watch leader Judith Collins give a speech.
There was a big cheer when Ms Collins said "we will be back". 
10.08pm - Too close to call in Invercargill
Labour candidate Liz Craig was watching the results with about 40 people, including friends, family's and party supporters at Club Southland.
"It has been a nail bitter actually. It is still really close but it has been a really positive campaign.
"It is really good the vibe out at the ground.
"We are just having a great time and catching up with everybody after such busy weeks."
With 79% of the vote counted Penny Simmonds is just ahead on 12,268 ahead of Liz Craig on 12,161.
10pm - Judith Collins concedes defeat
National Party Judith Collins has thanked her supporters but conceded defeat. She said it had been a "tough time". Collins also thanked the candidates who had missed out tonight. She said it took a lot to stand for Parliament, "thank you for doing that".
She thanked the party leadership, plus all staff at electorate offices, saying they had shown an "unrelenting" devotion to the cause.
She thanked senior party members for backing her for making decisions "that needed to be made".
Collins said she had telephoned Jacinda Ardern and congratulated her on an outstanding result for the Labour Party.
"And I promise you, the National Party will be a robust opposotion," Collins said.
"We will hold the Government to account for failed promises and push on behalf of all New Zealanders to do better for all Kiwis."
- NZ Herald
Invercargill going down to the wire
Invercargill is shaping up as one of the closest races in the country. With 58.9% of votes counted, Labour candidate Liz Craig holds a narrow lead of just 498 votes over National's Penny Simmonds. National's Sarah Dowie won in 2017 by a comfortable 5,500 vote margin.  
Labour drop below 50%, margin still massive
Labour have lost their outright majority and ability to govern alone with 57% of votes counted. 
9.31 - Taieri looking to be landslide for Leary
What was picked as a close contest is turning into a landslide for Labour newcomer Ingrid Leary. With 49.6% of the vote counted, she holds a 4,780 vote lead over National's Liam Kernaghan. 
9.26pm - Winston Peters has thanked NZ First supporters for their efforts
"Ladies and gentlemen, elections are about democracy, and we should never stop trusting the people."
He says the election was like "no other this country has ever seen, even in wartime", due to Covid-19.
"As for the next challenge, we will all have to wait and see."
He hasn't conceded, ending his speech by saying "you guys have a good night".
 - RNZ
9.23pm - David Clark says supporters should 'celebrate' 
9.15pm - Māori electorates close
With a third of the votes counted it's still a very tight race in the Māori electorates, with Labour's candidates so far retaining all seven. 
The closest, as predicted, are in Tāmaki Makaurau, Waiariki and Te Tai Hauāuru, with Labour's leads over Māori Party in the mere hundreds in each. 
The closest is Waiariki, which has been on a knife edge all night. 
As of 9pm, incumbent Tāmati Coffey of Labour leads Māori Party candidate Rawiri Waititi by just over 100 votes, with 6042 to 5928. 
In Te Tai Hauāuru, Debbie Ngarewa-Packer is trailing incumbent Adrian Rurawhe by just over 500 votes and in Tāmaki Makaurau John Tamihere is behind Peeni Henare by about 700 votes. 
In Tāmaki Makaurau Green candidate, co-leader Marama Davidson, is taking a decent chunk of count, with just over 20% so far with about 2000 votes. 
Despite the uncertain chances of a return to Parliament party members remain upbeat, with Tamihere stating it was still "too close to call". 
And many of his supporters, gathered at Et Tu Bistro in Te Atatu, Tāmaki Makaurau, feel the same. 
About 150 people have turned out in Māori Party colours, enjoying a choice selection of fresh kaimoana – oysters, kina and ika mata proving favourites – amid a festive atmosphere, with a live band pumping out reggae tunes.
9.08pm - Relief as National's Joseph Mooney pulls ahead in Southland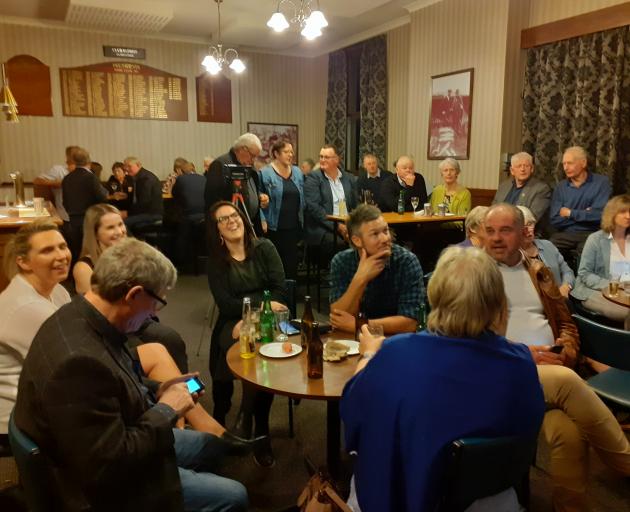 While depressed about the overall picture the about 50 National party faithful at the Gore Club were pleased their candidate Mr Mooney had pulled ahead after earlier trailing Labour candidate Jon Mitchell. 
With 48.4% of the vote counted Mr Mooney was on 11.282 ahead of Mr Mitchell on 9650. However Labour (41.9%) is ahead of National (33.8%) in the party vote.
9.06pm - Party vote tight in Judith Collins' electorate
While Judith Collins holds an almost 3000 vote lead over her Labour opponent in the Papakura electorate, her party is locked in a tight battle with Labour in the party vote stakes.
With 40.5% of the electorate's vote being counted, National has 40.3% of the party vote, while Labour has 39.7
8.52pm Labour hopeful of turning Waitaki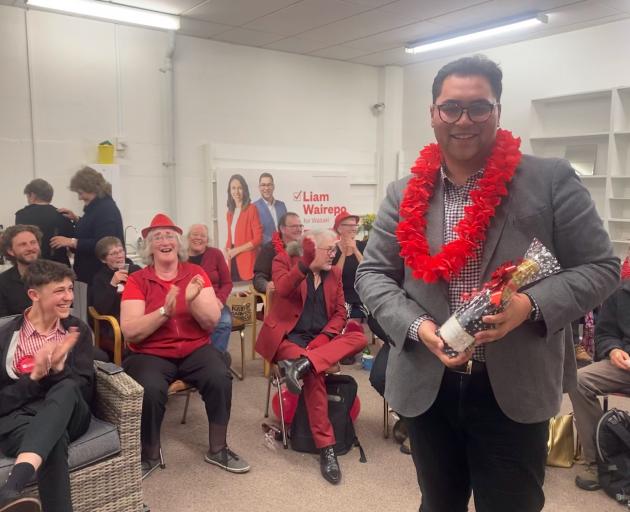 Excitement is building at Labour's Waitaki election party.
The gap between Labour candidate Liam Wairepo and National's Jacqui Dean is close, and Labour leads the party vote in the National stronghold.
"It's really heartening to see all the hard work of volunteers and myself is starting to pay off, seeing that gap quite close," Mr Wairepo said.
Mr Wairepo is supported by family, friends and volunteers at Labour's Oamaru office to watch tonight's results.
It had been a "busy" and ''exhilarating" campaign, and he was looking forward to celebrating tonight, "whatever the result".
"We've got a lot to be proud of."
- Rebecca Ryan
8.45pm Greens over 8%, Swarbrick still ahead in Auckland Central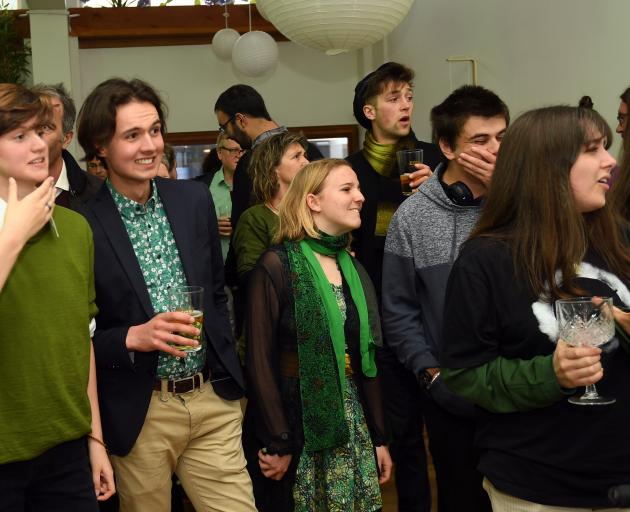 The Green Party look to be strolling toward parliament, with a lead in Auckland Central for MP Chlose Swarbrick and over 8% in the party vote. 
8.40pm - Labour above 50% with more than 30% of vote counted
8.22pm - Labour buoyant at Dunedin HQ, Woodhouse sombre 
There is a festive mood at David Clark's party as loyalists begin to appreciate how large the swing to their party might be.
"I just can't believe that we're beating Gerry Brownlee in Ilam," one man said.
With 28% of the vote counted in Ilam Labour lead by 3000.
A huge cheer went up when the television showed Liz Craig leading early on in Invercargill, but party strategists were turning their heads to a fresh possibility— Labour might win so many electorates some of its list candidates, such as Dunedin's Rachel Brooking, might not make it to Parliament.
Meanwhile, Dunedin candidate Michael Woodhouse has admitted the tide was "stronger than we expected".
He put it down to Covid.
"Our own internal issues have not helped."
8.15pm - Safe National seats in South appear in doubt
Based on early voting a trio of formerly safe National seats are close. Labour candidate Liz Craig is ahead in Invercargill with 21.8% of the vote counted. In Waitaki it is a tight race with 22.1% of the vote counted with Jacqui Dean only 18 votes ahead of Liam Wairepo.  National candidate Joseph Mooney has pulled ahead in Southland with 21.1% of the vote counted.
8.10pm - Labour way ahead with 22.4% of vote counted
8.04pm - National faithful gathers at Brydone Hotel in Oamaru
About 20 people have turned out for National's Waitaki party at the Brydone Hotel in Oamaru.
There is a good buzz in the room as Waitaki candidate Jacqui Dean is watching live coverage on a big screen with her husband Bill and family and friends.
There is also an "unscientific" jelly bean poll predicting who will be the next leader of New Zealand. Judith Collins has a strong lead in the room of National Party faithful.
Mrs Dean said she was "feeling good". It had been a "long campaign", but she said she had enjoyed the opportunity to spend more time "on the ground" in the electorate connecting with constituents and dealing with issues affecting Waitaki.
- Rebecca Ryan
7.57pm - David Clark holding mammoth lead in Dunedin
David Clark has now arrived with his family, after a busy day manning the phones.
Dr Clark said Dunedin volunteers had also been making calls for candidates in Rangitata and Invercargill and he was pleased that it looked like their efforts could pay dividends. With 25.5% of votes counted, Dr Clark (7,347) has a commanding lead over second placed Jack Brazil (2,529) of the Greens. Michael Woodhouse (2314) of National trails in third. 
7.49pm - Surprisingly tight race in Southland with Labour candidate ahead with 7% of vote counted
Labour candidate Jon Mitchell is first on 2155 votes with Joseph Mooney second on 2070. Labour (46%) is winning the party vote, with the National Party on 30.7%
7.46pm - Close race in Auckland Central
Green candidate Chloe Swarbrick has a narrow lead over Labour's Helen White in the hotly contested Auckland Central race. Swarbrick has a 400 vote lead with 29.8% of the vote counted. 
7.44pm - Waitaki numbers with 10.7% counted
MP Jacqui Dean (925) is beating Labour candidate Liam Wairepo (667). However Labour (42%) is winning the party vote over National (34%).
7.38pm - Invercargill National candidate 'not nervous' 
Invercargill electorate candidates gathered with supporters on Saturday night to watch the election results.
National candidate Penny Simmonds is spending her night at Ascot Park Hotel with family, friends and national party members .
The rooms was filled with blue balloons and National faithful who shared some nibbles and hot drinks.
"It is a great opportunity to thank everyone who helped me throughout the campaign."
Candidate for the first time, she said she was "not nervous."
"We have done everything.
"Now I'm just gonna wait and see what will happen. I'm trying to not think much ahead."
 - Luisa Girao
7.33pm - Labour off to rollicking start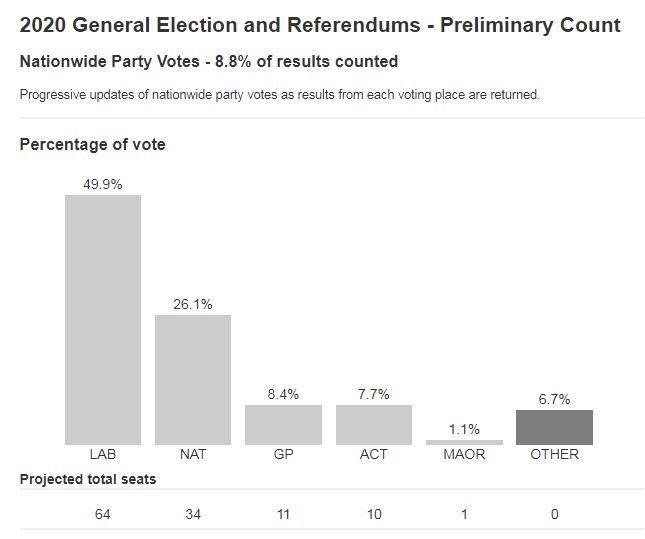 7.28pm - National holding Dunedin party at Deja Vu
About 35 people have turned out for National's Dunedin party.
Dunedin candidate Michael Woodhouse and Taieri candidate Liam Kernaghan are having a joint party at central city venue Deja Vu.
There's plenty of buzz among guests as they watch coverage live on two TV screens.
Me Kernaghan said it had been a "really good campaign", and it was great to talk about a wide range of issues affecting Taieri.
- Daisy Hudson
7.24pm - Early Taieri results
In what some had called might a close race Ingrid Leary (202) is comfortably beating Liam Kernaghan (59) with only 1.8% of the vote counted. Labour has 56.8% of the vote counted so far, with the Green Party second on 21.9%.
7.20pm - Early results from across New Zealand
With 2% of the vote counted, Labour is faring even better than the polling numbers. At this point, Labour is snaring 50% of the vote, National is on 26%, the Greens on 8.5%, Act on 7.5%, NZ First on 2.2% and the Maori Party on 0.7%. - NZ Herald
7.15pm - NZ First list MP Mark Patterson in Lawrence
About 15 close family and friends have joined standing NZ First list MP Mark Patterson and his campaign team at The Prospector Cafe in Lawrence for election night.
The mood was light and good-humoured in the camp, and the Taieri candidate - who farms in Lawrence - said he was looking forward to seeing what the night would bring both personally, and for his party.
Members of Mr Patterson's family had joined the group from as far afield as Amberley, North Canterbury, and were enjoying mulled wine and sandwiches while discussing the wider prospects for the election.
Mr Patterson, who is ninth on the NZ First list, said he was optimistic about his, and his party's chances tonight.
He is standing against 10 other candidates in the new electorate, formed partly from the former Clutha-Southland electorate.
- Richard Davison
7.05pm - Greens in buoyant mood in Dunedin
Dunedin Greens were in a buoyant and expectant mood as the polls closed.
Dunedin candidate Jack Brazil was tired but thrilled at the effort volunteers had put in, and was now waiting keenly for the results.
The Greens are closely watching the 5 threshold mark for the party to make it back into Parliament, but are also deeply interested in how Chloe Swarbrick fares in Auckland Central, where she has an outside chance of winning the electorate. 
- Mike Houlahan