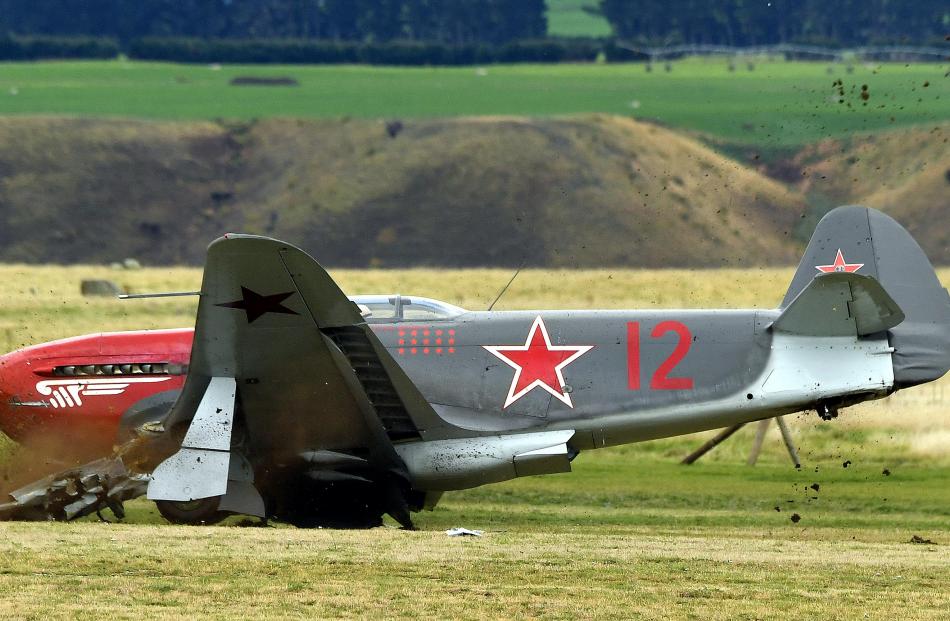 An aircraft taking part in the display at the Warbirds Over Wanaka International Airshow crashed shortly after the show opened this morning.
The Yak-3, piloted and owned by Arthur Dovey, landed on the grass runway next to the sealed runway and hit a cherry picker for use by camera operators, damaging its right wing.
An eyewitness said the plane hit with a ''hell of a bang''. 
Mr Dovey, a retired airline pilot, signalled he was fine after the incident. No one was in the cherry picker at the time.
The plane was one of two Yaks involved in an opening sequence at the show. Part of a wing was torn off and the undercarriage damaged.
The other plane landed safely. 
In 2013, Mr Dovey's Yak was the subject of a police investigation after it was hit by a high-powered stray bullet while in a hanger at Wanaka Airport.
Mr Dovey, who flew fighter planes for the New Zealand Air Force and has been flying for more than 50 years, has owned the Yak 3 for about 13 years.
It is one of fewer than 10 in the world still flying and is estimated to be worth well over $1 million. 
Yaks are ''tail draggers'' which leaves the pilot with no view out the front windscreen while on the ground. It dates back to 1943 and was used by the Soviet Air Force.
F-16s JETS IN WANAKA
United Stated Airforce F-16 jet fighters are in Wanaka to take part in the show.
Organisers had hoped they would be a surprise for the opening display but bad weather prevented this and the jets flew in from Christhurch by mid-afternoon.
The airshow started at 10am, with founder Sir Tim Wallis taking a spin along the runway aboard a New Zealand Air Force helicopter.
Other dignitaries expected at the show were National Party leader Simon Bridges and his family, and United States ambassador to New Zealand Scott Brown.