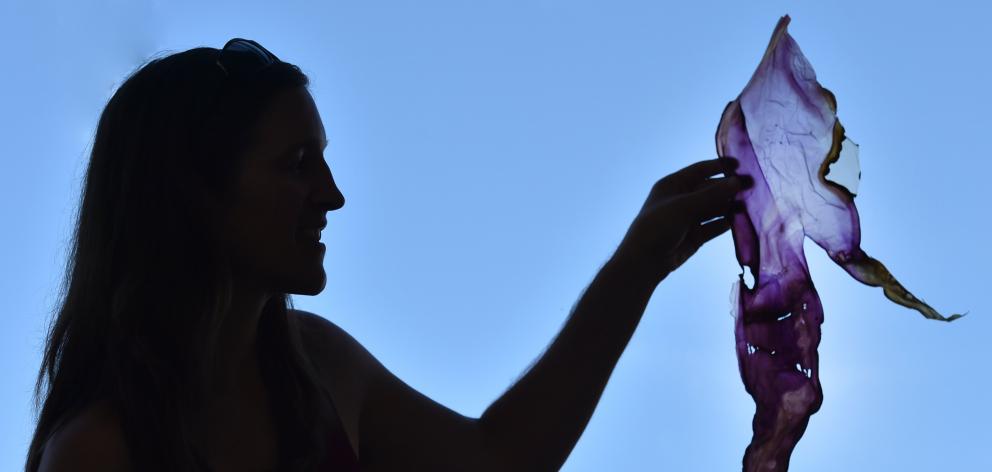 Science and art meld  in artist Raewyn Martyn's ever evolving art practice. She tells Rebecca Fox about her time in Dunedin as Blue Oyster Gallery's summer resident.
Clambering around under a boatshed in Broad Bay, artist Raewyn Martyn looks for the colours, textures and forms of the shellfish, algae and other organisms inhabiting the environment as the tide goes in and out.
With camera in hand she documents what she sees so she can replicate the colours and textures in her studio - in cellulose.
Cellulose is the substance that makes up most of a plant's cell walls and has many uses. According to how it is treated, cellulose can be used to make paper, film, explosives and plastics, as well as other industrial uses.
Martyn, who lives in Wellington, mixes it up in a bucket in a process similar to making mayonnaise.
''I'm pretty good at making aioli.''
She then adds the colours, using edible pigments if it will be eaten, or other, often mineral-based, pigments if not.
It is then spread out to dry and if the process works, in two weeks she will have a thin sheet of cellulose.
The whole process is still in the development stage so can be a bit hit and miss as she experiments.
''There have been a few happy accidents that at first were unhappy.''
Her discovery of cellulose has its origins in her early painting and interest in painting being site-responsive.
''These works change over time and challenge the conventional stability and temporality of the painted surface, medium and site.''
The Oamaru-born artist, who mostly grew up in Nelson, did her undergraduate studies in Wellington at the Massey University school of fine arts before starting a teaching career.
One of her projects in Wellington involved painting the stairwell of the Enjoy Art Gallery. A former photographic studio, it had great light but had not been touched since the 1960s, so she used thin layers of colour to stain it, highlighting its age.
She then moved to the United States to study for her master's in fine art at Virginia Commonwealth University.
It was in the States that she became more interested in how complex surfaces become and how paint peels off a wall.
''I worked out if I peeled off a whole section of a wall it reproduces. It was super-exciting so I set out to find ways for it to happen in different ways.''
Talking to a cousin who was a painter-decorator, she discovered paint often did not stick well to walls that had not had wallpaper removed properly.
''One of the ingredients of wallpaper size is cellulose. It's great for getting wallpaper flat because of its gelatinous, slippery quality.''
So Martyn set out to test the theory, covering a wall in five or six layers of cellulose, creating a thin film.
''I could not peel it off, so I layered paint over the top and I found I could peel it very easily.''
This process produced a lot of waste material, so she began thinking about how else it could be used and what effect things like humidity and gravity had on it.
''How does it respond to what is going on around it?''
Those thoughts led her to a biomimicry plant in Ohio where they designed emerging systems and were doing some small-scale work in cellulose.
While that was interesting, they were not able to help, so she sought the assistance of a textile researcher friend and between them they came up with a cellulose-based emulsion that works like paint.
It dries to a paint-like film and can be peeled from non-porous surfaces, then re-moistened to become adhesive or completely rehydrated to become fluid again.
''I'm still figuring it out. Within this cycle it exists in multiple states: liquid, surface, image and a three-dimensional object.''
Along the way she has also talked to New Zealand's Scion, which researches cellulose in forestry, and the US Forestry Service, which also looks at cellulose.
Martyn has recently returned to New Zealand from Chicago, where she was a Jackman Goldwasser Artist in Residence at Hyde Park Art Centre.
While there, she collaborated with Chicago-based artist Sara Black to create the exhibition ''Edward Hines National Forest'', a site-specific installation that traced the material processing of trees, from plant to lumber and cellulose, to produce hybrid forms to expose the complex relationship between people, human-made objects and the natural ecosystem.
The cellulose used by Martyn to create the biopolymer paint was derived from red pine trees exposed to a fungus.
She found the scientists she approached for information were uncertain at first.
''If I managed to articulate myself and show my reading and interest in their knowledge, processes and methodology, they were more interested in my methodology.''
Martyn also further researched the use of methylcellulose as a medium while at the Jan van Eyck Academy in the Netherlands.
In Dunedin, Martyn has been investigating and connecting work which she did in the Netherlands where she worked with seawater from the coast of Zeeland and calcite pigments from the Maastrichian period Chalk Group rocks.
In Dunedin, Martyn wanted to see how different organisms in the marine environment produced cellulose or were cellulose, and how they interacted - the biomineralisation process.
She is very interested in the process whereby organisms build exoskeletons that, when shed, sink to the bottom of the sea to become materials such as limestone.
''It's a really important part of the carbon cycle - another unstable system we need to learn to understand.''
Martyn has continued her talks with scientists, including one at the University of Otago researching phytoplankton as part of the carbon cycle.
Her work at Broad Bay has concentrated on the area under the boatshed and the cellulose she has made to mimic the qualities she discovered there.
She then took the cellulose shards under the boatshed to see ''this form growing into the space, imitating some of what happens under there'', capturing the process with time-lapse photography.
With her work, Martyn seeks to understand how processes of entropy and empathy are intertwined.
She has done a lot of research on system theory and how situations change over time.
When she returns home this month, it will be to prepare to start her doctorate at Massey University.
She plans to do more research into cellulose and to understand the process of entropy and how the non-human side of it relates to the human side of it.
The working title for it is Entropy and Empathy non-human observations from afar.
''We're part of it, part of the system experiencing disorder.
''Working with a really unstable material, you learn a lot about those processes.''
Martyn had really enjoyed her time in Dunedin on the residency, which is based at the Caselberg Trust cottage on Otago Peninsula.
''It's been awesome. It is such a great space and a wonderful group of people.''