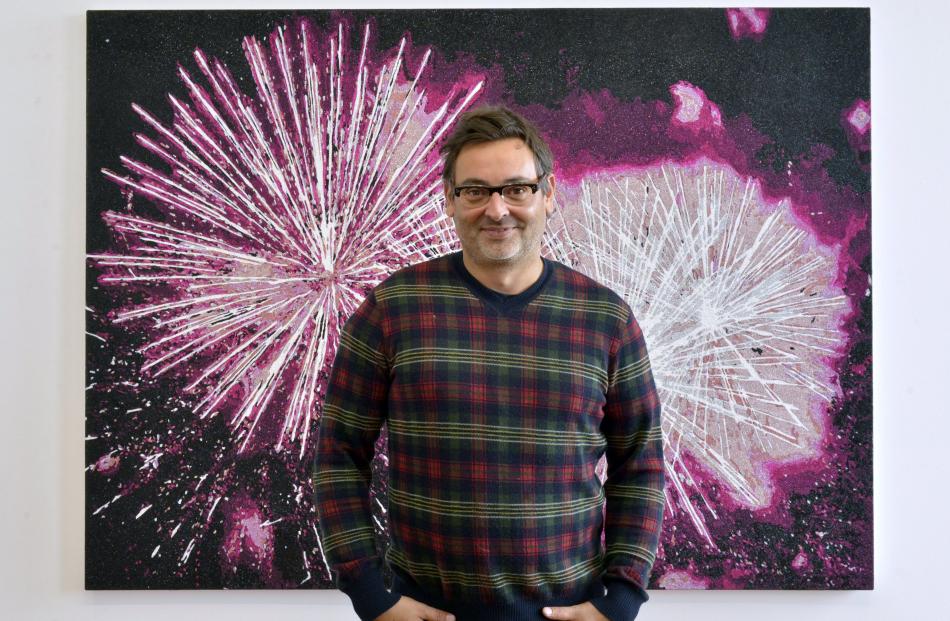 New Plymouth-based artist Reuben Paterson is setting the black sky alight with his latest works. He speaks to Rebecca Fox about his unusual passion for the sparkly stuff.
His eyes may be bleeding after a day at work but it has not diminished artist Reuben Paterson's passion for glitter.
He first discovered glitter while studying at Auckland's Elam School of Arts in the 1990s when students were encouraged to play and experiment.
''I experimented with lots of different tools and techniques and this one I just got stuck with.''
Video courtesy of Milford Galleries Dunedin; Filming by Fabia Oliveira
Now he and two others do five-hour shifts painstakingly creating his large glitter works.
''It's expected for kids playing, in craft, drag and carnival but I want to allow its potential to be more than the sum of those parts.''
Just how he creates them is top secret.
''It's me keeping the magic of the material alive a bit, because it does contain a bit of magic which is a lovely part of its conditions. The technique is really organic, very different from piece to piece. Very labour intensive.''
Glitter is what ties his works together - and the colour black.
''I love the depth you can get with it. I love black. It highlights, it's the backdrop to everything - the stars, the West Coast beach.''
His earlier works are bright, bold and graphic on themes inspired by his Maori heritage, water, fabrics, animals and botanics.
''There have been so many different things I want to explore in this material. The key has become looking at ways to break the stereotype the material has.''
They are all depicted in a rainbow of colours in glitter - a product he imports from an American company which originally made chaff (an aluminium material used as a decoy) for the American air force.
''I think it is a great parallel to those celebratory stereotypes that its history has a darker side.''
He buys a variety of colours, then mixes them or commissions a particular shade.
In one of his latest works, the ''pink work'', there are 13 different pinks and it took 15 hours a colour to apply.
''We do feel like our eyes are bleeding after a session. You can find a rhythm to it. Not every day is a good day.
''I like the challenge. The brain has to think in the positive and negative much of the time when I'm putting in the detailing.''
His success in working with such a mecurial material is not wanting to control it, he believes.
''You have to work with it. To get to the point where it is tamed. Once it's airborne, you can't control it - it's non-vacuumable.''
There is a glittering trail from his studio to his car park.
His latest work focuses on another celebratory aspect - fireworks.
''I've been thinking more about the material itself and the material is the thing that does celebrate things like a firework does.''
When he started the works, he focused on a dark palate of colours and using different flesh colours to relate back to the title of the exhibition, ''Black Matters'', or similar themes of ''black lives matter''or ''dark lives matter'' as a shade in itself.
''That was my starting point. Questioning what is being celebrated in this political time the colour of skin, the blackness in the current political crisis of the country which celebrates fireworks the most on July 4.
''A good question to ask is what is really being celebrated here.''
Glitter is awoken by light and fireworks are light but they are only light for a moment, he says.
''So it is capturing a moment and letting the glitter extend that.''
He has spent the past two years living in New Plymouth after gaining a residency at what was to become the Len Lye Gallery.
His job there was to keep the gallery alive while the construction was ongoing, and as part of that he created a life-sized gold glitter tree.
It was during that project he met the two women who now help him in his studio.
''It's a great way to have some company, which is important to me, and it brings something different to the work.''
Paterson's passion for art has always been there, his mother told him.
''I've fulfilled that dream. I'm lucky that I knew what that dream was from a young age and able to work towards it.''
But, like any job, it has had its ups and downs and challenges.
''It's an organic career.''
His career started on a high, as the youngest ever recipient of the Moet et Chandon Fellowship in 1997 and the first recipient of Maori decent.
''It was, of course, amazing validation of the dream to be an artist full time.''
However, after he finished the fellowship, he travelled and then settled for two years in Bath, England, doing ''silver service''.
''I loved it. It was about organisation, getting things delivered on time. I thrived on those work conditions.''
When his father died, he was inspired to pick up his brush again and start making work about him and his Maori ancestory.
''It was my father's last gift to me that even in his passing to have a career in fine arts.''
His first work was a portrait of his father which was exhibited in Pakuranga, Auckland, where the family grew up.
''Everything fell into momentum from there.''
At the time, he was working as a primary school teacher mixing his two interests of education and creativity. Then came the opportunity to take the ''leap'' and become a full-time artist.
''It was very scary, very exciting. I was working out of my garage at home.''
The fears were mostly financial rather than artistic,
but he has gone on to do other residencies which have taken him to New York, Greece and Korea.
Paterson has received many accolades, including the Wallace Arts Trust Development Award 2005,
and his works can be found
in major institutions throughout New Zealand and Australia.
His work has been included in shows at the Musee du quai Branly, Paris (2011),
Cambridge University Museum of Anthropology and Archaeology Cambridge, England (2007), and the International Biennale of Contemporary Art, National Gallery, Prague (2007).
For now, he will continue to explore his fireworks theme although he recently took a step back to his botanical work for a special project with the Bergman Gallery (formerly the BCA Gallery) in Rarotonga.
He created a series of works inspired by Cook Islands' tivaevae artist Tungane Broadbent.
''I've gone back to the botanicals with a change of colours ... hyper tropical.''
The exhibition will open on July 4.
''I'm very excited.''