New Zealand's Covid-19 lockdowns have inspired artist Yukhi Kihara's latest works. She tells Rebecca Fox how looking back at New Zealand's quarantine history shines a light on today's pandemic challenges.
As she slowly transformed herself into Salome in the marriage quarters on Dunedin Harbour's Kamau Taurua Quarantine Island, Yuki Kihara could feel the weight of the building's history.
The interdisciplinary artist, New Zealand's Venice Biennale representative 2022, was getting ready for a photo shoot on the island's beach as part of a series of work on four New Zealand islands used to quarantine the sick and infectious in the 19th century.
The other islands included in the series are Moutihe Island located just off Waiheke Island in the Hauraki Gulf, Otamahua Quail Island in Lyttelton Harbour and Mokopuna Leper Island in Wellington Harbour.
Kihara found the experience on Quarantine Island, which was used to quarantine early settlers with smallpox and measles, as she changed into Salome's Victorian mourning dress, to be "very poignant".
Arriving on the island to see the shipwrecks on either side of the wharf, she felt as if she was immediately transported back in history.
It was the beach beside the wharf Kihara chose for the shoot — herself dressed as the character Salome looking out to the harbour past the wharf.
"The idea is that you look at figure of Salome in landscape and ponder the kinds of things that might be going through Salome's mind."
Salome is a character Kihara, who was born in Samoa, first created after seeing a photograph in Te Papa by Thomas Andrew in 1866 titled Samoan Half-Caste, but without a name. She named her after the Oscar Wilde version of the biblical figure who manipulated decision-makers in her favour through a mysterious dance, for a series commenting on the effects of colonialism and the church upon Samoan culture.
"In a way, I revived her through a re-enactment of Salome."
Using her body as "artistic material" to manifest a variety of characters is central to Kihara's practice. She takes on multiple roles — writer, producer, director and actor — to create her works with help from a team of people including a project manager, two photographers and a wardrobe manager.
In this series, because she is looking at history "through a historical revisionist lens", Kihara believes it makes it compelling to have a historical figure in the work.
"Then photographing it like a historical photo in black and white, yet it has a really high tech outcome."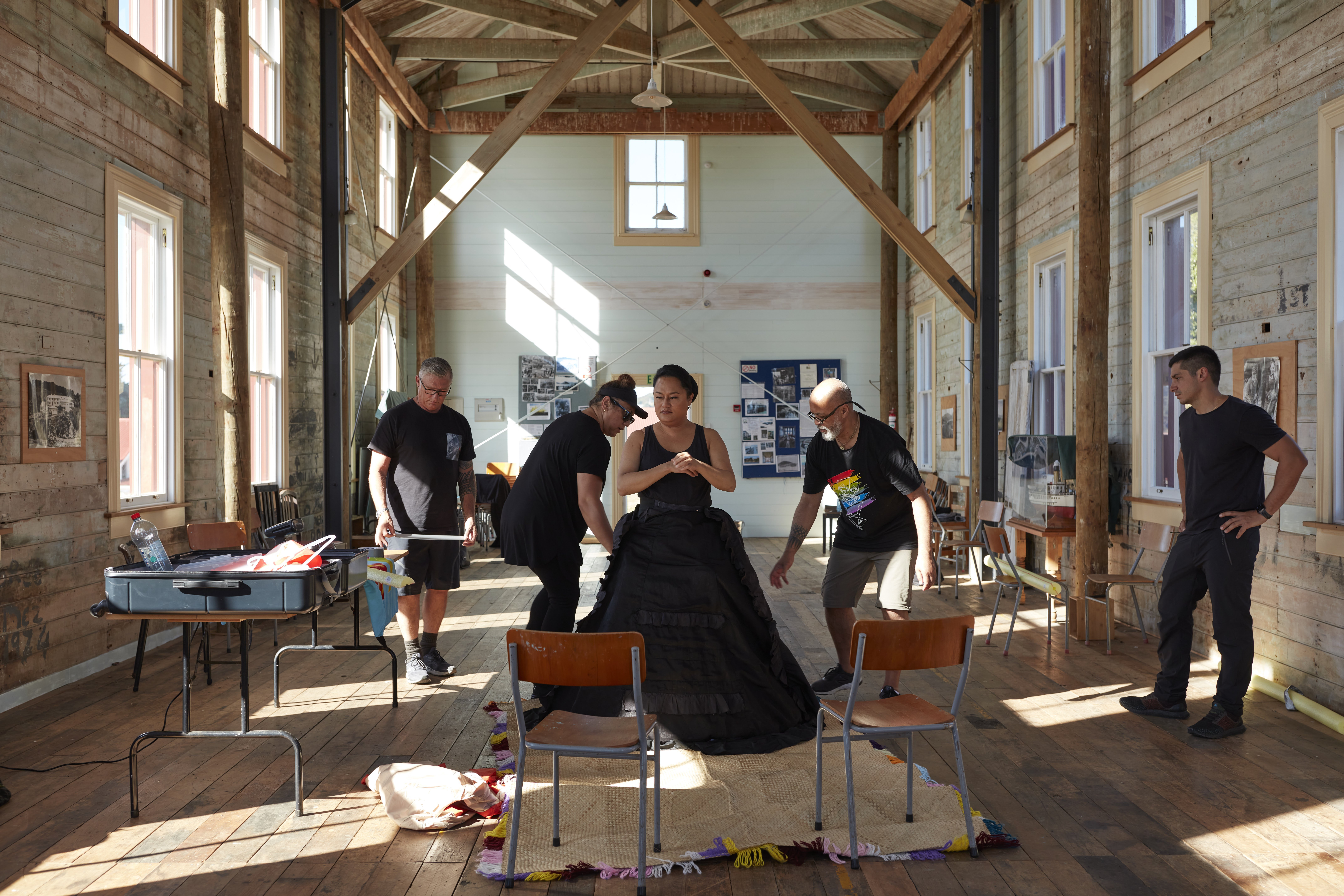 The images are created as lenticular prints which give an illusion of depth, creating the feeling the landscape is moving while Salome stands still.
"While she is standing still she is still performing. For me, performance does not necessarily have to involve movement. Standing alone in landscape is a performance of its own. As a matter of fact, it is technology that makes the performance — the background moves while Salome stays still."
Kihara chose to focus on the quarantine islands after feeling compelled to respond to the Covid-19 pandemic.
As stories abounded of people avoiding or not abiding by quarantine rules in New Zealand and around the world, Kihara began to think how New Zealand dealt with past infectious disease outbreaks.
"I wondered why people would do that?"
She remembered a thesis she had read by a Te Papa curator on the history of leprosy in Samoa during New Zealand's colonial administration of the island from the 1940s to 1960s.
"Her thesis was the first time I'd ever heard of a leprosy quarantine centre in Samoa."
It made her think that if New Zealand had operated quarantine facilities in Samoa, it must have some experience in managing deadly viruses in its own country.
So she began to research the history of quarantine in New Zealand, discovering the four islands across the country used as quarantine facilities for people and animals.
"Associating the word quarantine to islands is quite odd. The word island has the immediate lure of paradise, of recreation, relaxation and safety. To put quarantine in front of island is a deliberate juxtaposition."
Although the islands were all very different, there were common themes in their histories, such as the removal of tangata whenua from those lands to allow for the facilities.
"The history of these islands begins with the establishment of the quarantine centres. Maori stories of the land and occupation were totally eliminated."
There also seemed to be the view, as they took with Pacific Islands, that these islands were peripheral and undeveloped therefore ripe for centres to be set up to sustain and maintain mainland interests, she says.
"There seemed to be a certain kind of perception that the New Zealand colonial government seem to have about places that were small, with small populations, so are therefore insignificant."
Each of the islands depicted in the prints, slide show and video of the works are accompanied by short histories.
She discovered interesting links with Samoa and sad stories in those histories. That along with being quarantine facilities for the likes of scarlet fever, diptheria and influenza victims, the islands also served as detainment centres for prisoners of war and military training bases.
Quail Island had a small leper colony on it from 1906-25, including one Samoan who died on the island and on Mokopuna Leper Island, a Chinese grocer from Newtown was quarantined but moved to the tiny Soames Island alongside it after being misdiagnosed with leprosy.
Today, these islands are mostly recreational reserves or parks, but their history still spooks some people.
While people regularly stay in the bunkers and facilities on Quarantine Island, Kihara found on Leprosy Island many people might visit the beach but did not go into the quarantine buildings, which are now a museum.
"People still have a fear of visiting these places, even though they are decontaminated, even those quarantine facilities which are museums. People don't like to walk into them."
When Kihara took her production crew to the island, there were visitors to the island asking if they were going to be revived as MIQ facilities.
But having completed the research, Kihara feels these islands, just like today's MIQ facilities, are not the answer.
She believes everybody has to take personal responsibility for their own actions as what they do affects so many other people.
Having visited the islands, Kihara also wanted to see how far New Zealand had come with its infectious disease control.
So she approached the newly opened National Biocontainment Laboratory located in Upper Hutt, Wellington, at the National Centre for Biosecurity and Infectious Disease.
They allowed Kihara and her crew into their laboratories for a photo shoot in the ground level where they work on non-infectious animal diseases.
The experience gave her a real appreciation of the level of scientific rigour involved in making the facilities secure.
The image of Salome looking out a window in the laboratory is completely different from the other images in the series.
"I really like the juxtaposition of time and space."
While she has finished the exhibition, Kihara says she still has unanswered questions about the quarantine facilities, the names of people who were kept there, how they were treated and whether there was a social or class divide to who was sent.
She hopes the exhibition will promote more dialogue about the issues.
"I'm looking forward to the exhibition opening. For me, the ultimate outcome is for there to be some dialogue around it. Depending on the feedback, I'll know where to go next."
Looking back on the project, Kihara knows how lucky she has been to be able to complete it without lockdown interruptions or Covid restrictions.
It also ticked all the boxes of a successful art project — doing something she has not done before and learning something.
While the learning something was obviously the stories behind the quarantine islands, the thing she had not done before was hiking.
While Kihara considers herself an outdoors person, her idea of outdoors is jumping in a car to go to the beach.
"We did this in winter. I had to go shopping at Kathmandu, which I'd never been to in my life, it was totally new to me. I guess, good exercise after a lockdown diet."
The project required her to hike some distances, sometimes up hills, with her crew, often with her hair and make-up done, to the photo shoot sometimes in the wind and rain.
"I'd get changed in the Portaloo. Anything for the shot."
Kihara says it is her art that drives her curiosity and leads to these new experiences. Like having to time shoots around tides and deal with unpredictable autumn and winter weather that brings four seasons in one day.
"I never do anything too easy for me, which is problematic. I asked myself, why did I come up with this, as it was hailing and windy and our tent nearly got blown [over]. Once, we had to wait for three hours in rain for the rain to ease so we could walk down on to the beach."

To see:
''Quarantine Islands'' by Yuki Kihara
Milford Galleries Queenstown
Exhibition preview and artist talk on Friday, July 30 at 5pm
Exhibition opens on Saturday July 31 until August 24