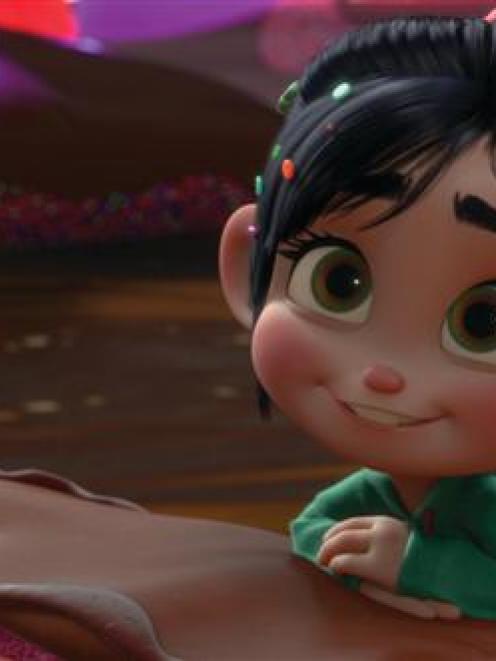 The usually potty-mouthed Sarah Silverman has taken on the role of Vanellope Von Schweetz in Disney's Wreck-It Ralph. Has the animation giant got it wrong? asks Roger Moore.
There's always been something that screamed ''cartoon'' about that potty-mouthed pixie, Sarah Silverman. Even at her most outrageous, the edgy comic's disarming, Betty Boop/Betty Rubble voice intentionally softens that edge.
Silverman's demeanour and material, in which, many have proclaimed, ''almost nothing's off-limits'' - race, religion, sex and celebrity - can be jaw-dropping. But coming from a voice built for baby talk, she gets away with it.
Her most outrageous stunt yet may be her first turn as an animated character in a Disney film. She has voiced more adult animation - The Simpsons, Family Guy, Futurama, Bob's Burgers. But Wreck-It Ralph is a Disney 'toon in which she plays a sassy, sugary exiled video-game imp named Vanellope Von Schweetz. And if Vanellope has a certain Silverman edge, the comic-turned-actress says that's Disney's doing.
So, who called whom? Did you approach Disney, or did they pitch you?
''Disney called me. They did. I have no idea why. ... I was thrilled. Everybody loves Disney. And when I thought of it, the filthiest comedian working as I was coming up was Eddie Murphy.
''And he's found a home with Disney. So if he can do it, why not me? ''I mean, I have the perfect voice for animation, and a great face for radio! Haha! I've always had a voice, a pretty distinctive one - pleasing or displeasing, depending on who you are. When I hear it, I'm like `Eeeewwww, it's so nasal'. But early on, I got a voice-over agent, and I'd go to voice-over auditions constantly - commercials. I never got booked. Never.
''Then, people started hiring me for being me and I started getting all this cartoon work. ''A lot of people are asking me about this choice, and I'm like, `Do you think I'm going to sneak [expletive] into their cartoon? No. I'm an adult. There's more than one side of me and I can certainly curb myself if they give me a script. Come on!''
Anything about Vanellope that you could identify with, as a character?
''I feel so close to her. Yes, she's a 'Her'. She's an EveryWoman - obnoxious and precocious and annoying, at first. She's this little tough girl. When people are tough, it's because they're protecting this fragile interior. She was this little rejected girl covering it with being a tough guy. A lot of people can relate to that. I know I could.''
And there are these Sarah Silverman touches to her lines. A video-game character with a learning disorder, she says she has ''pixlexia''.
''I love that! I'd love to take credit for it, but that's in the script. We improvised and came up with alternative lines. `Milk My Duds.' But stuff like `Why did the hero flush the toilet?' `Cuz it was his duty'? Straight out of the script. And I loved it.''
So is ''going Disney'' the sign that this is the beginning of a mellower Sarah Silverman?
''This comes out sandwiched between a filthy political video and a movie (Take This Waltz) that I'm nude in. So sure, I'm getting a lot mellower.''