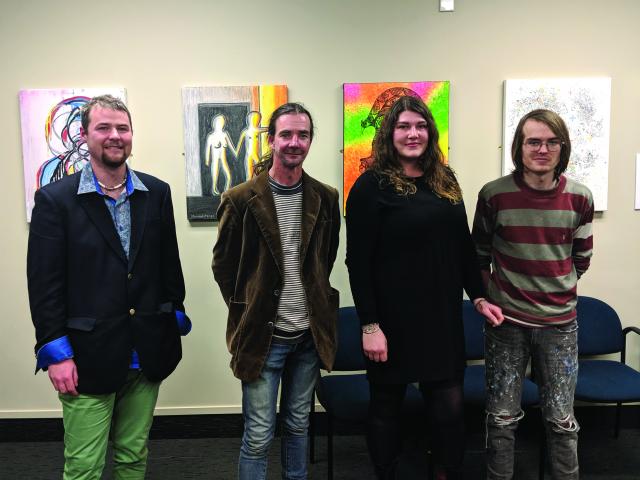 Southern DHB's Specialist Addiction Services at Wakari Hospital is a little more colourful these days thanks to paintings from art group Artsenta. 
SAS - formerly the Community Alcohol and Drugs Service - was looking to enhance the group meeting space and approached the art collaborative which supports people with experiences of mental health or addiction challenges through creativity and community engagement.
 
Artists Dan Anngow, James Thomson-Bache, Hannah Short and Glenn Burns were invited to create artwork reflecting Southern DHB values - Kind, Open, Positive, Community.
 
"It's a good opportunity for our artists but also a good opportunity for Artsenta to strengthen our ties to Specialist Addictions Services," says Artsenta Dunedin Director, Paul Smith.
 
Artist James Thomson-Bache says art can play an extremely important role in mental health, helping to break through many of the barriers in generating meaningful dialogue. The project itself has also been helpful in understanding the DHB's values at more personal level.
 
"It seemed apt that the SDHB value assigned to me was 'positive' as that has been my entire experience with the DHB," he says, adding that he found Southern DHB to be a welcoming and open community.