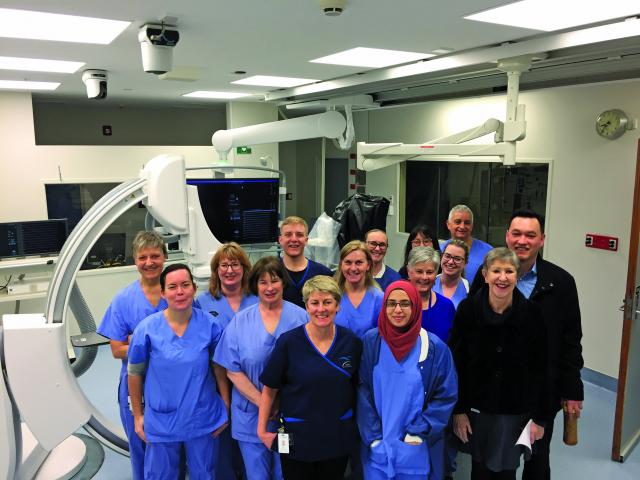 Dunedin Hospital cardiac staff have celebrated the successful commissioning of a refurbished Cardiology Catheter Suite. 
The $1.7 million project involved removing the highly-specialised X-ray equipment and replacing it with a new suite of the latest X-ray technology.
 
Cardiology clinical director Belinda Green said the clinical team was delighted. "We are thrilled with the result."

The Cardiology Catheter Suite is where the cardiac team looks at patients' heart (coronary) arteries and evaluate narrowings in the arteries.
 
The new suite has a fully integrated system that allows the narrowing to be evaluated by measuring flow changes across the restricted area and also provides direct imaging of the artery.

Collecting data helps the team to determine whether the patient would be better off with a surgical bypass operation or stents implanted across the narrowing after the original blockage has been squashed flat using high pressure balloons.
 
Additionally, replacing a patient's aortic valve with one inserted on a long tube is an important technique for those patients who would not do very well with the physical stresses associated with traditional open heart surgery.

Our new suite has integrated CT that enables the team to see in greater detail exactly where the valve should be implanted and which access point should be used.
 
This kind of imaging also helps the team place small plugs into holes in the heart.
 
Better and faster imaging using all of the equipment that is integrated into the new system enhances patient safety and decision making.
 
During the four week project, patients had their heart procedures in the Radiology department's DSA lab.
Staff had worked hard to ensure the work was completed within the expected timeframe.