We will be having informal Rocky Mountaineer info sessions with the local teams and Rocky's New Zealand resident expert Mark Richardson as follows… June 19 in Balclutha from 2.30pm, June 20 in Dunedin from 6pm, and June 21 in Oamaru from 11.30am. If you would like to attend please contact us at dunedin@hot.co.nz
Since 1990 Rocky Mountaineer has welcomed guests to inhale the mountain air and let nature take their breath away.
The unparalleled experience onboard the all-dome fleet offers rich, historic storytelling, world-class cuisine, a first-hand look at the vast and untouched wild beauty of the Pacific Northwest, and an opportunity to share memorable moments and make lasting friendships with fellow travellers.
Several members of the House of Travel Otago team have either first-hand experience of the train journey itself or indeed alternative methods of traversing the Rockies by bus or rail. Maxine from our Balclutha store spent time camping in the region while her colleague Layla has very recently spent time in and around Vancouver. Rachel (Dunedin) completed the traverse by bus, Gary (Dunedin) by Rocky Mountaineer and the public rail service (Via Rail), and Natasha (Dunedin) by car. Tony (Dunedin) lived in Banff. Jaelyn (Wanaka) spent several months living in the area around Whistler and took in a bus tour across the Rockies with a likeminded group of under-35s. Roger and Melissa (Dunedin) have completed the Rocky Mountaineer experience in the not too distant past but most recently Jason (Oamaru) and Paul (Dunedin) completed the journey. All in all if you really want to know what the Rocky Mountaineer experience is like or using alternative methods to explore the area, House of Travel specialists are very well equipped to work with you to create the best holiday together.
So, what is the journey actually like?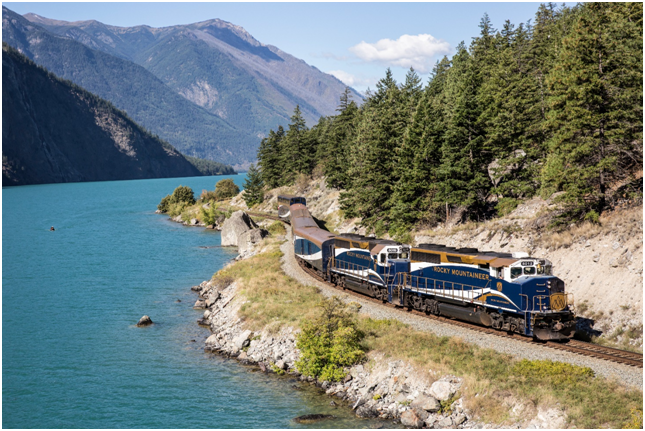 Rocky Mountaineer offers four train routes, with the 'First Passage to the West' being the most popular. It includes Vancouver, Kamloops, Lake Louise, Banff, and Calgary. The last section between Banff and Calgary is by bus. It is the only passenger rail service on the historic Canadian Pacific track. There are many Canadian holiday packages to choose from or you can customise to suit; the only thing you can't customise are the train departure dates. The direction you travel is important as the train offers journeys in both directions. Paul travelled west from Calgary to Vancouver but given his time again would much prefer to travel east from Vancouver, literally leaving the best until last. Jason began his journey from Vancouver.
Whether travelling east or west, anticipation is always high when boarding the train itself. As previously mentioned there are two types of carriages and levels of service on the Rocky Mountaineer - Silver Leaf and Gold Leaf. The biggest difference between the two is that Gold Leaf is a two-storey carriage with seating upstairs, so that you are overlooking the tree canopy where possible, with bigger viewing windows that include most of the ceiling so that you can look directly above you. A separate dining area is downstairs. The seats are more comfortable than Silver Leaf and have more leg room.
There is a considerable difference in price between Gold and Silver Leaf but you can mix and match accommodation standards throughout your itinerary to suit your requirements and budget. If you choose to travel Silver Leaf you will not be disappointed, as you will still be experiencing a wonderful journey in comfort and style. Silver Leaf carriages are a single level and have slightly smaller windows so they do not have the same all-encompassing viewing as the Gold Leaf carriage. Meals are served at your seat rather than in a separate dining area.
Jason travelled east from Vancouver where his tour package allowed time to explore the city and surrounding area. Fortunately for him pristine weather abounded as he visited Stanley Park and the Capilano Suspension Bridge. In addition to the bridge you can walk over seven suspended footbridges offering views 110 feet above the forest floor. Further, the new cliff walk follows a granite precipice along Capilano River with a labyrinth-like series of narrow cantilevered bridges, stairs and platforms with only 16 anchor points in the cliff supporting the structure… yikes!
Further exploration included the popular and quirky Granville Island, the Vancouver districts of Gastown, Yaletown, and China Town, before checking in to Flyover Canada, down in Canada Place. This 4D simulator experience was a major highlight for Jason, an experience not to be missed. Utilising state-of-the-art technology to give you the feeling of flight, you hang suspended, feet dangling, before a 20-metre spherical screen while the film whisks you away on an exhilarating eight minute journey across Canada, from east to west. Special effects, including wind, mist, and scents, combine with the ride's motion to create an unforgettable experience!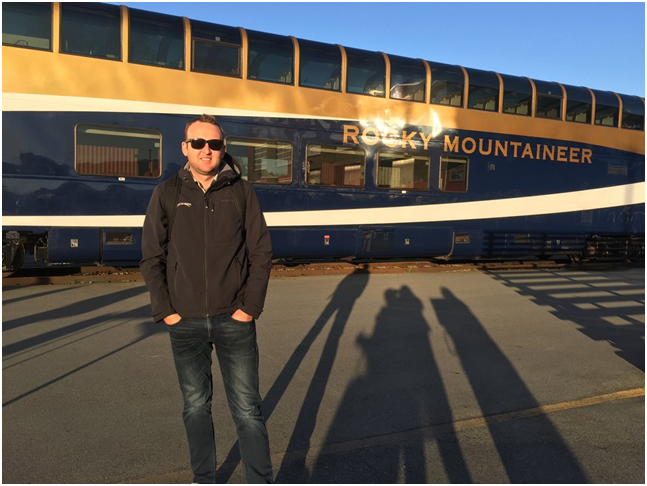 Boarding the train in Vancouver, the station atmosphere is friendly with a fantastic pianist playing, and staff hand out welcome drinks. When it comes time to board at about 7.15am, staff line up to welcome you while bagpipes play. Staff are on the stairs of each carriage to assist with boarding, red carpet and all! Jason really enjoyed the scenery on day one, the rivers, canyons, and mining towns. During the day, you are welcome to move around the carriage, and out to Jason's favourite location - the outdoor vestibule. As he travelled at the start of the season, there was still quite a bit of snow and the temperatures quite low, but he was surprised how warm it was outside. You are mainly sheltered but can go to the edge to get photos etc. Throughout the day a parade of amazing food and liquid sustenance was available. The journey really is more than a showcase of the Canadian wilderness as only the best of Canadian cuisine is presented to guests. The train arrives in to Kamloops at around 6pm where all the guests are transferred to their hotels for the evening.
Day two was an early morning start with a 6.25am boarding time and a journey into the real essence of the trip, the Rocky Mountains and a dramatic change in landscape. Frozen lakes and snow-covered mountains dominate the scenery with a possibility to see some wildlife. For Jason a highlight of the day was progressing through the famous Spiral Tunnels, opened in 1909. The route includes two tunnels driven in three-quarter circles into the valley walls, making it one of the steepest, most scenic railway lines in North America, crossing the Kicking Horse river, and running under Mount Ogden and Cathedral Mountain.
Most Rocky Mountaineer journeys take in the spectacular lakes and mountains surrounding Banff and north to Jasper at the beginning or conclusion of your journey. Banff is a beautiful small town surrounded by mountains with a beautiful river running through the middle of it. Deer and elk wander around the streets pretty much oblivious to the people going about their days. In Banff, you can take a hike (more of a walk) up the smallest mountain in the Rockies – Tunnel Mountain, for some really nice views of Banff, or head up the gondola at the foot of Sulphur Mountain. If you have a sweet tooth make sure you try a beaver tail! These are an amazing sweet treat (basically a big crispy donut or churro with toppings). The area really is a paradise for outdoor enthusiasts seeking adventure. There are endless trails to explore, mountains to climb, fishing and hunting, and a list of activities to entertain a variety of interests. If you are into skiing and boarding there are three good ski resorts close by: Norquay, Lake Louise, and Sunshine. If you are wanting a really challenging day out then Paul suggests 'Kicking Horse' located just outside the National Park.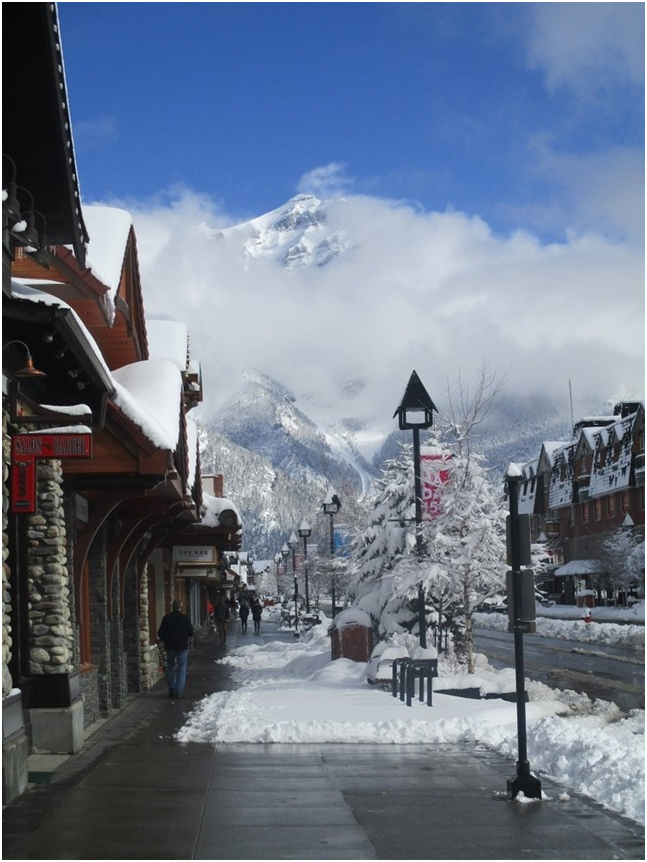 Part of your Rocky Mountaineer experience may be a helicopter flight from Kananaskis. Unfortunately for Paul travelling at the end of April, the weather could have gone either way. At the time Alberta was experiencing an unseasonably long winter resulting in the cancellation of his flight. It was the opposite experience for Jason, who completed the experience high above the Rockies and is still going on about this wonderful experience.
Lake Louise is also nearby (90 minutes by coach), and is a must see in this area. Gold Leaf customers might stay at the iconic Fairmont Lake Louise Hotel, or as Paul experienced the Emerald Lake Lodge in the spectacular Yoho National Park, 90 minutes from Lake Louise. The property is simply a small, lake front resort, on its own, in the middle of nowhere - it was fantastic and such a beautiful setting, especially with the lake frozen over. For Paul, trying to peel his eyes off the scenery was the biggest challenge of the day. The mountains surrounding the lake are quite incredible; you feel really immersed by their size and feel as though you can touch them. Further north you may want to extend your stay and visit the Colombian icefields.
All our team that have travelled on the Rocky Mountaineer have found the staff quite incredible, very engaging, professional, fun, and knowledgeable. Accompanied by the beautiful scenery and cuisine you soon realize why it is regarded as such an iconic rail journey. Special deals on the Rocky Mountaineer are rare given the popularity of the experience. Sometimes, as is the case now, deals are focused on activities either side of the train experience. For example, until August 31 you can take advantage of a CAD1000.00 per couple credit on journeys of eight days or more. This could be used towards additional hotels, dining, or even cruising. In reality, the focus for customers' should be booking early enough to guarantee the dates you most desire to travel. That means booking now for next year.
For more details of Jason and Paul's experiences, please check out their blogs… http://bit.ly/JasonRocky and http://bit.ly/PaulRocky.
We will be having informal Rocky Mountaineer info sessions with the local teams and Rocky's New Zealand resident expert Mark Richardson as follows… June 19 in Balclutha from 2.30pm, June 20 in Dunedin from 6pm, and June 21 in Oamaru from 11.30am. If you like to attend please contact us at dunedin@hot.co.nz