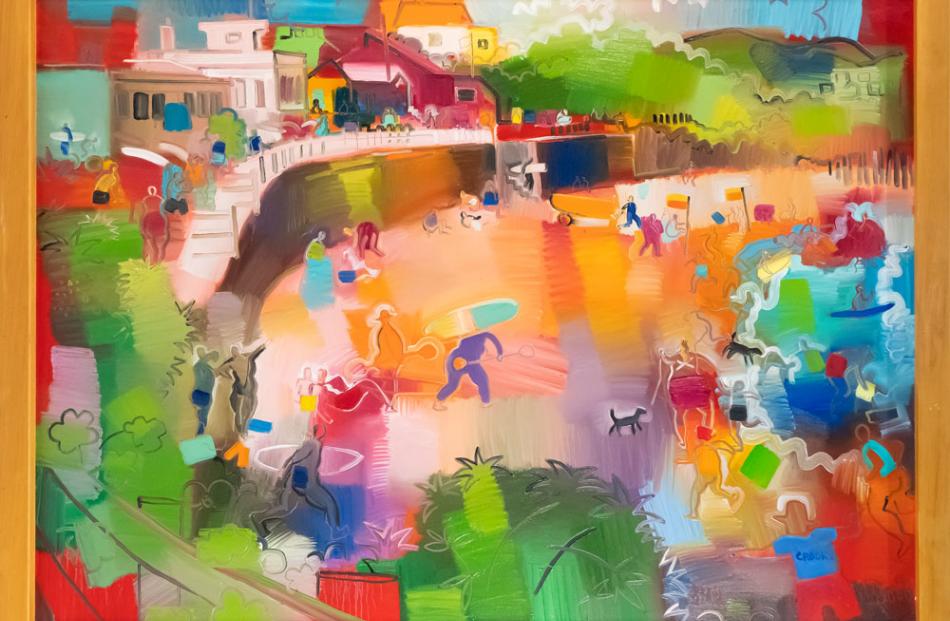 The last art auction of the year at Hayward's Auction House will be held from 2pm this Sunday, December 8.
Owners Bridgette and John More are very pleased with the calibre of the art on show, which features a wide range of very well-regarded local and national artists.
This Sunday's auction includes important works from Douglas Badcock, Peter Beadle, Neil Driver, Lindsay Crooks, Ben Webb, Clark Esplin, John Toomer, Marilynn Webb, Ewan McDougall, and Graham Brinsley.
Where galleries tend not to, at Hayward's Art Auctions traditional style artists such as J Elder Moultray are hung right next to more contemporary artist, like Dunedin's Manu Berry. This eclecticism is what makes the auctions so interesting, bringing a wide range of people with varied interests into the auction rooms.
Hayward's Art Auctions are always very well attended, and they have become a highlight on the local art calendar.
For those who can't make it on the day, absentee bids can be made through Hayward's website or, if appropriate, phone bids can be arranged during the auction. Hayward's will arrange packing and sending of smaller art works throughout New Zealand for buyers who live out of town.

Selling art
John and Bridgette have worked hard to grow and develop their art auctions since taking over Hayward's Auction House in 2015. They see this Sunday's auction as the culmination of these efforts.
Giving individual pieces enough space to stand out, and the professional photography of each piece, is the key to the growth of the auctions, they believe. And John and Bridgette work with both vendors and buyers on the sales process and expectations around prices.
Now being one of the preferred ways to sell secondary art in the South Island is very rewarding, Bridgette says. They are seeing more and more referrals from galleries to sell art on behalf of clients.
Also pleasing is the increasing number of collections they are being asked to consign to auction. Bridgette and John will travel throughout the South Island to appraise work.
They believe that the future of the art auctions is very positive, and as a result they are intending to run extra auctions in 2020.
If you are interested in selling art, please contact Hayward's Auction House and they can talk you through the process.

Art auction: from 2pm Sunday, December 8; Hayward's Auction House, 5 Carroll St, Dunedin. See www.haywards.co.nz for more information.
Sunday's auction includes works from the following artists:
A A Deans, A Rush, Anita DeSoto, Anna Caselberg, Anne Hayes, Annie Baird, Annie Nevin, Anton van Der Bergh, Ashley Shaw, Aston Greathead, Audrey Bascand, Barbara Graham, BB Jeans, Ben Webb, Brent Hargreaves, Brent Trolle, Cathryn Shemansky, Charles Pickworth, Claire Beynon, Clark Esplin, Colin Wheeler, Cynthia Taylor, Donald Paterson, Donna Demente, Douglas Badcock, Duncan Darroch, E Moore, Elisa Ramsey, Ella Spicer, Emma Wright, Eunice Mowles, Ewan McDougall, F. Auger, Francis Leigh Hutchinson, Frank Gordon, Fred O'Neill, Garrick Tremain, Gemma Baldock, Gillian Pope, Graham Brinsley, Grahame Sydney, H Winter, Hamel, Heather Maxwell, Hilda Wiseman, Inge Doesburg, Ivan Hill, J A Rasmussen, J Elder Moultray, J G Errington, J McN, J.H. Ward, Jack Wyllie, Jackie Anderton, Jackie Chatfield, Janet de Wagt, Jasmine Middlebrook, Jenny Waelti-Walters, Jenufa Waiti, JK Reed, Jo M Loughnan, Jo Robinson, Joan Hardy, Joan Taylor, Joe L'Estrange, Johanna Ward, John Burns, John McDougall, John Middleditch, John Toomer, John Z. Robinson, Jonny McDougall, Julie Smith, Kan Shimada + Yasuo Uno, Karel Burrow, Karin Werner, Karin Wheeler, Kath von Tunzelmann, Katherine Chadwich, Kelly Thompson, L A Fernian, Laurence Berry, Lindsay Crooks, Lindsay Hazley, Lindsay Kennett, Lloyd Godman, Lynn Taylor, M Horn, Mabel Still, Malcom Warr, Manu Berry, Maria Kemp, Marilynn Webb, Marion Mertens, Mary Mullholland, Maurice Buckland, Naomi Wadsworth, Neil Driver, Nick Froude, Nigel Wilson, Olav Nielsen, P Bethune, Pamela Brown, Paul Drake, Paula Brand, Pauline Bellamy, Pauline Berry, Peter Beadle, Peter Cleverly, Peter Lambert, Pia Davie, R Kernot, Ray Harvey, Rena Swift, Rhonda Campbell, Richard Holland, Rita Blakeley, Rob West, Robin Gibbard, Roger Hickin, Rosalie A Gillies, Ross Lee, RT Moorhead, Sarah Dolby, Shane Lusk, Shelia Brown, Shona McFarlane, Simon Maclaren, Spicer, Steev Peyroux , Suzy Platt, W. Allen Bollard, Watts Davies, Wayne McPhail, Wayne Seyb, Wayne Sinclair, WF Moore, William Harris, Winifred Cox.