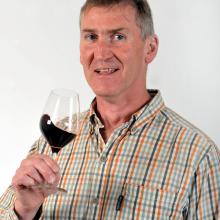 At the end of January, I had tremendous pleasure in attending the 2018 Central Otago Pinot Celebration, in Queenstown.
More than 200 wine enthusiasts, producers, importers, sommeliers, media and more, joined me in three full-on days devoted to pinot noir, leavened by a series of exquisite lunches and dinners.
I came away having learned an awful lot, providing much food for thought.
What a delight then to carry on where I left off with this cracking selection of Central Otago pinot noirs that really managed to strut their stuff.
2015 Carrick Bannockburn Pinot Noir
Price: $45
Rating:  Outstanding
Attractively perfumed nose with dark fruits, savoury notes and dusty, pencil shavings. Those savoury and dark fruit notes flow through the richly textural palate, which remains light on its feet with lovely freshness. Finely balanced, the dark fruits hang on the long close, which has a chewy crunchiness. Superb stuff that builds in power over time.
2014 Wooing Tree Pinot Noir
Price: $48
Rating:  Excellent to outstanding
Bold nose with ripe cranberry, smoke and savoury notes. Powerful tannic grip encloses the savoury led palate. Intense dark fruits and raspberry do a little dance with the tannins. For all its evident power, there is a bright freshness to the deliciously, juicy savoury finish, with a long carry that hangs in the mouth.
2014 Misha's Vineyard The High Note Pinot Noir
Price: $45
Rating:  Excellent
Cologne-like perfume leads before the plum and blueberry fruit rushes in. Powerful tannins frame the palate, tilled earth a backdrop to the powerful plum and dark fruits. Interest and intrigue here, hints of warm leather, bonfire embers, savoury elements, showing its structured side with time. Still looks very youthful, with more integration to come.
2016 Rockburn Pinot Noir
Price: $45
Rating:  Excellent
Powerful nose, a melange of fruits with top notes of dark cherry, wild herb and umami. A powerful palate backs up the nose, more into the cherry and red fruits/raspberry spectrum: the fruit making a statement with oak scents in the background. A sweet fruit core, yet remaining dry, with fine tannin and acid backbone. A fine overall package.
2016 Gibbston Valley GV Collection Pinot Noir
Price: $46
Rating:  Excellent to outstanding
Struck match, smoke, stalk and wild herb; aeration lets the dark fruits shine, adding a perfumed note. A little wildness and funk, the youthfully brash tannins mask the fruit at first before the juicily, sappy, dark fruits and cherry make their presence felt with a refreshing sweet/sour note. Bright, mouth-filling, full of interest; this really grows on me.
2014 Domaine Thomson Surveyor Thomson Pinot Noir
Price: $45-$49
Rating:  Excellent to outstanding
Opens to a delightful perfume, adding hints of bonfire smoke and dried herb. Vivid, juicy and lip-smacking with nice fruit intensity and excellent balance. There's youthfulness to this, yet drinkability; with char, savoury and dark fruited elements opening up on the long, crunchy and moreish finish. The tannic structure builds: time will be a friend here.