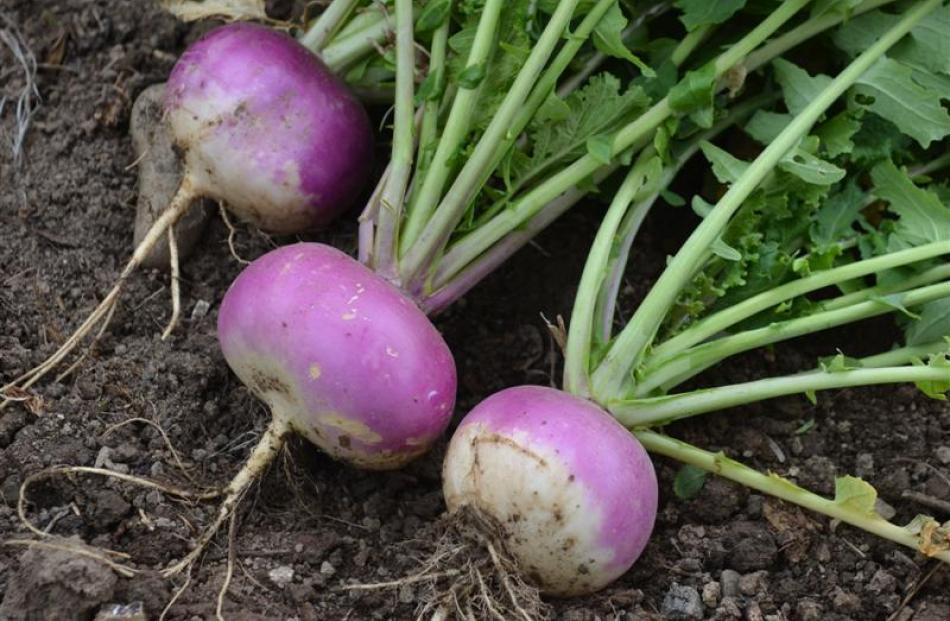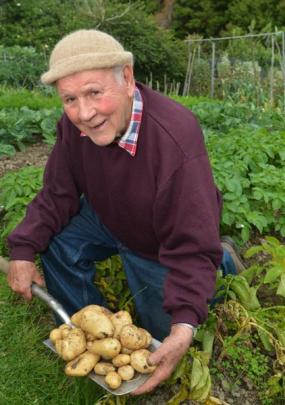 Growing vegetables or fruit in your own backyard has made a comeback. Rosie Manins learns how it's done.
Timing is everything when it comes to the garden, Dick Turvey says.
The St Leonards resident should know - he has been growing vegetables for almost all of his 83 years.
Mr Turvey is in the garden every day, weather permitting, and says with experience comes a sense of when things should be planted.
''By Christmas time you're just doing the tail end of the winter gardening, which is really ongoing from one year's end to the next.''
Carrots, parsnips, and other winter vegetables can be in the ground for 12 months, he says.
''Gardening is an all-year-round occupation. Summer vegetables, salads and things, you plant and they develop very quickly.''
He plants many vegetables, including potatoes, in stages so they mature at different times.
It reduces wastage and prolongs the supply from garden to pantry.
''I start planting potatoes in July and always have the whole crop planted by the end of September, then I can start eating them in November or December but they don't ripen all at once.
"The main crop is ready about February or March, and I dig them all by New Year and replant them so I can have new potatoes at Easter.''
Mr Turvey says his intial planting in early October is followed by a secondary planting and a ''bit of a breather'' leading up to Christmas.
''Then you start planting leeks, celery and all those things you need for winter.''
A child of the ''depression days'', he has always regarded winter gardens as the most important, for it was during winter when vegetables became scarce.
''Going back to the 1930s, when there weren't such things as supermarkets, people had big quarter-acre sections and they needed a good vegetable garden to survive - times were hard.
''It's different now because you can buy vegetables all year round from the supermarket and the whole tenor of gardening has changed from when I was growing up. Of course old traditions die hard, so I still have a big garden,'' he said.
Mr Turvey produces far more than what he and his wife need, so he gives many seedlings to the Sawyers Bay Garden Club and bestows fresh fruit and vegetables upon friends and neighbours.
He remembers buying seeds at fourpence a packet, and 25 lettuces for sixpence.
''People used to plant a lot more, they had bigger gardens and bigger families.''
He and his wife have lived at St Leonards for almost 25 years, having moved from St Kilda when Mr Turvey was approaching retirement and longed for a bigger section to keep him occupied.
Over the years he has developed and divided the land, which was little more than sheep paddock initially.
''The ground was clay-based and I've worked on the soil on a 20-year plan. Nothing leaves the section. I used to have seven compost bins but I've cut it down to about five now.''
His compost matures for about a year before it is put on the garden and is often boosted by seaweed, in which Mr Turvey is ''a great believer''.
''There are loads of iodine salts and nutrients in it that you don't get from other things. Another beauty of seaweed is you don't get weeds in it.''
He uses about 20 bags of seaweed each year, particularly on his potatoes and yams, digging or trenching it into the ground.
Only a ''handful'' of other things feed the garden, and artificial fertilisers are avoided.
''I used to use a lot of animal manure, cartloads of that, and of course if you use that stuff you get worms into your garden. Worms are good little workers and they don't like artificial fertilisers.''
Mr Turvey's list of planted vegetables is extensive, and he says only a few underperform in Dunedin - corn, French beans and the marrow family including courgettes and pumpkins.
''You need heat for them. Here, wind is also our enemy.'
---
Top tips
• Plant crops in stages so they mature at different times.
• Avoid chemical fertilisers and sprays.
• Use green waste from the property in compost.
• Trench seaweed into the garden and add it to compost.
• Animal manure attracts worms.
---