Sparkling wine ranges from sweet and fruity such as the Yealands pinot gris blush to elegant and dry with great finesse such as the Deutz wines in this tasting.
But whether it's for a summer barbecue or a sophisticated occasion, sparkling wine is essentially celebratory.
Although wine sent for review is tasted blind to eliminate preconceptions, all wine tasting and evaluation is subjective. These are personal recommendations.
---
Best value
Peter Yealands Marlborough Sparkling Sauvignon Blanc$173 and a half stars
(out of 5)
Good value
If you enjoy the vibrant herb and capsicum flavours of sauvignon blanc you'll love the vibrancy and freshness of this lively sparkling version.
Peter Yealands Marlborough Sparkling Pinot Gris Blush
$17
2 and a half stars
Good value
Pale pink, sweet and fruity with a hint of creaminess and a fresh finish.
Alan Scott Marlborough Cecilia Brut
$29
3 stars
Average value
A fruity, sweeter sparkling wine with a hint of nuttiness and a simple, clean finish
Tohu Rewa Methode Traditionelle Marlborough Blanc de Blanc 2011
$34
Average value
4 stars
A traditionally made sparkling wine from chardonnay (blanc de blanc means white wine from white grapes), elegant and fragrant with hints of mineral, nuts and honey, well structured with an underlying dryness and a crisp stylish finish.
Deutz Marlborough Blanc de Blancs 2009
$45
4 and a half stars
Average value
Stylish and elegant with hints of nuts, freshly baked brioche and lemon curd, mouth-filling mousse and a crisp, dry finish.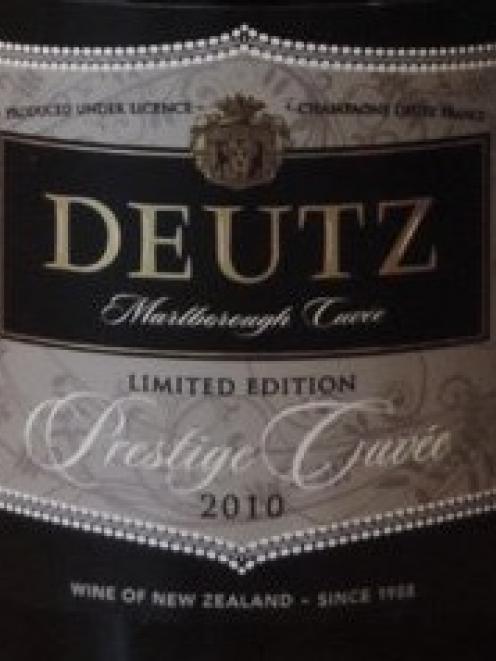 Deutz Limited Edition Marlborough Prestige Cuvée 2010
$45
4 and a half stars
Average value
A classic methode traditionelle with lovely yeasty, toasty nuttiness, mouth-filling and long with an underlying dryness and lovely balance.
One of New Zealand's most stylish sparkling wines.
ANOTHER GLASS
Deutz Marlborough Cuvée Rose 2008
$45
4 stars (out of five)
Below average value
Pale pink with hints of freshly baked bread and honey, attractive weight in the mouth and a lovely, dry finish.