Nearly a decade ago as the GFC bit, we saw amazing wine specials in our supermarkets, as wineries, eager to shed inventory and gain turnover (in what were difficult times), slashed prices.
I remember talking to my friend Jules then: he was bullish at the prospect of new wine drinkers who would be attracted to these modestly-priced wines, and whom he felt would ''trade up'' over time, creating growth for Kiwi wineries.
While I somewhat agreed with his premise, my cynical side pointed out that the prices being offered were unprofitable, unsustainable, and in creating a new normal of super-low prices would lead to companies sourcing cheaper wine from overseas to meet these price points in the future. This has now become commonplace in New Zealand.
Of course, this begs the question - ''How many really care?''
Many consumers want a nice, solid wine that goes well with dinner and friends, not an epiphany in a glass, and probably care little where it comes from.
With our cool climate and relatively small industry, New Zealand is not a significant player in the world bulk wine market: we simply cannot produce consistent volume cheaply enough. Subsequently, in the race for the bottom of sub-$10 prices, more and more companies are looking offshore.
I have no qualms with this: We live in a free trade environment and companies need to remain profitable. If consumers are seeking price-sensitive wines, then companies have every right to procure these wherever they can.
The grey area for me is in the labelling. Do people think they are buying Kiwi, when in reality they are not? A number of well-known New Zealand brands are no longer Kiwi made, and the country of origin is discreetly mentioned on the back label. Did you know? Do you care?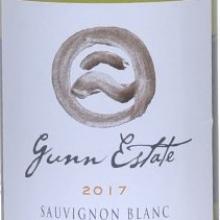 2017 Gunn Estate Sauvignon Blanc
Price: $9-$10
Rating: Fair to good
Country of origin declaration: Good  (product of Australia)
Subtle nose, a whisper of gooseberry, tropical fruits and sweet confectionery. Clean, fresh and with good texture, adding light notes of capsicum, citrus and a saline element, though rather hollow on the mid palate. This fattens up with aeration though the acidity remains disjointed.
Nothing memorable but reasonable drinking.
2017 Montana Winemakers Sauvignon Blanc
Price: $9-$10
Rating: Good
Country of origin declaration: Reasonable (product of Australia) 
Interesting nose of struck match, bread dough, honey and lemon curd. Rather more varietal on the palate with decent richness and depth to the fruit, showing appealing freshness and supple mouthfeel: the acidity nicely judged. This gains some lemon honey notes with aeration and finishes with reasonable length.
Tidy drinking.
2017 Shingle Peak Sauvignon Blanc
Price: $8-$10
Rating: Good to very good
Country of origin declaration: Poor (product of Australia) 
A bright nose with a saline, sea shell/sea shore quality, a touch of lanolin and lime cordial, too. The palate brings green herbs, lime citrus and tropical fruit notes into play as this builds in richness and depth on the front palate with a zesty, crisp freshness creating nice balance.
Good bang for your buck here.