The highly respected Drinks International magazine has just released its seventh annual ''most admired wine brands'' list, our own Felton Road Wines from Central climbing into the top 10 (after leaping on to the list at No 13 last year).
It shares its top-10 glory with Villa Maria: the two of them back to back in eighth and ninth spot. Cloudy Bay comes in at 14th, while Oyster Bay rounds out Kiwi representation.
Drinks International polls a large group of wine professionals, journalists, wine educators and MWs (masters of wine), taking into account wine quality, innovation, typicity within styles/country, marketing/packaging and overall appeal to a wide market demographic. Wonderful recognition for Felton Road.
Auckland wine fairs
Wine lovers finding themselves in Auckland in the near future should keep an eye out for two upcoming wine festivals. First up is the 2018 World of Wine Festival to be held this weekend. A truly international affair with more than 140 wines from 14 countries being poured by the principals of a string of local wine importing businesses. A fantastic way to expand your vinous horizons.
Then, on June 10, is the 2018 NZ Boutique Wine Festival. With a series of masterclasses, vertical tastings and more than 30 boutique producers (including half a dozen from Central Otago), this is an opportunity to delve deep into some our smaller producers.
Visit www.boutiquewine.co.nz for details.
Sauvignon Blanc Day
Sauvignon Blanc Day was last Friday. New Zealand produces less than 1% of the world's wine, but 17% of the world's sauvignon blanc originates here. You can do your bit by enjoying some Kiwi sav blanc - here's three suggestions to get you started.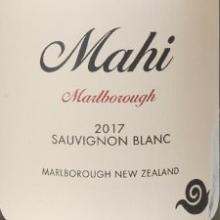 2017 Mahi Marlborough Sauvignon Blanc
Price: $22.90
Rating: Excellent
Wilder nose at first with struck match, sweat and smoke, evolving quickly to vibrant gooseberry and cut grass. Intensity to those flavours in the mouth, adding citrus and red capsicum with a deliciously creamy texture. Nice balance here — a little bit of chalky grip adds slinkiness to the delightfully zesty close.
A nice package.
2017 Main Divide North Canterbury Sauvignon Blanc
Price: $21
Rating: Very good to excellent
Gunflint and bread dough lead; tropical fruit nuances and a zesty note evolve gracefully with aeration. Supple in the mouth and deceptively rich, adding baked apple, lime, herbs and bonfire embers; all the while a wonderfully tangy fruit sherbet note runs through the wine giving lovely vibrancy.
A different style of sav but really interesting and appealing.
2017 Yealands Estate Single Estate Awatere Sauvignon Blanc
Price: $21.95
Rating: Very good to excellent
The nose offers ripe capsicum with hints of smoke and sweat. A lick of fruit sweetness leads the way adding tropical fruit notes to the grassy undercurrent on the fat and rich palate with nicely balanced acidity. The brightly herbal aspects build over time, leading to a delightfully long finish.
This ticks all the boxes.