Returning from the Christmas-New Year break, I put some thought into the content that would go into my first column back.
Something with an Otago theme perhaps, robust reds as a panacea to the dreary weather we have suffered, or zesty sauvignon blancs?
In the end, with the weather beginning to show signs of embracing summer, I came down on the side of rose.
Nothing speaks of summer more and a couple of these really tick the value box too.
Let's hope the weather plays its part!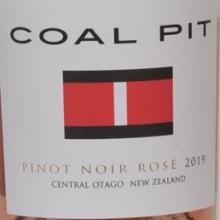 2019 Coal Pit Central Otago Pinot Noir Rose
Price   $31
Rating Very Good to Excellent
Strawberry, watermelon, chewing gum, expanding over time. Fruit sweetness, dried strawberry with stony minerality, delicacy and subtlety at first but builds to fill the mouth with flavour and richness. Slow out of the blocks, a distance runner with a lovely, long carry of flavour.
Refreshing zestiness on the finish.
2019 Mills Reef Reserve Hawke's Bay Rose
Price $24.95
Rating Very Good
Pale rose colour. Candy floss and coconut ice, a medicinal hint, red berries. Similar palate, shifting to candied fruits and boiled sweets, sweeter than the nose might suggest. Clearly ripe fruits providing good flavour intensity and carry.
A little syrupy off the bat, yet grows rather nicely to provide very easy drinking.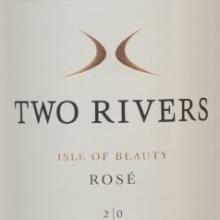 2019 Two Rivers Isle of Beauty Marlborough Rose
Price  $24.00
Rating Excellent
Very pale rose colour. Savoury notes, subtle perfume, grassy hints. Creamy palate, zesty notes of lime, orange, grass and strawberry on a dry frame. Elegance and delicacy to the nose, while the palate gets the salivary glands going as it flows to a racy sweet and sour zinginess on the close. 
Subtle yet very stylish.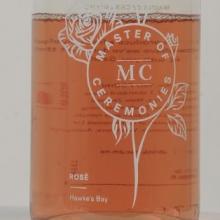 2019 Master of Ceremonies Hawke's Bay Rose
Price   $20.99
Rating Very Good to Excellent
Copper colour. Leads with a wild and funky note, settling down to red berries, baguette, perfume and savouriness. Strawberry and red fruits sashay into the creamy palate, a rush of flavour. Fruit sweetness, yet relatively dry.
This fills out nicely, adding intriguing earthy touches, with an Italianate tang on the close.
2019 Black Cottage Marlborough Rose
Price   $18.00
Rating Excellent
Salmon/copper colour. The nose leaps out of the glass with strawberries, spices, apple and bread dough. Immediate impact on the palate,  the flavours filling the mouth, adding sweet and sour tanginess. A crunchy juiciness to the texture.  Real vibrancy, life and lift with a long finish.
Lip-smackingly delicious value for money.
2019 Durvillea Marlborough Rose
Price   $15
Rating Very Good to Excellent
Onion skin/rose colour. Strawberries and cream, spices, peach fuzz and a stony mineral note. Intriguingly different. Sweet fruited entry, adding yeasty baguette notes, with a bittersweet element creating a counterpoint.
Lovely flavour depth and excellent length. Perhaps not totally mainstream, yet lots to enjoy here and priced sharply.