I must admit that I don't actually drink a great deal of pinot gris.
Everyone has their favourites, of course, and for me that tends to be riesling, chenin blanc and chardonnay in the whites (in no particular order).
Yet, there are times when there is nothing more enticing than the sumptuous fruitiness of a well put together pinot gris.
The bright fruit, at times uncomplicated nature and supple texture make it easy to drink and enjoy: a sort of vinous summer sunshine in a glass to uplift your spirits.
Rather a-gris-able indeed.
2017 Framingham Nobody's Hero Marlborough Pinot Gris
Price: $19.99
Rating: Very good to excellent
Clearly pinot gris with its strong aromas of pear and gum drops: sweetly fragrant. Very appealing and rich palate with pear, stonefruit, sherbet, nutty elements and wet stones, crisp acidity brings nice freshness; developing a savoury, lanolin element with time. Textural mouthfeel, good weight and balance.
This works rather well.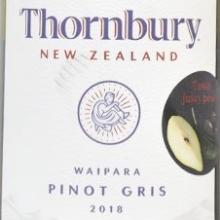 2018 Thornbury Waipara Pinot Gris
Price: $14.49
Rating: Excellent
Youthful, Fruit Jubes, banana and pineapple, developing a nutty, wilder note with time. Sweet fruit entry, at first grapey, with stonefruit opening up. Starts off softly textural, but this is a bit of a slow burner, building in intensity and integration; a lovely core of acidity bringing freshness and already showing excellent drinkability.
Great bang for buck.
2018 Mahi Marlborough Pinot Gris
Price: $22.90
Rating: Very good
Youthful yeast esters, struck match, a stony/saline note with stonefruits building. Sherbet and pear on the tighter, chewy palate which accents its stony, minerally side, tending to the savoury/saline spectrum.
Medium weight, the fruit growing with aeration, as it develops a tangy, sweet and sour feel through the close.
2018 Wooing Tree Central Otago Pinot Gris
Price: $32
Rating: Very good to excellent
Fragrant nose of pear, pineapple and tropical fruits. Sweetly fruited entry delivers the promise on the nose with sugar-dusted Fruit Jube and ripe apple on a supple and mouthfilling palate. 
Softer acidity, melded with a hint of chewiness gives this a lot of drinkability, while a lick of freshness on the close neatly balances the sweetness.
2016 Greywacke Marlborough Pinot Gris
Price: $30
Rating: Excellent to outstanding
Hints of matchstick, grilled nuts, fruit zest and kernel lead before the stonefruit notes swell. Supple, textural, rich and mouthfilling showing pear, apple, mandarin and spice on the delightfully creamy palate, which finds a willing counterpoint in the bright and piquant finish.
Fruit sweetness, balance and integration create a winning combo.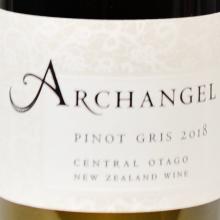 2018 Archangel Central Otago Pinot Gris
Price: $25
Rating: Excellent
Youthful nose of stonefruit, wine gums and cashew nut. A burst of flavour; there's a delicious tanginess to the palate that finely counterbalances the sweet fruits. Lovely depth of flavour and richness here, matched by a delightful lip-smacking salivatory aspect to the close that draws you back for more.
A tasty package.