Putting together today's tasting felt a bit like covering all the bases - four wines that hit the value-for-money button (and will all probably sell on special for less than $15); check.
One of those in the new "lighter'' style for those who are trying to ease back on the alcohol (and the calories); check.
A widely available Central Otago label to keep up the local interest; check.
A lush, almost dessert wine-style to showcase another side of pinot gris; check.
All in all an excellent morning's work, which I hope you will enjoy as much as I did.
2017 Mt Difficulty Roaring Meg Pinot Gris
Price: $23
Rating: Very good to excellent
Attractive nose of ripe pear and stonefruit with nutty nuances; nice freshness too. 
The palate unfolds with creaming soda, cooked apple, pear, adding lanolin and spice with aeration.
A whisper of sweetness here balanced by zesty acidity.
This shows delicious balance, building in weight and texture. A smart little wine and rather moreish.
2017 Giesen Pinot Gris
Price: $15
Rating: Very good
Leads with zesty notes of fruit sherbet, spiced pears and wet wool, becoming more perfumed and floral with aeration.
A subtle and lighter-bodied style that might be easy to overlook, yet attractively textural, fresh and creamy, with nuts and stonefruit to the fore. A very easy style that does what it says on the label.
2017 Stoneleigh 'Lighter' Pinot Gris
Price: $17.30
Rating: Very good
Juicy Fruit chewing gum and apple with fruity wine gums.
There is an intriguing sweet & sour element to the palate; the sweeter apple and stonefruit balanced by mandarin zest, which gives it tangy freshness.
Aeration adds pear notes and growing fruit sweetness, yet the acidity keeps it light on its feet.  Lots of appeal here.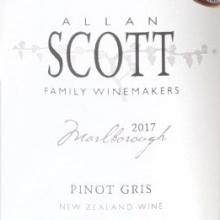 2017 Allan Scott Marlborough Pinot Gris
Price: $18
Rating: Excellent
Subtle nose of white flowers, pear and grilled nuts. The palate belies the nose with surprising richness adding quince and spice notes.
Real interest developing as this opens up, nuts, pear and tropical fruits bursting on the scene.
Lovely mouth-feel here, excellent balance and depth through to a long finish, providing very attractive drinking.
2017 Montana Reserve Hawke's Bay Pinot Gris
Price: $17
Rating: Very good to excellent
Nose of musk, orange zest, pear and almond, pineapple hints with aeration.
Impressive textural richness, a slippery mouth-feel in a lower acid style showing musk, honey and spice notes on the lushly attractive close.
I may be a pedant in wishing for a touch more freshening acidity; others will just lash this back with enjoyment.
2014 Main Divide Pokiri Reserve Late Picked Pinot Gris
Price: $25
Rating: Excellent
Powerful nose with strong botrytis influences, musk and truffle marrying delightfully with bush honey, toast and spice. Sweetly lush and viscous palate that adds caramel and toffee notes.
Intense sweetness here, with flavour intensity to match, a neat vein of acidity coursing through the wine to the apricot kernel-inflected, long, long close. Yum.