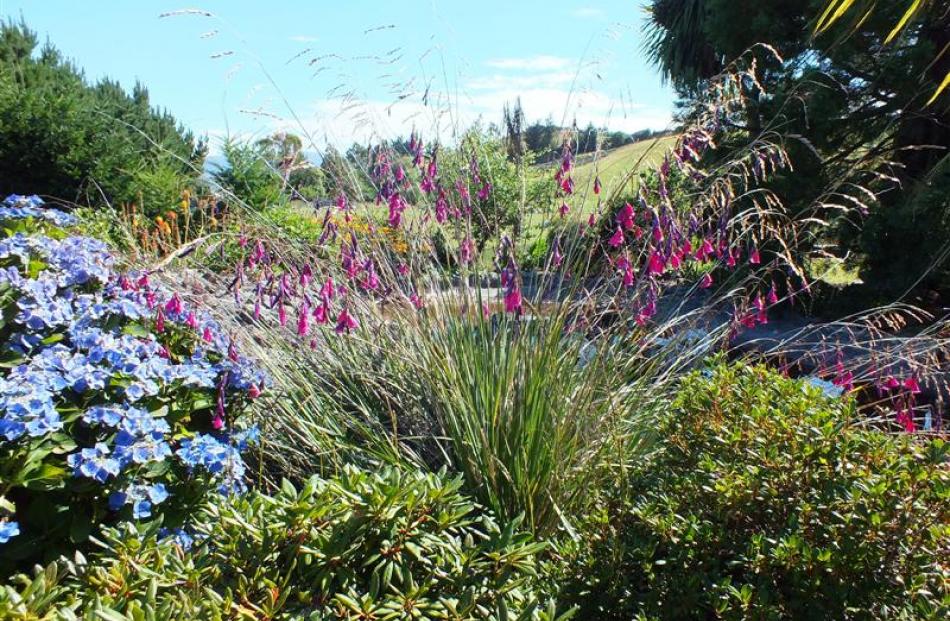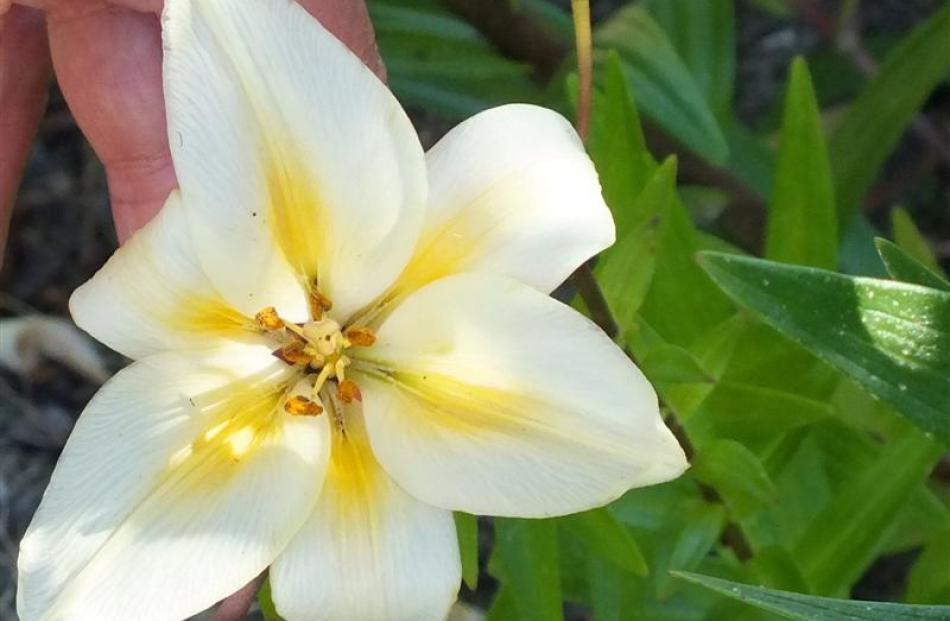 Gardening was a Waihola woman's way of meeting her neighbours, Gillian Vine learns.
Agreeing to host the Outram Garden Club's Christmas event last year had a pleasant side effect for Pam Deans.
She thought that, if club members were travelling to Waihola to her place, they should have the opportunity to look at some other attractive gardens in the area, so she sorted out several to visit.
It was not difficult: she walks around Waihola regularly and had admired a number of lovely gardens. The problem was that, working mainly in Dunedin, Pam didn't know the owners but some door-knocking soon solved that ''and I met some of my lovely neighbours''.
Pam and her husband, Robin, have lived in Waihola for almost 11 years. They bought the property - then 2ha, since enlarged to 4.1ha - with an eye to becoming reasonably self-sufficient.
''It been completely transformed,'' Pam says.
Previous owners must have had a love affair with conifers, for there was a canopy over the drive formed by a row of pines on one side and uncut macrocarpa on the other.
''It did look nice, like looking down a funnel,'' Pam recalls, but it created too much shade and sucked goodness from the soil. Also out went a couple of large - and potentially enormous - sequoias, pines on a boundary and several other conifers plus, regrettably, a walnut tree that had been planted too close to the house.
In went new fences. ''The old ones were had-it,'' Pam says. That meant a double-grafted greengage-Coe's Golden Drop, Omega, Billington and other plums could be planted in a mixed border along the fenceline in front of the house. A small orchard, with more stone fruit and gevuinas, is further back from the house. The gevuinas fruited for the first time last year and Pam was delighted to get three nuts to try. The bushes are covered with flowers and she has high hopes of more nuts this season.
Other changes included moving the vegetable garden.
''From the deck, when we came you looked out at the vege garden. I didn't fancy relaxing on the deck and thinking of weeds,'' Pam says.
Apart from removing unwanted trees, one of the most difficult jobs was creating a new back lawn. The previous owner had bred goldfish and planned to extend his pond, so had scraped out a large area, down to the clay pan. It was left in that state. For their daughter's wedding, the Deans decided to create a lawn and garden.
''It was hard,'' Pam recalls.
The key to the flower garden is simplicity. In spring, lilacs in lavender, purple and white perfume the air, then blue hydrangeas and bright clumps of dahlias and lilies add colour in summer along with self-sown snapdragons (antirrhinums).
Because Pam is busy running a business, nothing in the garden can be too fiddly or time-consuming and once established, plants are left to do their own thing. Thanks to generous applications of compost, they all seem happy. Pam explains that, because they do not have line of sight to Lake Waihola, they miss the ''lake effect'' and get harder frosts than properties with lake views.
''My garden has to be tough,'' she says.
Looking around for what might be suitable to exhibit at the Outram Garden Club's show on February 15, she suspects, ''with it being so dry'', she may have little to put on show but is sure other keen exhibitors will ensure the usual brilliant line-up. And, if she fulfils her ambition to spend more time in the garden, there's always next year.
---
The show
The Outram Garden Club's annual show is on Friday, February 15, at the Outram church hall, Holyhead St. Entries are unlimited, $2 per exhibitor. For details of how to enter, phone 486-1608. The show is open to the public 2pm-7pm. Admission is by gold coin donation (children free). Afternoon tea $2; raffles and market table.
---