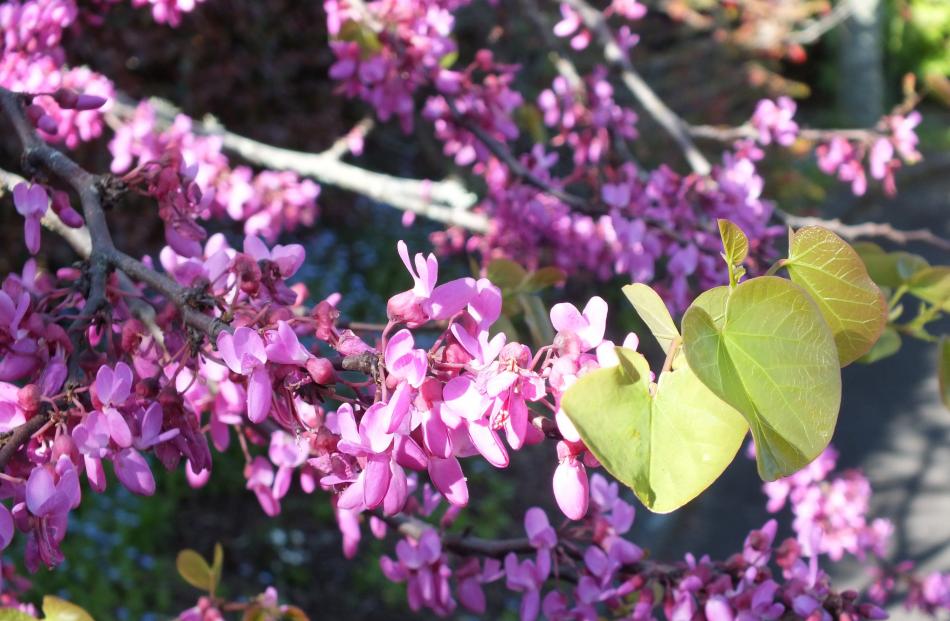 Cool and green are the keynotes in one of New Plymouth's most elegant gardens. Gillian Vine reports.
More than 80 years ago, Russell Matthews looked at a steep hillside for sale near New Plymouth. The 4.5ha property, bisected by a little stream, dropped steeply to the Waiwhakaiho River and was covered with gorse and blackberries.
It looked unpromising but the roading engineer realised its potential and bought the property, calling it Tupare ("garland of flowers").
Houses now surround Tupare, but when Mr Matthews purchased it in 1932, it was considered to be out in the sticks. With an unerring eye for landscaping, he turned the hilly mess into one of Taranaki's finest gardens, reminiscent of an English park.
Born in 1896, Mr Matthews had started working for the New Plymouth Borough Council as an assistant engineer. At the age of 17, he persuaded the council to let him lay bitumen on Currie St in the town centre, New Zealand's first sealed road.
He served in World War 1, and then stayed in England for three years after the conflict ended, so he could study road engineering. Back in New Zealand in 1922, he turned his studies to good use, soon becoming managing director and later a partner in the country's largest roading firm. He was also a founding director of the chemical company Ivon Watkins Ltd, a fellow of the Royal New Zealand Institute of Horticulture and in 1951 was a founding member of the Pukeiti Rhododendron Trust and later its patron.
In 1932, Russell Matthews married Elizabeth Mary Brodie (1911-1999) and the couple went to England for their honeymoon.
He had fallen in love with the English Arts and Crafts, and on his return, commissioned architect James Chapman-Taylor — responsible for popularising the style in New Zealand — to design a house for Tupare.
While it was being built, the couple lived in what was known as the Tin Hut, a corrugated-iron shed with one main room and a tiny bedroom. What woman can blame them for moving in before the new house was finished or fail to understand Mrs Matthews rolling on the carpet just after it was laid?
Sited on what is now the tennis court, the Tin Hut has gone, although parts of it were salvaged to build a gardener's cottage, still in existence.
Surprisingly, given Mr Matthews' love of all things English, the first tree planted at Tupare was a kauri, which still stands. Deciduous trees followed, including a tulip tree (Liriodendron tulipifera), now one of the most impressive specimens among the great trees on the property.
Another early planting was a dawn redwood (Metasequoia glyptostroboides). The Tupare plant was obtained not long after its discovery in China in 1941, so it was highly prized. Mr Matthews was away when the leaves turned brown in its first autumn and his wife, not realising the tree was deciduous, panicked as she thought it had died.
On the flat near the river is a Japanese walnut (Juglans ailantifolia). Well-positioned so it is not crowded, it is an example of what a specimen tree should be. The edible nuts are shaped like mini-avocados and grow in clusters while, in the right spot, the Japanese walnut has bright orange-red leaves in autumn. Because of its invasive habit, particularly alongside streams, this species is now on the National Pest Plant Accord list, meaning it cannot be propagated or sold.
Acers are a feature at Tupare, with numerous varieties reflecting the size and colour range. They do really well here, thanks to the friable volcanic soil.
The Matthews enhanced the stream, lining it with stones and planting shade-loving plants. Small acers, sweet-scented mock orange (Philadelphus coronarius) and azaleas on the banks give way to ferns, hostas, Bergenia, Astilbe, Solomon's seal and tractor-seat ligularia (Cremanthodium reniforme) closer to the water, while moisture-loving irises paddle in the stream.
Tupare was sold in 1984, three years before Sir Russell's death (he was knighted in 1982), and after a period when the house was used as a conference centre, the Queen Elizabeth II Trust took it over. The Taranaki Regional Council now owns Tupare and has tried to maintain its spirit.
Tupare
Tupare is located at 487 Mangorei Rd, New Plymouth. The gardens are open from 9am-8pm daily, entry is free and people are welcome to picnic in the grounds. There are tours of the house and regular workshops on gardening topics (see www.trc.govt.nz/tupare-home for details).