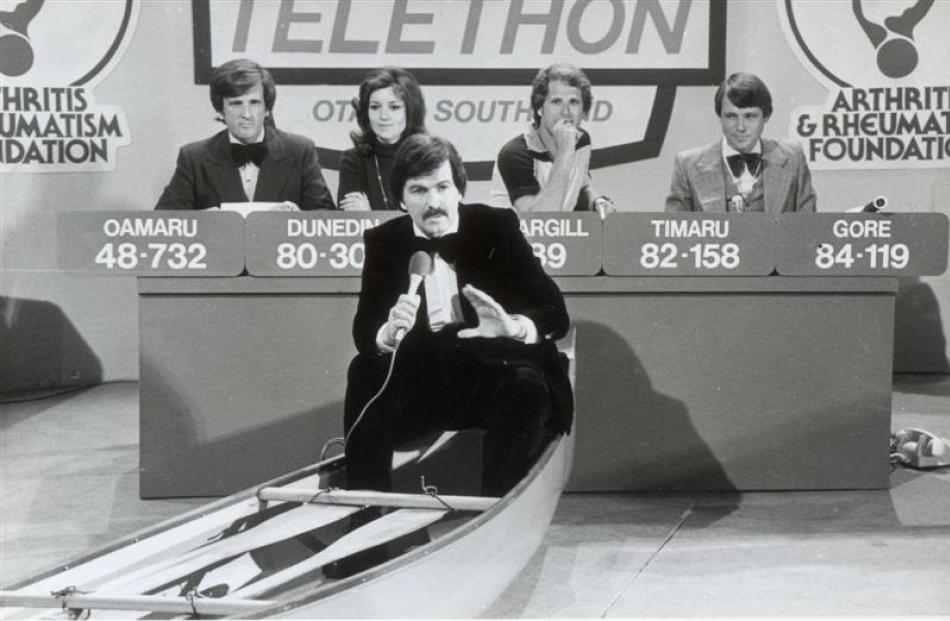 He strolled through late-night Dunedin with Mick Jagger and felt no nerves entertaining crowds of more than 2000. But that is only one view of Neil Collins, writes Bruce Munro who spent a revealing few hours with the veteran broadcaster. 
The view from the window of Neil Collins' radio studio on the last morning of his broadcasting career is quintessential Dunedin.
To the left of the frame is the spire and turrets of New Zealand's most impressive 19th-century church, First Church of Otago.
The middle foreground is Dunedin's CBD: colonial stone, brutalist concrete and late-modern glass edifices.
Above that, and to the right, are the Octagon's defining buildings; the Anglican cathedral and the Dunedin Town Hall.
A ribbon of green belt and another of blue sky fill out the scene.
But, windows do not only afford a view out. Looking in, the city's pigeons, seagulls and office-block workers have a clear view of Mr Collins (74), ONZM, QSM, doing what he has done for the past 57 years; talking, entertaining, flying by the seat of his pants ... and loving it.
Dressed for the occasion in a bright pink shirt, wearing a chunky gold ring, headphones crowning his silver hair, and smiling mouth up to the microphone, he is chatting to past colleagues and guests during a radio show finale hosted by his fellow Radio Dunedin DJ and friend Owen Rooney.
''I want to thank, first and foremost, all the people who have listened and put up with me over the years,'' Mr Collins is heard saying in living rooms, workplaces and cars scattered throughout the city.
''Thank you for all the cards and flowers, the emails, and I'm sure there's messages on Facebook, if only I knew how to work it. It's been amazing.
''So, it's time to exit stage left, into the shadows ... but I've loved it.
''Go well, go healthy. Take it easy, but always take it.''
This is the Neil Collins people see and know.
Born and raised in the hill suburb of Roslyn, the second youngest of eight children, a talker who did not like to be told what to do.
The dashing, silver-tongued Mr Collins of radio, concert hall, television and city council renown who built a career on charm, a love of entertainment and a strong instinct for what his audience wanted.
These talents were evident even before he stepped into his first radio station as a teenager in the late 1950s.
Having shifted to Invercargill for work, he used to listen to Australian stations on shortwave radio.
He also tuned in to Dunedin's amateur radio station 4XD, and sent the occasional letter letting them know when they had inadvertently been playing the B-side of hit records.
He was invited to drop by the station in a former air-raid shelter in Rattray St, and duly did so in his brother's suit.
Volunteer work cataloguing albums eventually led to a chance to be on air and to a strong growth in listeners.
''I was the kid around the corner [from rival state broadcaster 4ZB] who was starting to get a bit of a following because, devoid of professional training, I was inclined to do things my way, uninhibited.''
Borrowing the idea from Sydney stations, he became the first in the city to get callers on air.
''When people rang, five numbers in those days, I would answer and then put it down and then answer again until I got someone with a loud voice.
''I would hold the receiver of the phone up against the microphone, turn the volume up, lean back and say `Bob's on the phone. Tell us who you think sang that song, Bob.'''It was all around town that they could hear people they knew on air.''
Before long, when the owner of three Dunedin women's fashion stores wanted to sponsor a regular hit parade on 4ZB, he stipulated that Mr Collins should be the show's host.
The ball was well and truly rolling.
Mr Rooney summarises how many see the veteran entertainer: ''There are lots of announcers, but very few communicators. Neil Collins goes to the top of the class for that skill''.
Later, heading out of the radio station building for a quick smoko, Mr Rooney comments on another of Mr Collins' recognised traits.
''He was always supportive ... always just a bloody nice guy.''
It is probably why, not long after being elected to the Dunedin City Council in 1989, the residents of Tahuna asked Mr Collins to champion their fight for an effective solution to the vile smell emitted by the nearby sewage treatment plant.
For two years, his attempts to get money for a soil filter included in the council's annual budget were defeated.
The third year, he came up with a plan to help the councillors empathise with the residents' plight; he would set off a stink bomb in the council chambers and then make an impassioned speech calling for action.
''It was on the agenda on a hot summer's night ... You could see people around the room begin to sniff ... and it was foul, it was so bad.''
Chairwoman Dame Elizabeth Hanan said there must be a gas leak. The council chambers were evacuated, and several fire engines turned up.
''I was so embarrassed ... I certainly wasn't going to own up ... When we had returned I said, `That is a prime example of what the people of Tahuna are putting up with on a daily basis'.''
The money was added to the budget.
Mr Collins owned up during his farewell speech when he left council in 2013.
• Windows are essentially a frame.
They determine not only what you can see, but what you cannot; composing and presenting to the viewer a particular picture.
The open-plan lounge cum kitchen-dining room of Mr Collins' Vauxhall home has large, clear windows with an impressive view of the eucalypt-adorned headland beyond Larnach's White House, a broad swathe of Otago Harbour, the city proper and the high hills of Flagstaff merging with the Silver Peaks.
From outside, one looks in on the world Mr Collins has created for himself; a comfortable, contemporary but not opulent existence.
''I've been very busy. I never made any money, but I made a lot of friends and I've had a wonderful time,'' he says.
Vital elements of that world are scattered across the dining-room table; dozens of precious photographs taken from safekeeping in a briefcase; visual references to a life map whose landscape features are famous people met and known.
There is Mr Collins with jazz great Louis Armstrong; a photo of 1960s Scottish pop idol Donovan who sang at Mr Collins' wedding reception; Mr Collins with British comedian and adventurer Michael Palin, with prime ministers Robert Muldoon and John Key, and Governor-General Sir Anand Satyanand.
Photos of Mr Collins as host of the 1978 television charity fundraising phenomenon Telethon and compere of the Miss New Zealand contest which was televised live in 1980.
There he is standing with United States comedienne Loretta Swit, interviewing Beatle Ringo Starr, meeting Prince Edward and snapped with the Rolling Stones in the foyer of Dunedin's City Hotel on February 3, 1965.
The atmosphere at the Rolling Stones concert in the Dunedin Town Hall was electric, Mr Collins, who was MC, recalls.
Roy Orbison had played the first half of the show.
The Stones had then taken the stage, their music booming, Mick Jagger swinging the microphone for theatrical effect.
The surging crowd of teenagers collided with the 19 police, arms linked in front of the stage, knocking helmets off their heads.
The Town Hall sound operator approached Mr Collins and said, ''Tell your mate, if he swings that microphone once more I'm going to turn the sound off.''
Jagger swung the microphone and the sound operator headed for the control room to make good on his threat.
''I rushed on to the stage, down the side steps and found the inspector of police and said, 'If you think this is a riot, it is nothing compared to what is going to happen','' Mr Collins says.
''He ran after him, laid his hands on his shoulder and said, 'I'm ordering you, in the name of the law, do not touch the sound'.''
The man slammed the sound-booth door shut, grabbed his hat and left, with the volume still on full.
''So, we had a great night,'' Mr Collins concludes with a laugh.
After midnight, back in the dressing rooms, the Stones asked Mr Collins, ''Now what do we do?''
''I said, I've arranged with Eddie Chin; there's a band and there's waitresses. There's everything. It's a nightclub. We can go and party.
''The Rolling Stones, their management, Roy Orbison, a couple of others and me - no limos, no security, no police - we walked from the Town Hall, across the Octagon, past the City Hotel. Orbison said good night and went in to ring his wife. We walked on down to Rattray St to the nightclub and partied.''
The 1960s and '70s were ''the best of times'', he says.
''Shows, entertainment, life generally ... I was getting to meet people I never thought I'd meet. I was thoroughly enjoying life at that stage.''
Eyes are our window on the world.
What is seen passes through a filter of assumptions and hopes and past experiences to become what we perceive.
Eyes are also called the window on the soul. But is the perceived twinkle or lifelessness simply an interpretation of the mouth's expression?
Can we really see what is going on inside?
Mr Collins' eyes are hazel.
They often appear to have a sparkle.
But, then again, he is often seen smiling.
His private life is just that, he says.
''I have guarded my private life ... because the public profile at times can be very intrusive.''
There have been periods of years during which one person or another was making life difficult.
There have been threats by some.
Another phoned his home more than 1000 times, hanging up each time.
They then began writing anonymous letters offering to apologise in person if Mr Collins would meet them.
Many of the things he hoped would happen in life have been ticked off.
Although, he does wonder about opportunities not taken or which did not eventuate, such as radio work in Australia and the US.
''I could have done things better, and been more secure, perhaps, financially. But those opportunities didn't come my way, and I never had the self-confidence to chase too many.''
At one point, he was offered a job as a Television New Zealand publicist in Auckland, but turned it down when told he would get a pay rise if he stayed in his Dunedin radio job.
He stayed, but the promise was not honoured.
He has, however, enjoyed living in Dunedin.
''The city has been good to me, and life is what you make it.''
Tough times have not been absent.
A triple-heart bypass was extremely stressful.
His marriage ended, ''perhaps victim of being too busy too often''.
A business venture went sour, the partner absconding, leaving Mr Collins holding all the debts.
''I then worked three or four jobs a week for a couple of years paying off bills to people I had never known, never met, never seen, to pay every last cent.
''I grew to hate the sound of men whistling, because it represented the bailiff with another unpaid bill.''
The toughest moment came with redundancy from his job at 4ZB at the end of the 1980s.
He was ''without work, without a future, and with a family to look after''. He has dealt with it all by ''surviving on my wits, flying by the seat of my pants quite often''. And by playing it close to his chest.
''When you have a [public] profile, people expect you to be OK. The private is just me looking after me ... I wasn't one to share problems much.''
It made the difficult times lonely.
''Quite often, very lonely'', he says.
Later life and Mr Collins are yet to become friends. Because you've got so much out of life and you can't hold ageing back.
''When you realise you are now in the last few years, you realise it is all going to end. So, if I could have another chance, I'd go round again.''
But they might reach an understanding.
''I've made the decision to stop work. I've got a house and garden, a view over the harbour and city. I'll be content, I think, I hope.''
Mr Collins plans to write a book; anecdotes about the people he has met.
''A record for my [two] boys ... because they just saw this father coming and going. I never sat down and said, 'Hey, guess what, I've just been asked to do a show with X, Y or Z', someone pretty famous. They often didn't know until they read the paper.''
Seated at his dining-room table, Mr Collins has been answering questions for nearly three hours.
The conversation has ranged wide and deep.
He has grown quiet, contemplative, but resurfaces with one last tale of the show he most enjoyed.
In about 1997, he was asked to do the five-minute audience warm-up before the televised Halberg Sports Awards.
The event was in the Dunedin Town Hall, attended by sports figures and celebrities from throughout New Zealand.
But just before going on stage, the main compere said they were running late and that Mr Collins should just go out and introduce him.
''I thought, 'Oh no, I won't do that. Not having got this far','' Mr Collins says with firmness in his voice.
''I had written my script the night before, and it probably was the funniest thing I've done in my life.
''I had rehearsed it. I strode out and did it, and everything got a laugh. And when I walked off, they gave me a standing ovation.
''The place was in an uproar. It was so satisfying.''