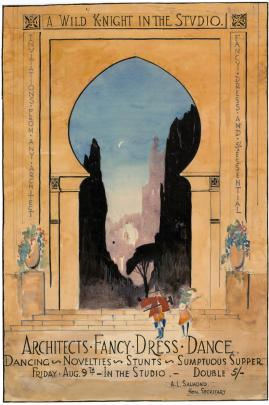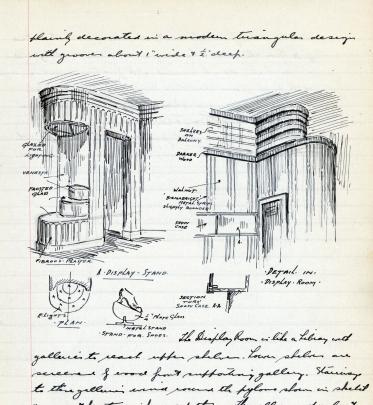 A collection of architects' records constitutes a rich repository of memory, writes David Murray.
A rich collection of architectural archives in the Hocken Collections is one of the latest additions to the New Zealand Register of the Unesco Memory of the World.
The register promotes the preservation, awareness and access of archives through recognition of significant documentary heritage collections.
The records of Salmond Anderson Architects span nearly 150 years, from 1862 to 2008. The collection consists of 14,000 architectural drawings, as well as specifications, contracts, diaries, photographs and other business records. The diverse range of building types represented range from domestic houses and garages through to churches and large commercial buildings.
J. Louis Salmond established his practice in Dunedin in 1891, in the difficult years of the Long Depression. He had been an articled pupil of Robert Arthur Lawson, who left Dunedin in 1889. After Lawson returned from Australia in 1900 the two men went into partnership as Salmond & Lawson. Records from Lawson's earlier practice include the 1862 competition drawings for the First Church of Otago, his first Dunedin project. Plans are also held for Larnach Castle, Otago Boys' High School, Seacliff Mental Asylum and other well-known Lawson-designed buildings. Early works by Salmond include the Shennan family home "Threave" in High St, and the Roslyn Presbyterian Church building.
Lawson died in 1902 and Salmond subsequently went into practice with Newton Vanes, who served in World War 1 and afterwards remained in England.
The images shown here relate to the second generation of the Salmond family architects. Born in 1906, Louis's son, Arthur, attended Otago Boys' High School. He studied at the Auckland University School of Architecture from 1926, the first year the school offered a full-time course. Salmond completed his fourth year at Auckland in 1929 and completed his thesis after returning to Dunedin. He was awarded a bachelor of architecture degree in 1931 and afterwards went on a travelling scholarship to Britain and Europe.
The collection includes dozens of hand-coloured drawings by Salmond, prepared as academic exercises for his Auckland course. An illustration here dates from his third year and shows facade details for the branch premises of a bank. In 1929, Salmond was secretary of an architects' society attached to the University of Auckland. He created a unique poster for a Fancy Dress Ball held on August 9, 1929. The title, A Wild Knight at the Studio, plays on the name of the professor of architecture, Cyril Knight. 
A newspaper report of the event describes brightly-coloured balloons and foliage plants, shaded lights and a wall mural depicting the university. A number of guests came dressed as Pierot and Pierette clowns,  while other costumes  included a baby, Romanian peasant, absent-minded man and hula girl. Salmond himself dressed as a Persian.
Arthur Salmond joined his father in partnership in 1934, forming Salmond & Salmond. Louis died in 1950 and in 1952, Arthur went into partnership with Harry Burt, forming Salmond & Burt. Arthur's son, John, became a partner in 1968 and Arthur retired in 1979. Later partners were Don Anderson and Tim Heath. The practice closed following the death of John Salmond in 2008.
The legacy of this practice can be found in surviving buildings throughout Otago, and in the extensive and significant collection of practice records now recognised by the New Zealand Register of the Memory of the World. The value of the archive goes beyond recording these buildings individually. It provides a broader insight into the ways New Zealanders have designed and lived in their built environment, over more than a century of architectural and social development.
- David Murray is an archivist at Hocken Collections: Uare Taoka o Hakena.