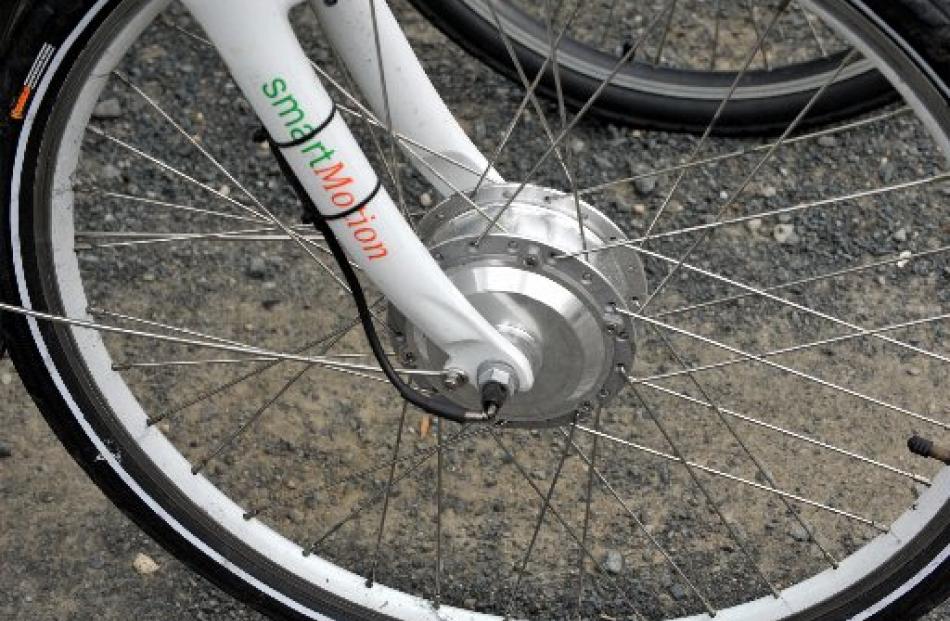 Cycling is undergoing something of a revolution, writes Tom McKinlay.
Despite the gradient and a stiff headwind, octogenarian Prof Richard Dowden is pulling up North Rd towards Upper Junction without a hint of effort.
Sitting straight-backed but relaxed of shoulder, his feet describe easy circles as his bicycle maintains something like 15kmh up the hill.
Perhaps there is some tricky physics involved here. After all, Prof Dowden knows a thing or two about that.
Back in the early 1960s, while working at the University of Tasmania, he established that the north magnetic pole of Jupiter is located in the planet's southern hemisphere and that the south magnetic pole of Jupiter is located in the northern hemisphere - the opposite way around to Earth.
So compared to Earth, Jupiter's magnetic field is ''upside down''.
Some decades later scientists at Nasa tried to claim the discovery for themselves.
Prof Dowden pointed out they had arrived at the conclusion second.
But the explanation for Prof Dowden's progress towards Upper Junction is not to be found in outer space.
No, his secret is a battery and a small electric motor on his front wheel.
His is an electric bike.
The reason I am also climbing without effort is that he owns two electric bikes. For the purposes of our outing, I am on the second.
Electric bicycles are becoming an ever more common sight on our roads. They explain the freakish phenomena of cyclists achieving Dunedin's hill suburbs without perspiration or pushing.
Prof Dowden is a convert. The previous day he visited Larnach Castle with a friend, each on one of his bikes.
''They struck me as a great idea so I bought one,'' Prof Dowden explains of his decision to go electric.
He had, at the time, recently turned 80 and realised that keeping his car driver's licence would probably involve further testing.
The prospect of being asked to demonstrate his parallel parking did not appeal.
The carport at his Northeast Valley home has now been converted to a charging garage, where he says his bike can be energised for a trip to the supermarket in something like half an hour.
For next to nothing.
Then when he's out and about, the bicycles afford easy parking, he says. In the mall, rather than outside. In the hardware store, rather than the car park.
The flat brick doing all the work up North Rd is a lithium-ion battery.
Prof Dowden says its main disadvantage is that it cannot take a fast charge, though advances in technology promise improvement here.
Most electric bikes are 250W-300W affairs, providing a range of about 60km, based on flat roads with some pedalling. Charging from flat takes about 4-5 hours.
Kashi Leuchs, who operates cycle shop Bike Otago and specialises in electric bikes, says battery technology is probably where the biggest improvements will be made in future.
''The latest bikes have technology to recharge your batteries when braking,'' he says.
''There are also some very funky systems allowing people to just add an electric wheel to their existing bike, which would be controlled by a smart phone.''
Mr Leuchs says converts are coming from all walks.
''One of the coolest things is the diversity of people considering an electric bike. We have sold bikes to elderly people with mental illness, who used the bike as a therapy.
"We have sold bikes to young people wanting to lessen their impact on the environment.
"We have sold a bike to a young man who lost his licence but still needed to get to work. We have sold bikes to couples who planned to go on a cycling holiday together.
"We have sold bikes to hardened commuters and aspiring commuters. And we have sold bikes to organisations planning to hire bikes to tourists.
"And my wife uses one to tow our two babies into town in a chariot,'' he says.
Waitati woman Jenn Shulzitski is another who uses her electric bike to ferry children about, among other things.
She has been riding her sturdy cargo-framed Surly Big Dummy electric bike for four years.
''I can carry my 5-year-old, my 1-year-old and all my groceries on the bike,'' she says.
The 1-year-old travels in a custom seat, while the older dependant holds on to handlebars bars attached to the seat pillar.
The bike carries Ms Shulzitski weekly from Waitati to the Dunedin Farmers Market on Saturdays, up and over Mt Cargill Rd, travelling at about 25-30kmh uphill and about 40-45kmh down the other side.
The 5-year-old is commonly on the back. The electric bike allows the rider to get some exercise without it becoming too much of a grind, she says.
''I cannot afford to be exhausted after a ride. I can ride everywhere I want to be and not be too tired at the end of my ride.''
The investment in electric bike tech was financed by selling a car, which Ms Shulzitski says left enough over to buy some warm cycling gear, meaning the vagaries of Dunedin weather need not slow her down.
She and her partner still own a car (he car-pools into town during the week). But it doesn't see a lot of use.
''I like to see how many days the car can just sit there and be useless.''
Prof Dowden on electric bike batteries
The essential, and most expensive part of an electric bike, is its battery. The usual battery is lithium-ion, probably because it has a high power-to-weight ratio.
The cost is indeed high if this battery must be replaced. At least one electric bike shop in Melbourne replaces the lithium-ion battery with three sealed lead-acid batteries in series to get the correct voltage.
This saves about $420 of the total cost of the electric bike, but it makes the bike very heavy and difficult to lift upright if it falls over.
Where weight is not a problem, as in a car or a boat, or in or on something not moving, a lead-acid battery may be ideal, particularly if fast charging is wanted.
Lithium-ion batteries cannot take fast charging and so cannot rerecharge when going downhill.
However, an electric bike company in Vancouver, Canada has made a lithium-manganese battery that can charge a bike running downhill. This is said to increase the bike's range by 50%.
According to the NZTA
Power-assisted cycles fitted with electric auxiliary propulsion motor(s) that have a combined maximum power output not exceeding 300W are not motor vehicles and are treated as ordinary cycles. This means that you don't have to register or license them or hold a driver's licence. Anything more powerful is classified as a moped, for which a licence is required.