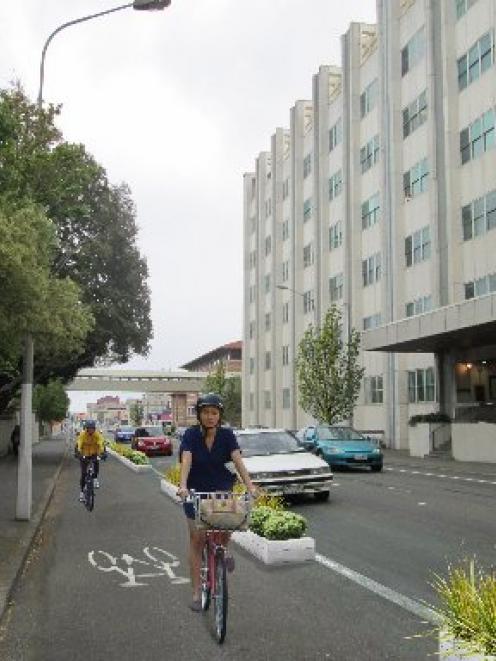 The vast majority of the 2000 submissions on Dunedin's State Highway 1 separated cycle-lane proposal favour a one-direction lane on both one-way streets.
The consultation over improving cycle safety on the two stretches of SH1 through Dunedin - Great King, Cumberland and Castle Sts - showed cyclists would use such a lane, which was generally regarded as a safer option.
NZTA conducted the four-week consultation, in which people were asked if they would use the cycle lane, whether it should be one-directional or two-way, and what other issues they had.
A summary of the submissions, released yesterday, showed nearly 2100 people, including 1500 who made their views known via cycling advocate group Spokes, made a written submission on the proposal to introduce separated cycle lanes, which would require the removal of hundreds of car parks.
Another 883 people filled in an online NZTA survey.
More than 1000 cyclists said they would use the one-way routes.
The Otago Chamber of Commerce said more investigations into parking solutions were needed.
AA Otago's support for the two-way option, in which fewer car parks would be lost, was conditional on alternative parking measures in adjacent streets.
Most of the nine retailers and property owners who made submissions did not support either option.
NZTA projects team leader Simon Underwood said the submissions gave a clear indication people would use the lanes, which was part of the information NZTA was seeking from the consultation.
Three hundred and ten submissions were from out-of-town people (mainly cyclists) and 128 from motorists, pedestrians, ratepayers, retailers, businesses, property owners and other stakeholders, such as the Southern District Health Board and the University of Otago.
The university, the SDHB public health unit and Otago Regional Council favoured the one-direction option.
The SDHB said it would prefer a state highway did not run through the hospital campus, but it was aware diverting the highway would be difficult.
It said close and accessible parking for people using the hospital was paramount, and any changes to incorporate cycle lanes would need to take into account alternative parking options.
While Dunedin Hospital was one of the larger generators of demand for on-street parking, the SDHB supported a one-direction cycle lane for its improved safety and because it provided people with more active choices for transport.
Detailed submissions were received from 48 submitters concerned about the potential loss of parking, with many saying alternative arrangements must be made.
Cadbury and Otago Museum, which would lose parking on both sides, and tenants of Radio Otago House were among businesses in Great King, Cumberland and Castle Sts concerned about the potential loss of short-term parking and safe access for deliveries.
Individuals were concerned about access to and convenient parking outside the hospital and physio pool.
The university supported a one-direction cycle lane because it believed the current reliance on on-street parking was not consistent with its long-term sustainable travel targets for staff and students.
It also saw cycling as a credible alternative to vehicles and was extremely concerned at the limited safety of the existing cycle lanes.
Other issues raised in submissions included additional safety concerns, costs and Dunedin topography being unsuited to cycling.
A series of alternative ideas for improving cyclist safety was also put forward.
Mr Underwood said more information would now be gathered, including more detailed cycle counts, right-turn traffic counts (those who would cross the cycle lane) and parking occupancy assessments.
Alternative parking would be further investigated and discussed with affected businesses.
The full summary was available on the NZTA's web page and anyone who felt their point of view was not taken in to account should contact him. The submissions could also be read at the NZTA's Dunedin office.
A progress report on the project would be delivered to the city council's infrastructure services committee in April. Businesses and property owners directly affected would then be consulted.
A report recommending a preferred option is likely to be presented to the council in May or June next year.