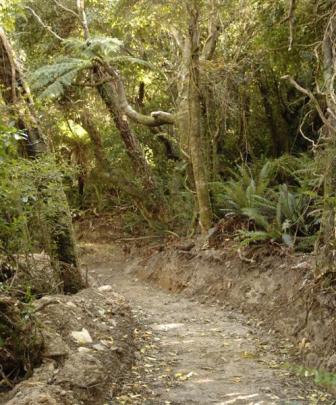 Orokonui Ecosanctuary has exceeded all expectations - a 307ha sanctuary for native flora and fauna, protected from exotic predators. Rebecca Fox looks at the history of the project initiated by the Otago Natural History Trust.
A lost world is flourishing in Orokonui.
Within a 9km predator-proof fence saddleback are nesting, kaka chicks are hatching, ferns are growing and seedlings taking root.
From today entry to that special world will be through a newly completed $2.2 million environmentally sustainable visitor and education centre.
It is an accomplishment which is hard to find words for, conservationist emeritus professor Sir Alan Mark, a member of the Otago Natural History Trust, says.
"It's an incredible achievement, against all odds. From whoa to go within a decade is quite incredible."
For trust chairman Dr Ralph Allen, last night's official opening meant everyone could "get back to their knitting", to creating a secure environment for native flora and fauna to thrive.
"The visitor centre is here to generate income so we can look after the wildlife."
It is "serendipity" that while doing that, they can educate people about natural history and the role they can play in conservation, Dr Allen says. An educator has been employed to do just that.
The education focus gives the Orokonui Ecosanctuary the opportunity to reach many people with its message, as about 120 people a day are expected to visit the ecosanctuary during peak summer season and about 25,000 annually.
Sir Alan says, as someone involved in the early discussions about the ecosanctuary, it was a thrill to be asked to open the ecosanctuary.
"It'll add a lot to Dunedin's promotion as the wildlife capital of New Zealand and complement the attractions of Otago Peninsula."
The opening was the culmination of more than 20 years of campaigning by a small group of people, including Dr Allen.
It all began in the early 1980s when cartoonist Burton Silver, visiting friends in Dunedin, remarked how difficult it was to see native birds in anything like their natural habitat, Dr Allen says.
"From that came this wild idea of having a huge aviary with forest growing inside it."
So in 1983 a group got together and set up the Otago Natural History Trust.
Ideas for sites included the recreation hall at a former psychiatric hospital but in the end finding an affordable site was difficult. Interest waned and the trust decided to disestablish, but "the lawyer forgot" the paperwork, he says.
Then in 1995 the Karori Wildlife Sanctuary in Wellington got under way and the possibility of creating a place for wildlife safe from predators became a reality.
Dr Allen began looking for sites around Dunedin, came up with five and it was decided Orokonui was the best. While it did not have the best vegetation, it did have the best shape for a fenced sanctuary, he says.
In 1999 he put together a formal proposal and a year later put it to then Mayor Sukhi Turner, who referred it to the Waikouaiti Community Board. He also talked to Forest and Bird.
As people became interested in the concept it led to the reinvigoration of the Otago Natural History Trust. A workshop on the concept attracted 150 people and a working group was set up.
In 2003 Dianne Campbell-Hunt moved to Dunedin from Wellington where she had been involved with the Karori sanctuary and written a book about its establishment.
The trust hired her as project manager and a full feasibility study was put together in 2004. (Ms Campbell-Hunt died in a tramping accident in 2008.)
A fundraising group was then set up and talks began with the Department of Conservation, which owned the land. It agreed to vest the surplus 230ha as a nature reserve, offering it the highest possible level of protection.
"It gave us the authority to manage the land, which is a privilege for us," Dr Allen says.
About the same time, a neighbour of the sanctuary, Graham Bennett, offered another 67ha of land to the sanctuary - increasing its size by 20%. The sanctuary now sits at about 300ha.
In 2008 the 9km, $2 million predator fence was finished and the real work began.
The trust hired Elton Smith to lead a programme to eliminate pests such as mice, rats, cats, ferrets, goats, possums, hares and even hedgehogs from within the fence and 18 months later pests were down to undetectable levels.
Maintaining the near pest-free environment is no easy feat with staff frequently travelling over the 60km of tracks to check more than 1000 monitoring stations throughout the sanctuary, he says.
"We have to make sure we keep on top of this, the rats and mice particularly."
It is not a process Dr Allen, a botanist and retired ecological consultant, enjoys.
"I hated having to kill them and insisted we do it as humanely as possible."
In the absence of the predators, the change in the sanctuary has been phenomenal, he says. The dense undergrowth previously eaten away by predators has grown back, with ferns and seedlings flourishing.
The forest within the reserve mostly comprises regenerating native species, with isolated pockets of much older trees. The area was already home to native wildlife, including the South Island tit, South Island rifleman, brown creeper, bellbird, grey warbler and fantail, among others.
"The birdsong is amazing. It is astounding how fast New Zealand natives recover."
In addition to the bird species re-establishing themselves, the pest work has allowed several further species to be reintroduced, the kaka and saddleback, as well as jewelled gecko. The reintroduced species are now breeding, with the saddlebacks nesting and the second set of kaka chicks hatching recently.
Next, the fundraising effort moved on to establishing a visitor centre. Dunedin architect Tim Heath, one of the original group from the '80s, offered to design the building "for free".
The centre he came up with is made from recycled materials, and features a glass atrium linking sections made from shipping containers.
It features a large reception room with information panels about the ecosanctuary's sights, a cafe and a small gift shop.
Adjacent is an education room sponsored by the Otago Daily Times and on the other side, offices for staff.
"The craftsmanship is superb," Dr Allen says.
As part of its education focus, the building's waste-water systems have been left exposed so people can see how an environmentally friendly system works.
The construction of the building means staff have to juggle the responsibility of both the sanctuary itself and the new centre, he says.
"We've been so focused on the $2.2 million building that it has been difficult to go through the gate."
General manager Chris Baillie's work driving the project has been "magic", he says. The trust raised enough funds to cover the cost of the building before it was complete.
Alongside the hard work of staff, thousands of people, companies and organisations have put time or money or both into the project over the years, he says.
There are about 1000 members of the trust and about 1000 volunteer hours a month have gone into the ecosanctuary. Support has come from the Blueskin Bay community as well as the local iwi.
Volunteers have tackled everything from heavy track work, planting and weeding to administration work. More than 4000 plants have been planted. Dunedin Rotary Club alone has put significant time and money into developing 2.5km of track through the valley, he says.
The project has captured their imagination and given them an avenue through which they can give back to nature.
"There is no personal gain for anybody. Dunedin people, if they see worth in a project they really get behind it."
Many of those who have contributed are recognised on various structures throughout the sanctuary, including plaques on the predator-proof fence's fenceposts, he says.
Department of Conservation Otago Conservator Marian van der Goes says the ecosanctuary is a great example of how community groups make a difference in conservation.
"It'll give people a taste of what New Zealand might have looked like, which is fantastic to have on our doorstep."
The trust has been passionate, professional and incredibly well directed in what it wanted to achieve, she says.

• Timeline
1983: Otago Natural History Trust formed
1999: Formal proposal for ecosanctuary put to Dunedin mayor and Waikouaiti Community Board
2004: Feasibility study completed
2007: Predator-proof fence started
2008:
February - Plans for visitor centre unveiled
March - Dunedin Rotary Club commits to upgrading walkway
April - Predator-proof fence completed and pest eradication work begins
June - Consent granted for visitor centre
November - Kaka reintroduced
2009:
January - Jewelled gecko reintroduced
March - Tuatara reintroduced to ecosanctuary in captivity
April -Saddleback reintroduced. First kaka chick hatches.Crane topples on visitor centre during construction October Visitor and education centre opens

• Not finished yet
Orokonui Ecosanctuary might be fully open for business but the planning has not stopped.
There are plans to relocate several more species to the sanctuary and possibly an extension of the sanctuary to look at in the future, Otago Natural History Trust chairman Dr Ralph Allen says.
In the pipeline already are ambitions to bring kiwi from the West Coast and takahe, as well as releasing tuatara, which are being kept in captivity at the sanctuary. There are also species of reptile and several more birds that used to live in the area that could be brought back, he says.
In a few years time the trust might also look at extending the sanctuary, which at 300ha is quite small for some species of bird, he says.
There is a Dunedin City Council water reserve, Mihiwaka, nearby, which has "better forest" and could house a greater variety of birds, such as the kakapo.
"It has the same attributes in that it is easy to fence and it's just across the road."
However, given the work the trust and staff have done in the past few years it will be at least five years before they can consider "pitching staff" into having to raise another $3 million for a predator-proof fence, he says.
General manager Chris Baillie says the trust has raised $2.2 million to cover the cost of the visitor centre and has also raised nearly enough to cover another year's operating costs.
"We'll need to continue to fundraise for another couple of years until the number of visitors means we are self-sufficient."
A feasibility study has shown 25,000 visitors annually are needed to do that and it could take a few years to build up to those numbers, she says.
So far the ecosanctuary's major contributors have been the Southern Trust ($1,322,310), the Community Trust of Otago ($365,000), Lottery Environment and Heritage ($275,000) and the Otago Regional Council ($1 million).

• Teaching and learning
Understanding how amazing the species are that have a home in Orokonui Ecosanctuary and how important it is to protect them, are just some of the messages educator Tahu Mackenzie hopes the young people who complete her programmes will take away.
Ms Mackenzie is the ecosanctuary educator and provides programmes for year 1 to 13 pupils from a base at the visitor centre's Otago Daily Times education centre.
"How lucky are we to have native animals survive the immense changes to our ecosystem in the last 200 years? And now we are creating an environment so that lost world can flourish again."
Part of the programme is learning about the restoration of habitat, predator monitoring and what plants birds like to eat or lizards liked to live under, she says.
There is also the historical aspect of how the once lush Otago forest, full of birdsong, was laid low in a matter of years by logging and introduced pests.
This term, Ms Mackenzie is focusing on topics involving birds, plants and the ecosystem, reptiles and amphibians, and freshwater monitoring.
It is hoped pupils will take some of the messages home and look at ways they can structure their schools or backyards to attract native birds and repel predators.
"We want to share the wonder of these spaces that have been brought back."