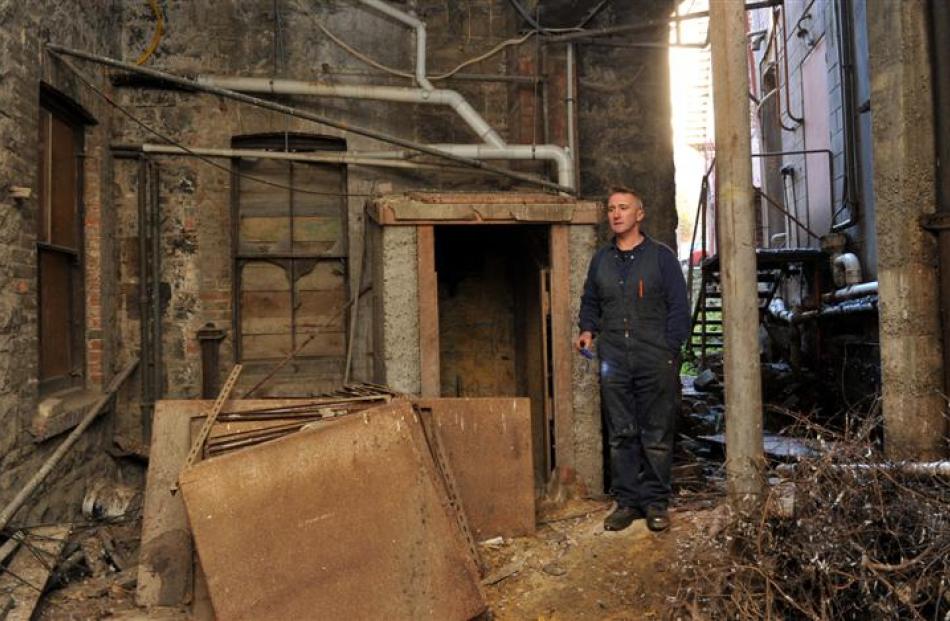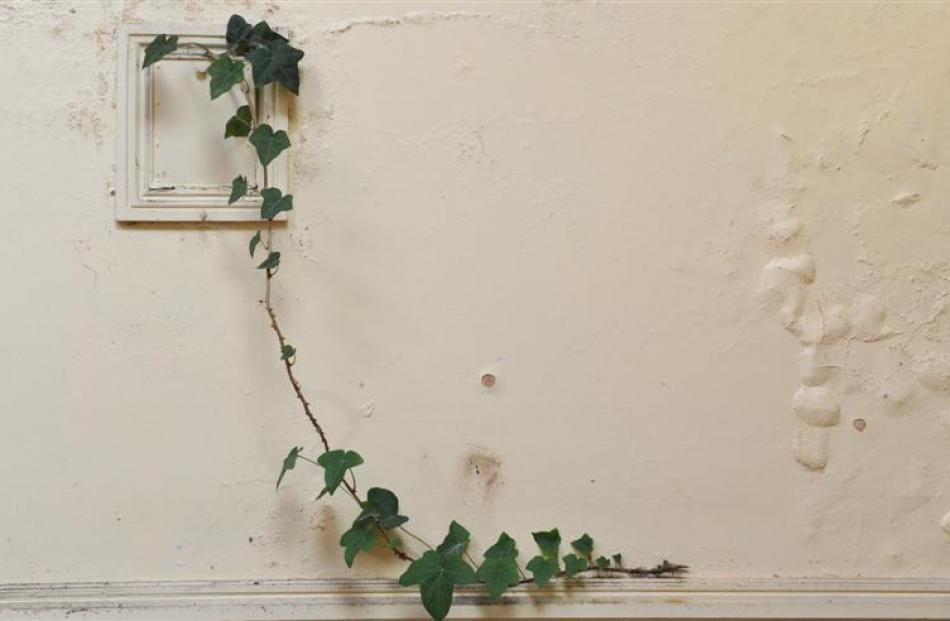 Human dynamo Lawrie Forbes is out to transform the old Athenaeum building. Don't bet against it, advises Kim Dungey. Craig Baxter takes photos.
Lawrie Forbes shines his torch into the murky underworld of Dunedin's 143-year-old Athenaeum building.
''This is the hole I went through,'' he says, recalling the first time he crawled under the floor.
''It was like coming across something where people had died many years ago and I was the only life form.''
The Dunedin man is describing how three years ago he crept - just out of interest - into the largely empty building and was reminded of Survivors, a 1970s show about a group of people who had survived an accidentally released plague called ''the death''.
Forbes, who has a reputation for breathing new life into old buildings, has just paid $900,000 to buy the Athenaeum from the city council. That done, he can wander around at his leisure.
Instead he's bounding up the stairs two at a time, making a hole in a wall to see what lies behind and has climbed out of a window on to the canopy.
He's also excited by news there might be tunnels linking the basements of the Athenaeum, the Regent Theatre and the former DIC building (now the Dunedin Public Art Gallery) with the old men's toilets beneath the Octagon.
''Wouldn't that be unbelievable. That's better than a thieving librarian who lights fires'', he says, referring to a staff member who in 1879 embezzled funds and set fire to the premises to cover his tracks.
The Octagon building will be the latest restoration project for a boilermaker and businessman who also owns two old printing properties in Dunedin's warehouse precinct and parts of the scrapped steamer, Te Whaka.
The Dunedin Mechanics' Institute (later called the Dunedin Athenaeum and Mechanics' Institute) was formed in 1851 to provide a library and classes for members at a time when there was no other adult education available. Built in 1870 and extended over the years, its Octagon premises once boasted various reading rooms and classrooms as well as areas used for cards and chess.
The new plan is to lease it to an independent trust or a not-for-profit company as a hub for the arts, says film-maker Allan Baddock, who is working with Forbes on the proposal.
Founded with high cultural ideals, the property is now all peeling paint and shabby staircases. But both men like the sense of history in its rambling rooms, some of them containing remnants of an early ventilation system to remove tobacco smoke, others illuminated by the skylights that aided reading before electricity.
Along with the Athenaeum Library - where the annual subscription is $69 and the most popular books are detective novels - there is the original Fortune Theatre auditorium complete with stage and seating, a cavernous brick basement and a rear courtyard that connects to Moray Pl.
The pair picture cruise ship passengers visiting artists' studios during the day, teenagers studying art and music after school, diners wandering through in the evenings, and ''a thousand screaming students'' partying in the basement at night.
A rubble-strewn courtyard cries out for coffee and art installations. The basement could host a weekend art market, spilling out onto the rear carpark and the alleyways leading to Moray Pl and the Dowling St galleries.
Even before taking possession, Forbes has had tradesmen fix a leaking gutter and called the council ''to thank it for the internal water feature''. He has also pulled in his favourite engineer, telling him it doesn't matter that he is about to leave the country because it is always Forbes, not the engineer, who climbs into the roof spaces, digs holes and takes measurements.
Baddock describes Forbes as a human dynamo.
''He's one of the most genuine guys I've come across, which is why I'm working with him ... He's unstoppable, totally self-driven and has his own vision. He doesn't care if other people think it's a good or bad idea. If Lawrie thinks it's a good idea, it happens - and probably before you've left the building.''
Like his properties, Forbes has had mixed fortunes - establishing the successful steel fabrication business Zeal Steel, which does everything from earthquake strengthening to sculpture, but also being made redundant from his first job in the 1980s and having to sell personal possessions to fund his developments.
''You do what you have to do to survive,'' he says.
''When things are difficult, you liquidate.''
As a boy, he delivered milk on the frosty footpaths of Brockville and Bradford but skipped school, convinced there was nothing much there for him.
Later he left with only two passes in school certificate and walked out of the Hillside workshops an hour and a-quarter after completing his apprenticeship because he hated the ''union control and negativity''.
''There were people there who did nothing.''
The son of a watersider and a typist, he still works seven days a week - without cellphone or home computer.
Soon after setting up Zeal Steel, when he learned his landlord was going to sell the buildings, Forbes persuaded the vendor to loan him a deposit, borrowed from his bank and bought the premises.
That left him so broke he had to rent out his house and move into the workshop, installing a bath in a cupboard and pressurising an old Zip to get enough hot water for a shower.
When Rogan McIndoe Print, the only tenant in his 1890s Crawford St building was placed into liquidation three weeks after he bought it, he successfully battled the city council to change the zoning but had to sell his 1951 Ford Prefect, his home and an investment property to pay consultants' fees and to complete the top-floor apartment that he and wife Sarndra now live in.
Undeterred, he and business partner Craig McNaughton then added the sagging A.H. Reed building, complete with a dangerously leaning south wall and evidence of squatters - drug paraphernalia, growing rooms decked out in tinfoil, a $4000 power bill.
''When you first stepped into it, it felt as though some anaemic junkie was going to jump out and stick a syringe in your neck,'' he says, laughing.
''It was my only mental insanity purchase. [Compared to that], the Athenaeum's a point of brilliance.''
Forbes bought the Reed building because he feared it would be bulldozed and turned into a carpark, like the Century Picture Theatre before it.
''We've rebuilt the wall so it's not going to fall down but the fact that nothing else has progressed on it each day gnaws at me. And it's only because of money.''
Despite being a welder, the 49-year-old says the best way to strengthen a building is to look after it and to make sure any pointing is in good condition, not to put a massive steel structure inside.
And he worries that maintenance is not being done on heritage properties in the central city because landlords earn enough from the ground-floor shops and don't need to worry about filling the upper levels.
''Building ownership is a responsibility. People think they're going to be here for ever and only look at it from their perspective. But after they're gone, the buildings are going to go on. They can and they deserve the opportunity to.''
The Christchurch earthquake did to property investment what Jaws did to swimming at the beach in the 1970s, he says, adding that demand for unreinforced masonry buildings like the Athenaeum has plummeted.
''Just the strengthening alone is going to be approximately $400,000. And then you're looking at fire sprinklers. It's a million-dollar project.''
While council grants and rates relief have helped, Forbes has financed most of his restoration work by ''reinvesting everything and living very frugally''.
He also believes in ''accessing things for the right price'', avoiding builders who turn up wearing gold chains or in flash four-wheel drive vehicles: ''That instantly says to me that they're probably too expensive.''
Taking old buildings and adapting them to new uses - as he did when converting Zeal Steel's original premises into Ironic Cafe and the headquarters of the Nom*D fashion label - is like ''plucking a thorn and planting a rose''.
And this is a man who knows about second chances.
In 1986 he stepped off a platform on a building site and fell 8.5m on to concrete. Forbes split his pelvis, compressed his spine and had to have the broken bones in his right arm held in place with screws and rods.
After 15 months off work, he stood on a bridge, removed his wrist brace and threw it into the water. He got a dog and trudged everywhere, training his foot to walk straight again and completing a 40km cycle ride followed by a 4km run.
An engineer who sent him a get well card calculated he had hit the ground at nearly 70kmh but he refuses to let the lingering pain affect him.
''Nah,'' he says.
''Your mind is everything.''
''Determination always wins.''