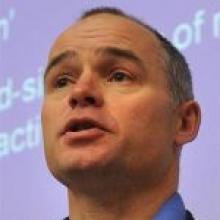 In the year 2025 any smokers still drawing breath will find their habit on the edge of extinction. At least, that is the plan being promoted by "Aspire 2025" - a group of experts led by a professor of medicine from the University of Otago. Mark Price reports.
If smokers think they have been alienated and ostracised by law changes in the past, just wait until they see what might be in store for them next.
Aspire 2025 makes no bones about it.
It wants a "tobacco-free" New Zealand by 2025.
And, if it gets its way, the next 14 years will become progressively tougher for the tobacco industry and for smokers who persist.
The members of Aspire 2025 are working on a plan to make New Zealand the first country in the world to end the use of tobacco.
But, will the New Zealand public and its lawmakers be willing to put its plans into action?
Aspire 2025's leader is Prof Richard Edwards, head of the public health department of the University of Otago's Wellington School of Medicine.
He considers there is "very strong" support, even among smokers, to get the smoking "endgame" under way.
He cites a survey he had published in the New Zealand Medical Journal in 2009 showing 46% of Maori smokers and 44% of other smokers supported the idea of the Government setting a date, in 10 years, to ban cigarette sales, provided effective nicotine-delivery substitutes were available.
"These are quite radical suggestions and it's surprisingly strong, the public support.
"Whether there is political support is another issue.
"But showing that there is public support is, I think, the first step to obtaining that political support."
Earlier this year, the Maori Affairs select committee's inquiry into the tobacco industry recommended the 2025 "end date" to Parliament.
The Government noted in its response, however, the 2025 date was "intended to communicate an aspirational goal and not a commitment to the banning of smoking altogether by 2025".
But while the Government carefully avoided committing to the date, Prof Edwards considers the inquiry and the Government's response were game-changers.
"It changed the game from one of, say, just gradually trying to tackle smoking ... to saying we need to do something about this and do something about this fast."
He considers the public signalled its willingness to go along with major law changes on tobacco use by readily accepting the 2004 ban on smoking in schools, workplaces, pubs and restaurants.
"I think the same thing will happen with this, if there's good debate about it.
"People will start to see this is a credible idea.
"It is a really good aspiration to be the first country to get rid of tobacco completely."
Prof Edwards and his team of medical experts are investigating some quite radical ways to achieve this - the most contentious perhaps being their suggestion of a squeeze on tobacco imports.
"As well as all the other measures - increasing the price of cigarettes and education and reducing advertising and so on - let's just reduce the supply of tobacco progressively.
"That's what we have called the sinking-lid approach.
"What we have suggested is that you could, for example, reduce the amount of tobacco that is imported, say, 10% every year for 10 years and at the end of it there's no tobacco imported and released on to the market.
"You would still allow people to grow tobacco for personal use so it wouldn't be complete prohibition but you would remove the main commercial source of tobacco products.
"That's a possible mechanism to go alongside the other things.
"It's saying let's get serious about this.
"This is killing 5000 people a year.
"We shouldn't just be content with very small reductions; very, very slow reductions in smoking.
"We should be actually trying to say we want to be a completely tobacco-free society, and this is a way to achieve it."
But, what of those who would be left with just two choices - giving up or enduring hefty price increases as the supply of tobacco dwindles to next to nothing?
In the 1950s and 1960s smoking was practised relatively evenly across all socioeconomic groups but since then it has increasingly become a habit of the poor.
A paper by Prof Edwards and others warns that limiting supply and thereby forcing up tobacco prices could result in "aggravation of some social inequalities".
Prof Edwards explains that in the short term, "until they have given up smoking", the poor would be economically disadvantaged.
"One of the things we do make very clear in that paper is that if you are going to [reduce supply] then you really have to, at the same time, give extremely good support to people wanting to quit."
Providing smokers with a wider range of ways to take in nicotine without the hazard of smoking cigarettes is one of areas Aspire 2025 is focusing on.
Electronic cigarettes, which work in a similar way to nebulisers and deliver smokers an aerosol mist of nicotine, are growing in popularity.
But, Prof Edwards says he has not yet made up his mind about the value or safety of these e-cigarettes.
"I'm sort of in the unconvinced camp at the moment."
He can see the argument for a cleaner way of delivering nicotine than via smoke containing carcinogens, but considers e-cigarettes have yet to be proven absolutely safe.
"We need more evidence about the safety of e-cigarettes, about the dosage they deliver and we also need evidence that e-cigarettes don't act as a gateway for young people to start using e-cigarettes and then end up as smokers."
Aspire 2025 is looking for new ideas and studying old ones more closely to find the best way to achieve the smoking endgame.
If they have their way, we might see in the next 14 years:
• cigarette packets with no branding
• cigarettes disappearing from dairies near schools
• sales restricted to those over 24
• a ban on duty-free sales
• removal of sweeteners in cigarettes
• increasing taxes on cigarettes
• sinking-lid quotas for the supply of tobacco to New Zealand
and at the very end, in 2025 perhaps, a register of smokers, cigarettes available only on prescription, a licence being required for growing tobacco at home with a limit of 1kg per year (equivalent to five cigarettes per smoker per day) and cash incentives to quit.
International cigarette companies have signalled their lack of enthusiasm for such ideas by this week launching a High Court appeal against the Australian Government's attempts to rid cigarette packages of branding.
While the health benefits of giving up smoking are undisputed, researchers are still debating the economic value to the country from having smokers quit the habit.
A 1993 New Zealand review of the literature, for instance, noted a Swiss study showing the cost overall of medical care for smokers was equivalent to those of nonsmokers.
"This conclusion was based on the finding that nonsmokers lived longer than smokers and used medical services more heavily during the last years of their lives."
The argument that smokers die younger and therefore save the country money is one used by smokers who have no desire to give up.
But it gets short shrift from Prof Edwards.
"I think that's a totally ridiculous argument.
"If that's an economic benefit; well I'd prefer to focus on the health issues to be honest.
"That would be like saying there's no health economic benefits from treating anyone aged over 65, so we should just let them die.
"In economic terms that might make sense but in human terms and social justice terms and what we are about as a society, I don't think anyone would sign up to that.
"The argument that somehow cigarettes killing people off early is a good thing and has economic benefits, I think is a fairly perverse one."
Prof Edwards accepts some individuals will choose to continue smoking but "contented smokers" were in the minority.
"About 90% of smokers say they regret starting."
"What we are particularly interested in is preventing the next generation from being in the same position where they are addicted to tobacco and regret starting, and of course, unfortunately, may well end up having their lives shortened as a result.
"So I guess that's our main focus; trying to create an environment which really discourages smoking, which supports in every possible way those who want to quit and hopefully stamps out smoking altogether."
---
ASPIRE
The leading members of Aspire 2025, which is searching for ways to end smoking in New Zealand by 2025, are:
• Director, Prof Richard Edwards (Dept of Public Health, University of Otago, Wellington)
• Prof Julian Crane (Dept of Medicine, University of Otago, Wellington)
• Prof Chris Cunningham (Massey University)
• Dr Heather Gifford (Whakauae Research)
• Prof Janet Hoek (Dept of Marketing, University of Otago, Dunedin)
• Prof Rob McGee (Cancer Society Social and Behavioural Research Unit, University of Otago, Dunedin)
• Dr George Thomson (Dept of Public Health, University of Otago, Wellington)
---
BUTT OUT
A 2007 study by University of Otago researchers found smokers in poorer areas smoked more of their cigarettes than smokers in wealthier areas.
Researchers collected 3509 discarded cigarette butts from Wellington suburbs and found the butts were "significantly shorter" in the most economically deprived areas. This suggested cigarettes were more intensively smoked in poorer areas as one response to higher cigarette prices.
The researchers considered more intensive smoking brought on by higher prices could exacerbate health inequalities in the more deprived socioeconomic areas of New Zealand.
Source: Nicotine and Tobacco Research.
---