Make sure you know the origins of Aboriginal art for sale in the Northern Territory, Pam Jones advises, as she explores some of the galleries that provide ethically-sourced artworks.
They had friendly, capable faces, and showed the solution to a problem facing the Australian art world.
How does a nation stop the continuing fraud of Aboriginal art, where knock-off pieces sold in tourist shops have often been mass produced in Asia, without the artists' consent?
A group of ethically-motivated galleries in the Northern Territory points towards the answer, selling only artworks that are authenticated and have information about the artist attached.
All original artworks at Mbantua Gallery, in Darwin, are accompanied by biographies of the artists who produced the art on sale, and receive commissions on works sold.
The women who had made the small one-off, unframed canvas paintings on show had old-fashioned names and I suspected old-fashioned ethics. Dorothy Jones, Freda Price and Eileen Bird no doubt encouraged hard work and integrity, and frowned on theft and dishonesty.
Their dotted artworks were typical of those snapped up by tourists during trips to Australia, but those tourists often do not know where the art has come from.
Gabrielle Sullivan, chief executive of Indigenous Art Code, which maintains standards for dealings between dealers of indigenous art and artists, told ABC news after she investigated art shops over a period of six months two years ago that 80% of the shops and galleries she visited were selling things that were not authentic.
But the movement to ensure authenticity of artworks is growing, backed by calls from artists and their advocates who want government action to clamp down on the problem.
While in Darwin we were directed to a group of other galleries who also had strong values, providing artist profiles with all artworks and ensuring not only the authenticity of the art, but also income for artists.
Provenance Arts staff, management and artists are passionate about the issue and proud of the gallery's structure and mission.
One hundred percent owned and governed by Injalak Arts, of the Kunwinjku people of western Arnhem Land, the gallery not only sells original artworks but is also a hub for activities and ventures such as in-gallery demonstrations and readings, having education as a key focus.
As well as paintings, the gallery sells weaving and fibre art, and also has a theatre-style room that screens films about Aboriginal culture.
Stakeholders remind there is "no one culture" for Aboriginal people, who have 450 different languages and also many different art styles.
Those different art styles are evident at Aboriginal Bush Traders, owned by the Ironbark Aboriginal Corporation, a not-for-profit Darwin-based organisation delivering community, employment and economic services to urban, regional and remote communities throughout the Darwin Daly Region.
The Aboriginal Bush Traders gallery and retail store, based in the historic Lyons Cottage, along Darwin's esplanade, also operates a cafe with indigenous foods.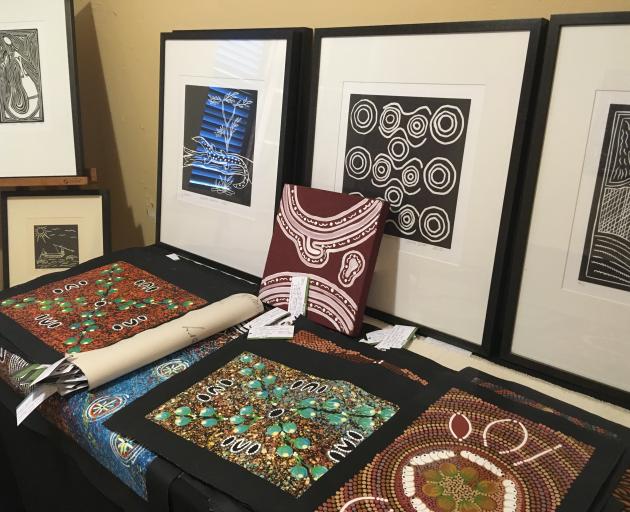 Its artworks included the dotted and lined pieces most familiar as Aboriginal art, but also different styles, such as tie-dyed fabrics turned into cushion and duvet covers. As with most artists, Aboriginal artists enjoyed experimenting with different styles of art, staff there said.
We eventually found didjeridus as well, at the Aboriginal Fine Arts Gallery, in Darwin's CBD.
It had an impressive line-up, alongside other traditional and contemporary Aboriginal art and craft. There were small and large paintings, works on bark, hand-woven baskets and carvings from Arnhem Land and the central and western desert regions. A range of CDs and informative books are also available.
Out of Darwin's town centre, at the Mindil Beach Sunset Markets, there is more Aboriginal art for sale. Some is clearly ethically-sourced: items from Injalak Arts, for example.
But market management have had problems with some stallholders selling knock-off art, mass produced in places such as China, Indonesia and India.
It's hard to police every tea towel and coaster sold at the market - especially from long-time stallholders who don't have to follow new rules that mean only handmade goods can be sold.
Many are waiting for the Government to come up with the solution. Earlier this year the Coalition Government commissioned a report aimed at halting the trade of fraudulent Aboriginal art and protecting the intellectual copyright of indigenous Australian artists.
But little appears to have changed.
So art-loving customers should take responsibility for ensuring the art they buy is authentic. Don't just think twice before you buy Aboriginal art, actively ask where the art has come from and who produced it; question its origins and authenticity to make sure the artist is being treated respectfully. Make sure you are one of those helping protect the Aboriginal art culture, not exploiting it.
A footnote to our trip, but one of significance, was a trip to the Museum and Art Gallery of the Northern Territory, at Bullocky Point, near the Mindil Markets, overlooking the beach.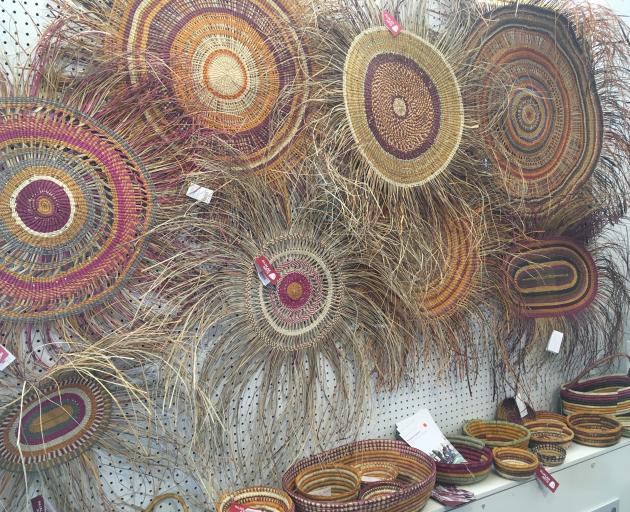 The museum/gallery - which has more than 400,000 natural science specimens and 21,000 history and culture objects and artworks - had a major focus on collecting items from Aboriginal art and culture from the outset.
A programme of ever-changing internally-developed and visiting exhibitions is held at the gallery and we were lucky enough to catch an exhibition of some of the entries in the annual Telstra National Aboriginal & Torres Strait Islander Art Awards, the most significant awards of their kind in Australia, and featuring exceptional art from a variety of media.
Elsewhere in the museum we looked through a timeline of European influence over Aboriginal people in the Northern Territory.
It could only be described as harrowing. The Commonwealth's influence included a 1911 law that meant Aboriginal or "half-caste" people could be taken into government custody for their own "protection", or removed from a prohibited area.
The displacement wrecked families and communities for generations, and is a shame that the Australian Government should still be seeking to redress.
Remember this injustice when you are buying indigenous art. Don't be a party to more wrongdoing. Invest in art wisely and contribute to the wellbeing and prosperity of Aboriginal artists.
Where to go
Provenance Arts, 55 Stuart Highway, Darwin, www.provenancearts.com.au
Aboriginal Bush Traders, 74 The Esplanade, Darwin, www.aboriginalbushtraders.com
Mbantua Gallery, 30 Smith St Mall, Darwin, www.mbantua.com.au
Aboriginal Fine Arts Gallery, corner Mitchell and Knuckey Sts, Darwin, www.aaia.com.au
Museum and Art Gallery of the Northern Territory, 19 Conacher St, www.magnt.net.au
Pam Jones travelled with the assistance of Tourism NT.