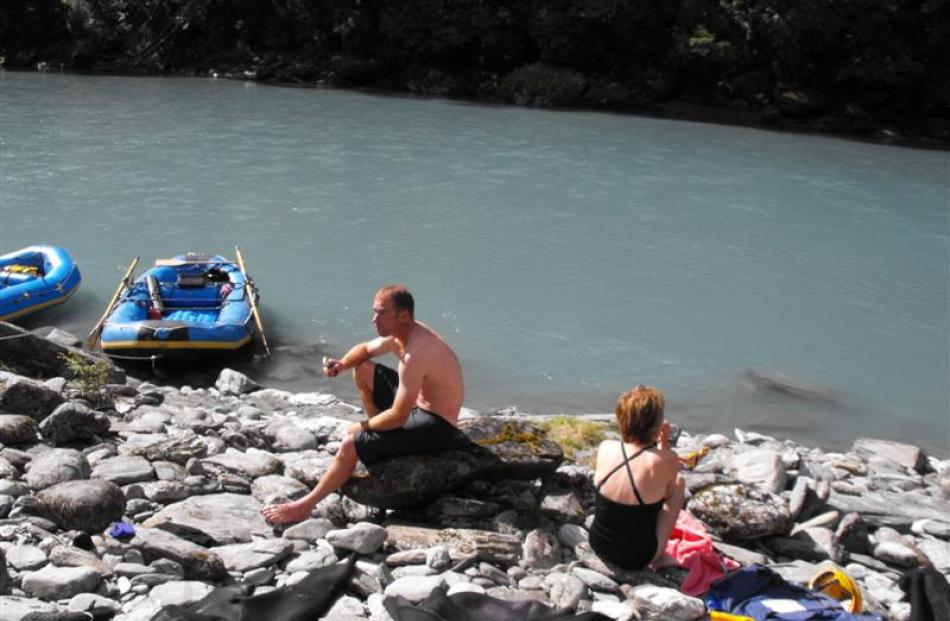 Whitewater rafting can be quite the glamorous adventure, writes Otago Daily Times Queenstown reporter Olivia Caldwell.
Glamping, it's camping for the 21st century, those first two consonants coming courtesy of a little more glamour than the traditional guy-ropes and mosquitoes variety.
I am now an inductee, having sampled the delights of staying in a glamp while rafting down the West Coast's Landsborough River, a trip organised by Queenstown Rafting.
Not only was it the first time I had glamped, it was also the first time I had dipped my toes into the world of whitewater rafting.
Both experiences turned up trumps.
This reporter was given one day's notice that she would be spending two nights and three days with seven strangers, the only instruction "bring a sleeping bag, warm clothing and a pillow".
As it turned out, I was the only townie to bring a pillow and quickly became a target for the taunts of others in the group - every trip has one.
There were five of us on this particular journey; me, Jill, Tony, Brenda and Sian as well as three rafting guides - Roger Leigh, Bob Vranich and Steve Bramfitt - who together brought more than 15 years' experience, earned both in New Zealand and overseas.
The adventure began conventionally enough, with a bus trip to Burkes Flat, but the fun took off, vertically, after that.
Our next mode of transport was a helicopter.
The flight down the Landsborough River to the starting point for the rafting trip only lasted for 20 minutes, but proved a highlight.
The hectares of untouched bush rushing backwards beneath our feet heightened the sense that we were heading somewhere special and in for a bit of a treat over the next 72 hours.
After landing and unpacking our gear, we were taken on a bushwalk upstream. As we walked, the valleys opened before us and the sun crept through on an otherwise typically wet West Coast day.
We were told this spot was used often by deer hunters, many of whom would stay at the same glamping site we were occupying.
We arrived back to a platter of prawns and mini spring rolls, followed by a hearty chicken stirfry and a naughty chocolate pudding, prepared by Bob and Steve.
Then there was a wine or a beer and a warm campfire, around which talk returned again and again to the girl who brought a pillow to the West Coast. All very amusing I'm sure, but she who sleeps best laughs longest and the cushioned repose I enjoyed that night certainly stood me in good stead for a day of rafting whitewater rapids.
There were three tents between the five guests and with a couple on the trip it was three of us women left to draw straws to share.
I, of course, drew the shortest straw, but it worked out for the better as my tent-mate was more prepared than I and had brought along a torch that came in handy for the midnight walk to the loo.
The next morning, after either a cooked breakfast of bacon and scrambled eggs or home-made muesli with yoghurt and fruit, we donned our wetsuits - supplied by our guides - and were briefed on water safety, including what to do in the case of a journalist being pushed overboard.
Then we were off.
Rafting is not a physically taxing pursuit. The river's current does most of the work, making for a lazy, relaxing idyll, in which travel occurs as a natural function of the environment. The landscape slips past gently, while twists and turns in the river reveal themselves coyly, one after the next.
It is all rather soothing.
That's until you hit the grade-four rapids.
Keep in mind that the grading for rapids only goes up to six, and that a four typically involves "high, powerful, irregular waves, broken water, boiling eddies and dangerous exposed rocks".
The rapids lasted only 30 seconds at the most, but it felt like an eternity as we lurched between rocks standing metres out of the water as if to warn us to keep to our pathway.
Cue screams and giggles in equal measure. By the time we shot out the other end there were wet faces and broad smiles, and still the right number of people on board.
A lunch of giant sandwiches, fruit and chocolate came next, followed by a short walk to an old cabin, then on to the second campsite, arriving well before dark. This was my favourite point of the trip for two reasons.
Firstly, Kiwi Discovery and Queenstown Rafting owner Vance Boyd arrived by helicopter with hokey pokey ice creams for all of us to enjoy on the riverbank.
If there was any confusion at this point over whether I was camping or glamping, this delivery cleared it up.
Secondly, it was at this point I was able to have some time to myself and take in what a privilege it was to be in such a remote and beautiful spot.
While the boys cooked our lamb, I spent an hour in the sun thinking about absolutely nothing. What a treat that was - something those of us on the trip agreed we hadn't done in years.
I haven't been able to repeat the exercise since, so for me it was the trip's most memorable moment.
I've also never enjoyed a hot cup of coffee more and it didn't matter that it hadn't been served by a Queenstown barista, it was warm, comforting and had caffeine - thanks Bob.
Day three, to give it its due, delivered high points, too.
During the four-hour raft downstream we stopped off at a "secret spot", where we shot uphill to a remote waterfall.
It took some skill and athleticism to climb and abseil through, up and around the rocks, but it allowed us all to climb underneath the sizeable waterfall - another first, not only for me but the four others too.
After lunch we glided home to the waiting bus and after a small mishap - breaking the bus ignition key in the door - we were ready for home. It seemed as though our trip had somehow compressed a week's worth of wilderness adventuring into three days.
On the bus ride home I asked others in the the group how they found the trip. The general consensus was that it had been "a refreshing escape from urban life", "a good variety of experiences", not to mention "fantastic whitewater wilderness with a touch of pampering".
---
The Options
Options for whitewater rafting with Queenstown Rafting. -
Shotover River: $195 per person, 4-5 hours, grade 3-5
Kawarau river: $195 per person, 4.5 hours, grade 2-3
Landsborough: $1495 per person, 3 days and 2 nights, grade 3-4
---