With Central Otago only two hours up the road, why not escape the growing spring "to do" list for a weekend enjoying what is on our doorstep, suggests Rebecca Fox. 
The beauty of escaping for a weekend with no purpose other than to relax, is that you often discover new things to do and see.
Instead of keeping to a schedule, you can meander around taking your time. Central Otago in spring is the perfect place for this.
For the past three years, the local council has run its "Eat. Taste. Central" promotion in spring, encouraging restaurants, pubs, cellar doors and cafes to design dishes featuring the region's produce and flavours, matched with local wines and beers in five categories - tapas and shared plates, pies, burgers and sandwiches, main meals, sweets and deserts.
This means a ready-made menu of delightful food with an extra dash of Central flavour and history can be found along any route in the district from Waipiata to Cromwell.
For a foodie, this is just too hard to resist. So on a Friday afternoon, we set off for Clyde.
On arrival, we checked in to Olivers Lodge. Lovingly restored by David and Andrea Ritchie, there are still the pull-cord lights and heritage features throughout, including wonderful claw-foot tubs in the modern bathrooms.
It is only a two-minute walk out the front door to its sister business, the Victoria Store Brewery, for a glass of rose in its outdoor area, where you can enjoy the late sun.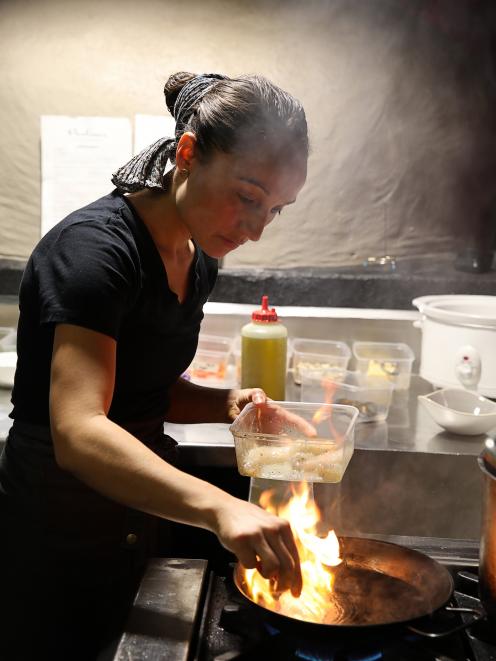 Then another few steps and you are in Olivers restaurant, which, along with its usual menu, has entered Eat. Taste. Central's main and desert challenges. For his beef striploin, chef James Waite marries beef short rib with a butternut risotto, using Roxburgh pumpkin; and features heritage apples from Jackson's Orchard in an apple and tamarillo tart.
The next morning we were treated to Andrea Ritchie's speciality for breakfast - baked eggs and ham along with home-baked bread - before wandering around Clyde's shops and galleries admiring the work of artists and craftsmen.
This year's theme for Eat. Taste. Central is heritage so we were keen to discover the intriguing story behind the entries of Alexandra's The Courthouse Cafe in the burger and sandwich, main and sweet challenges.
Owner Rebecca Farrell has called on her family's history in the Nevis for inspiration for her dishes. Her father, Lex McLean, was brought up in the Nevis by his gold-mining family so she called on him to be the "poster-boy" for their dishes; a gooseberry pie, a brisket burger and their mushroom and beef dish "panning the Nevis Valley".
"From the beef that are farmed to the mushrooms that we gathered as children and the gooseberries that we watched dad pick, these are the heroes of our dishes."
They also took the opportunity to dust off the family photo albums and pull out some of their favourite images of her grandmother and grandfather, as well as her father, in the Nevis to be blown up and framed. They now line the walls of the cafe.
At the Black Rabbit, in Bannockburn, they looked to the area's history with rabbits - many of which were seen on this journey - in the creation of their lunch dish of slow-cooked rabbit and shitake mushrooms in pie with creamy mash, and their wild venison-rack main.
The old town at Cromwell provided some tasty options for dinner with Armando's Kitchen showcasing local lamb, while newcomer to the area, The Office, is doing a cracker chocolate mousse using Wanaka beer Super Jam Stout with a chocolate coconut ice cream. To cut through the richness the accompanying roasted blueberry, basil and coconut Margarita did the job. They have entered all the challenges.
That night we stayed at Aurum Vineyard's loft. Tucked away off the Cromwell-Luggate Road, it is a quirky, cosy studio-style space above garages with a log burner to ward off the spring chill.
We also stopped in to see the French Potter Yannick Fourbet's new endeavour, still a work in progress, at his purpose-built workshop along at Cromwell winery Domain Rewa. He showed us around his workshop, including his new kiln, and described his grand plans for large pots.
Since we were close, it also made sense to stop in at Hoglund Art Glass studio where glass artists Ola Hoglund and Marie Simberg-Hoglund showcase their colourful and diverse work.
The next morning we discovered another cafe that has delved into the region's past for inspiration, Fusee Rouge, in Cromwell. Alongside its entries - the gold cake and hunter's gold venison and damper - it provides handy cards outlining the stories that inspired them; such as the "cake" of gold mining companies made to celebrate Christmas or the damper miners ate as a staple.
After a walk, we were ready for lunch in Clyde, at Paulina's, and chose a table out in the courtyard in the sun for our meal of slow-cooked lamb shank and their honey, thyme and goat's milk panna cotta, matched with a Horizon's pinot noir.
It was one of those perfect afternoons where you wondered if you really had to go home.
Check list
Eat Taste Central runs until October 28
Places to visit: Folklore Store, Eade Gallery, Hoglund Art Gallery, Cromwell Museum, Clyde Cinema, French Potter (by appointment).
Places to stay: Olivers Lodge (www.oliverscentralotago.co.nz), Aurum Vineyard Stay (www.aurumwines.com).
Rebecca was hosted by Tourism Central Otago and Eat. Taste. Central