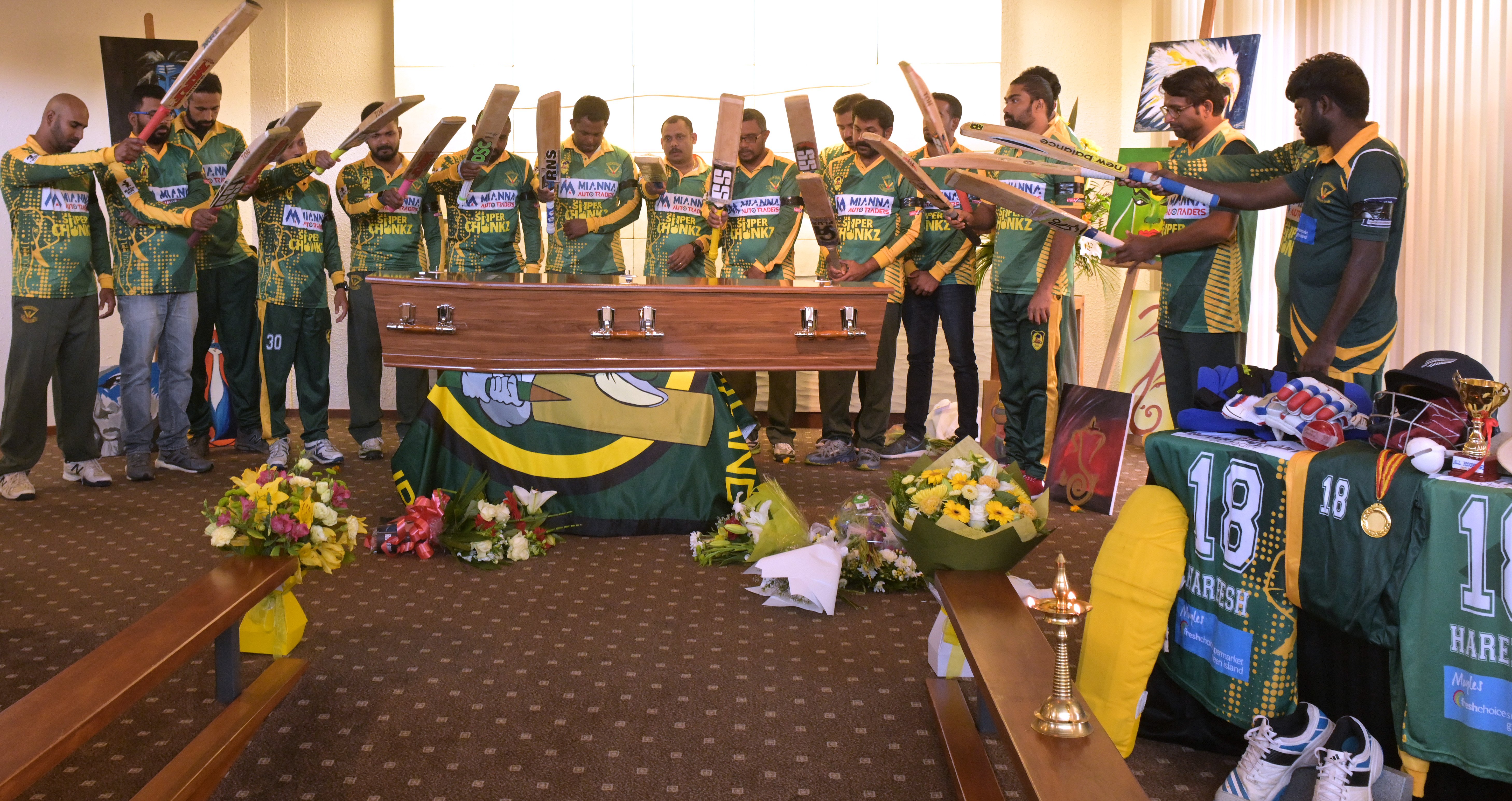 At 1pm on a Saturday, Hareesh Gangadharan would normally have been with his "brothers" - the Green Island Super Chunkz cricket team.
He was with them again this Saturday, but the founder of the team was not making a 50, taking three for, or offering advice and support to his mates.
Instead, the team was paying tribute to him, after Mr Hareesh  (33) collapsed and died in the middle of  a game at Sunnyvale.
On Saturday, his favourite bat, which he wielded to good effect in scoring 38 not out on the day of his death the previous Saturday, leaned against his casket, the name of daughter Gowri (3) taped to it.
Unsurprisingly for the celebration of the life of a cricket-mad man, there were sporting metaphors aplenty - was a fitting one for a man who was described by all as friendly, enthusiastic and passionate.
"The thing about journeys is that they must one day end," Mr Hareesh's wife Nisha wrote.
"My Hareesh's trip on earth has ended but his grand voyage will continue."
Super Chunkz captain Binu Antony paid an emotional tribute to his friend, who he said had three hopes for the side before last Saturday's game - to score more than 250, to bat their 50 overs, and for someone to score a century.
All three were achieved, but at the end of his second over Mr Hareesh succumbed to what was believed to be a medical event.
"I want to thank him for the opportunities that he gave to me ... he gave his team to me to captain, the team he founded.
"He was generous, and he would share anything - he always got along with everyone in the dressing room, a genuinely nice man."

Mr Hareesh, who had a degree in computer science, worked for Allied Press for five years, and had intended to resume his university studies this year.
Allied Press operations manager Raja Chakrabarti said he himself had not worked for the company for long, but the welcome the reel hand gave him when he visited the night shift team he worked with was memorable.
"He was delighted to see me, and he spoke about how he came to New Zealand ... when I heard the news it was a devastating blow."
Otago Cricket operations manager Tim O'Sullivan and Green Island Cricket Club president John Moyle both paid tribute to Mr Hareesh, as did nurses from Dunedin Hospital, where Mrs Hareesh worked.
According to Hindu custom, Mr Hareesh, a Malayali from the southern Indian state of Kerala, must be repatriated and buried, rather than cremated, as his father is still alive.
The service was told his Indian family was awaiting him, and his New Zealand family would soon leave to return him to Kerala, thanks to the generosity of the community.