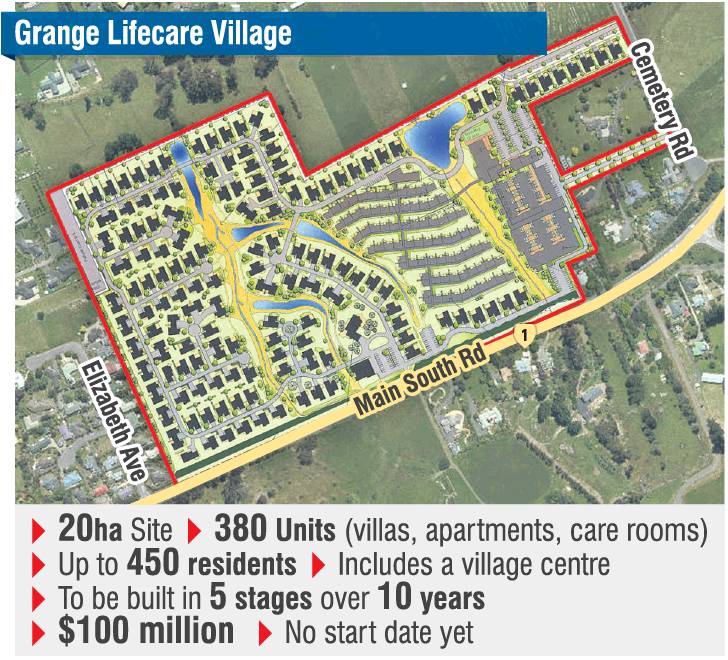 Plans for a $100 million retirement village in Mosgiel have been approved.
The Dunedin City Council has granted a resource consent for a 380-unit village, a mix of villas, apartments and aged-care rooms, on a 20ha site next to Main South Rd.
It could eventually hold up to 450 residents and provide three levels of care under the continuum of care model.
It will also include facilities such as a bowling green, gymnasium, library, club house, theatre, crafts area and a kitchen.
A village centre and administration buildings will be built and private services such as a hairdresser for residents and staff will be available on site.
Grange Lifecare Village director Geoff McPhail said the complexities of the large site meant the process had taken longer than anticipated. He was pleased consent had been granted.
Mr McPhail and Terry Pratley are developing the village, which also originally involved former All Black Ian Hurst and his brother, Douglas, of Oamaru, who had left the project.
There was no start date for construction as there were still conditions of the consent which needed to be worked through, Mr McPhail he said.
Final detailed design work on infrastructure such as roading and stormwater management still needed to be completed.
Stormwater would be controlled on site by two existing drains, which will be widened, as well as two new ponds.
''We're working as quickly as we can to get all of that ready to go and get building.''
Where possible, local businesses and contractors would be used.
Development was planned for five stages over 10 years.
It was too early to know if other major building projects in Dunedin and the surrounding area, such as the hospital rebuild, would affect the development, Mr McPhail said.
''Until we go out for contract we don't know, but because we're building over a period of years we're confident we'll get a good team together to do the development and stick with them.''
Mr McPhail has been involved in the development of six other retirement facilities and was part-way though developing another similar sized retirement village in Cambridge.
''It's another 23ha block and we've been working on that for about five years and that's up and running now so the size doesn't bother us.''
Mosgiel-Taieri Community Board chairwoman Sarah Davie-Nitis said the project was good news for Mosgiel's economy and tradespeople.
It was still important the council continued to invest in infrastructure in the area so more residential development could go ahead, she said.
Other aged-care facilities in Mosgiel, include Chatsford, Brooklands Village, Birchleigh Residential Care Centre and Taieri Court.