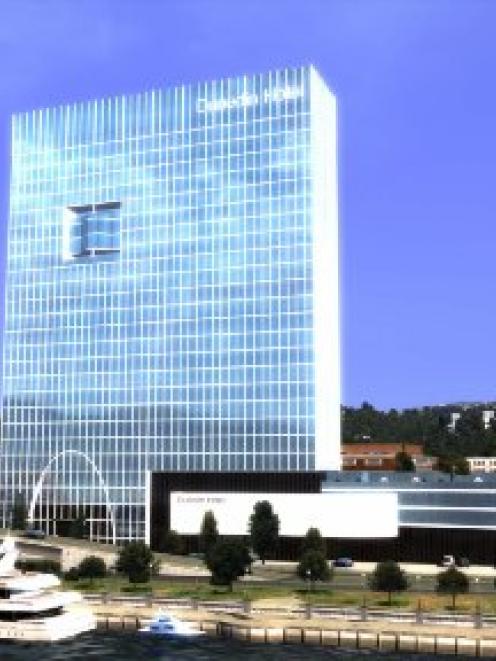 Plans for a $100 million waterfront hotel have taken a step forward with the Dunedin City Council and developers signing a memorandum of understanding, it has been announced this morning.
If solutions to "connectivity issues" can be reached the project will go to a new urban design panel.
After that there would be provision for a plan change which would allow the hotel to proceed. 
The DCC said in a statement the agreement establishes "a framework and a process to address issues" after Betterways' application to build a 27-storey, five-star hotel at 41 Wharf Street was declined resource consent in June last year.
Dunedin mayor Dave Cull said since then the council had worked with the developer  "to find whether a hotel can be constructed on this site that both realises Betterways' investment ambitions and benefits the city."
A key focus has been "connectivity issues" around pedestrian access to and from the hotel and its impact on traffic on the waterfront. 
If a solution to this can be found, the DCC will set up an urban design panel "to provide independent design review and subsequent advice".
"Urban design panels are widely used in other centres. We're really delighted to have an opportunity to use this successful formula here in Dunedin, and on such an important project for the city," Mr Cull says.
Once the design panel and DCC staff members were satisfied the new hotel proposal had resolved the issues, the DCC would initiate a District Plan Change process to change the zoning of the Wharf Street site from industrial so a panel-approved design could be built on the site.
Any development proposal would still be subject to the Resource Management Act.
One of Betterways' owners, Jing Song, said: "After a very challenging two years, we are delighted that the Council has shown a commitment to our investment in this beautiful city.
"We know our hotel plans are exciting for Dunedin and we are very pleased to have established a framework to deliver a hotel that meets the desires of the local community."
The council agreed to sign the MoU during the non-public part of its meeting on February 24.
Betterways will make a decision about whether to pursue its appeal when the process agreed through the MoU has advanced enough to show that the proposal will be supported by the Council.