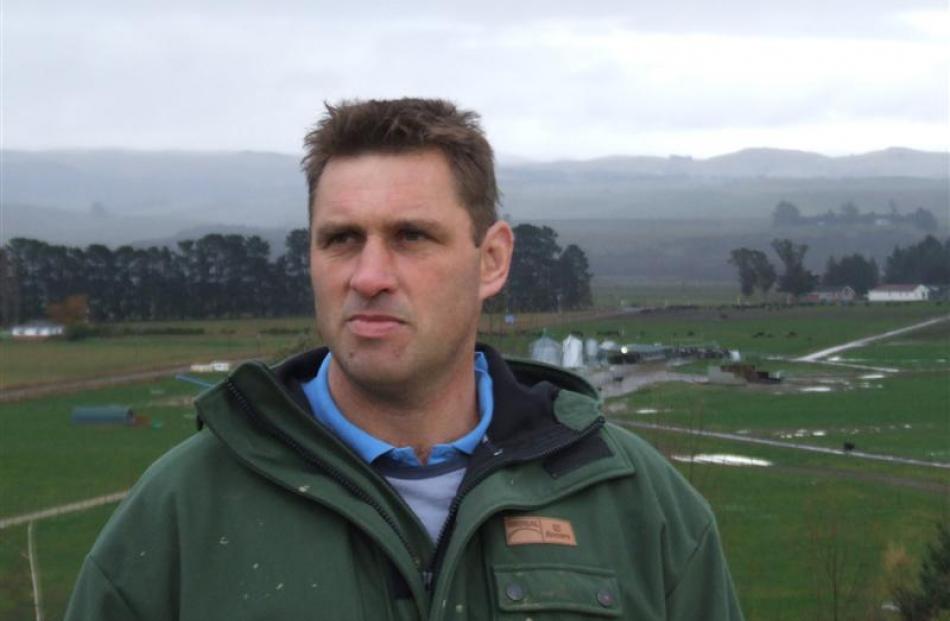 A frustrated North Otago farmer drove 120km on Monday to dump a load of excrement at the Otago Regional Council's doorstep in Dunedin. David Bruce talks to him about why he did it.
Five Forks dairy farmer Robert Borst says he is at a loss about where to go from here.
He says he faces losing everything he has worked for in an industry he has wanted to be in since he was 15.
He left school and started at the bottom in dairying, shifted from Taranaki to the Waitaki Plains in 1992 then, from 1997, he and wife Sylvia started to build up what are now three dairy farms at Five Forks.
Changes in a water plan by the Otago Regional Council setting new limits on discharges from his farms has put everything in jeopardy, he believes.
Frustration increased to such a level that on Monday he dumped a truck-load of excrement at the council's Dunedin office, walking away and leaving his truck in the access way.
''I suppose I'll have to find out where the truck is and go get it,'' he told the Otago Daily Times yesterday.
It was the culmination of about four years of worry and frustration over water plan changes being made by the council, which led to plan change 6A, he said.
In 2009, as an immediate past president of North Otago Federated Farmers, Mr Borst first expressed his fears.
They increased in 2012 when he warned his farms and their jobs, which supported 28 families, would go unless it was changed.
• When you talk with him now, it is obvious he is a man under extreme pressure, worried about his family's farming future. The problems he faces stemming from new discharge limits are numerous.
Just some are questions over the value of his properties because of the uncertainty that has increased the risk for his bank, leading to higher interest rates; the fall in dairy prices; a lack of capital to produce evidence to disprove discharge levels; money more difficult to find for capital investment to reduce discharges; lack of research on the links between discharge levels, the Kakanui aquifer and river; the council's impartiality in research on a water study; and goal posts being moved as computer programmes to monitor discharges are updated.
''We took that action [of dumping excrement at the council] out of sheer frustration. We are exhausted.
''We don't know where we go from here.''
His three farms are in the Kakanui sensitive area under the plan.
He says that has left him isolated and a lone voice.
He believes that was a computer error, that all farms on each side of the Kakanui River on the alluvial plains between Clifton Falls and the sea should have been included in the sensitive area.
Mr Borst says he is making changes, spending $120,000 to improve infrastructure (including an effluent system using irrigation to spread discharges over all his farms), reducing his stocking rate, reducing and lowering fertiliser applications and changing feed to lower nitrogen discharges.
Under the plan, he can apply for resource consent to exceed the limit, with conditions and a time target to achieve the lower limit, but that will take time and money.
That is what he has been discussing for about 12 months with the council, but feels he is getting nowhere, he says.
''I'm not proud of what I have done [the excrement dumping], but I've got to the stage that unless there is a resolution there is no future for dairying here. I don't know how long you can keep talking if you are getting nowhere.''
• The council wants to continue talking, chief executive Peter Bodeker says.
Mr Borst could apply for a resource consent to breach the limit if he believed he could not reach permissible levels immediately, he said.
That would include conditions covering reaching the permissible level and a time frame.
If it could be achieved in less than five years, the application would be non-notified (not open for public submissions) with necessary approvals from affected parties. If it was longer, it would be publicly notified for submissions.
The council wanted to keep the dialogue going - on Monday afternoon after the excrement was dumped Mr Bodeker contacted Mr Borst to invite him and Mrs Borst in for discussions, but the offer was declined, he says.
• North Otago Federated Farmers' president Richard Strowger said the organisation did not condone that it was ''a good idea to go and dump your frustrations and ... crap'' at the Otago Regional Council's office.
Looking at it from a human perspective, there must be some ''extreme frustrations'' to drive Mr Borst to do such a thing, Mr Strowger said.
''It would say to me there's an extreme amount of pressure going on, on the farmer's side, which has caused him to make the decision to do something he knows will have absolutely no effect in changing possibly what's going on between himself and the ORC,'' he said..
''Why do people do these things? I suppose he's hoping to get people to understand the frustrations, what it is to be a farmer. I don't know.''
When contacted, Mr Strowger had not spoken to Mr Borst but intended to call him.
''It's like he's hit a brick wall. These sort of things happen when you ... don't know where else to go,'' he said.
Mr Strowger was concerned whether farmers were doing anything now to make sure they met the requirements of 6A, ''or worry about it in eight years' time when the heat starts rolling on''.
Farmers were taking the matter seriously but the ORC had been living with the plan longer than farmers.
Farmers were still coming to grips with what was required on-farm to do to meet its requirements, he said.
If farmers did not have the answer as to how to meet the limits required, that was where the problem lay, and there was a ''stalemate'', he said.
- additional reporting Sally Rae