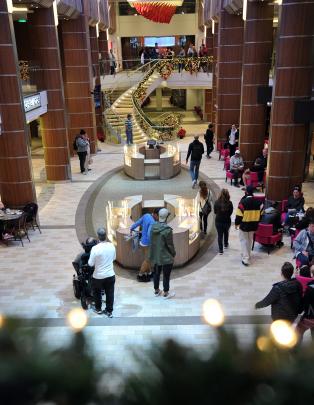 The streams of people disembarking from Ovation of the Seas at Port Chalmers became a torrent as a population not far short of Alexandra's made landfall.
They poured down the three gangways, and flowed towards the recently redeveloped sheds at the port where shuttles awaited.
It was, to be fair, cold.
And the passengers, 75% of them Australian, were quick to remark on conditions as they pulled their hoods over their heads, leaned into the wind and made for the shelter of the hulking buildings and wheezing buses.
The shock of nature was perhaps no surprise, because on board the largest cruise ship to nudge its bow into New Zealand waters, the environment is caressed and controlled into hotel-like conditions where comfort is king.
Under glass and gently tropical at the bow of Ovation of the Seas is the solarium. Children are not allowed.
Spa pools descend in steps towards the front of the ship, and palm trees - it is so hard to tell if they are real or not - wave gently above the passengers reclining on deck chairs.
The Sunshine Bar is open nearby. Towards the stern, not far from Jamie's, the Jamie Oliver-themed restaurant, is the robotic bar.
Beneath 144 bottles of spirits, two robots drinkers could only imagine in their most fevered dreams mix and match and make any variety of drink one could imagine.
For passing media, they robotically develop a martini - we choose shaken, not stirred, for quite obvious reasons - set it on a small conveyer, and deliver.
The robots are not only good bar-folk because they perform a small dance in quiet periods (they really do), but because they make wickedly strong drinks, even before noon.
The spirits make the more exceptional aspects of the ship no less exceptional.
There are indoor basketball courts where one can indulge in circus school or ride bumper cars, there is a rock climbing wall and a FlowRider static surf simulator, there is an enormous wind machine that allows you to simulate sky diving, there are strange art works and crystals and mirror-lined restaurant entrances where everything glitters and the stairs are lit dramatically from underneath.
At the stern of the ship, of an evening, acrobats descend from the roof.
For this is the modern cruise experience, where all that glitters is kept safe from the cold.