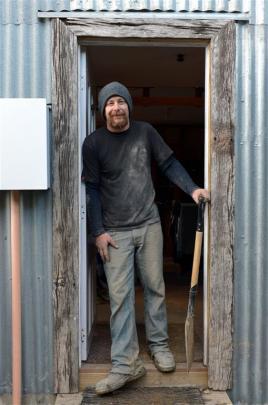 Dunedin carpenter Andy Armstrong took all the right precautions when removing asbestos from his Warrington home.
But he believes there is "not nearly enough'' public awareness of the dangers faced by other homeowners when handling the toxic material.
Mr Armstrong told the Otago Daily Times he purchased his View St home last year, and began removing exterior cladding containing asbestos soon after.
• Keen renovators at risk of disease (+ video) 
His day-to-day work in the building industry meant he knew what to look for, and to treat it with care. He wore overalls and an appropriate respirator, put up plastic sheeting inside the house to stop dust sneaking in, and kept the work area wet as he worked.
"I made sure there was no-one here. I let me neighbours know that I was going to be removing some, waited for a dead calm day, had the father-in-law on the hose, just wetting it down, and removed all the nail heads.
"You don't cut it or grind it, because you're releasing [fibres] into the air then, turning it into dust. Then I just tried to get it off the walls in as big pieces as I could.''
The sheets of cladding were then double-wrapped in black polythene, taped up and taken to the asbestos dumping site at the Dunedin City Council's Green Island landfill.
Mr Armstong said he had a strong incentive to make sure the work was dust-free: "I've got kids now so I don't really want to get too much of a lung-full of the crap. We had to do a pretty spotless clean-up job afterwards, outside and in.''
Despite that, public awareness of the dangers of asbestos in the home was still too low, both among homeowners and some tradesmen, he believed.
"There should be ad campaigns and all sorts, because reno is becoming more and more prevalent in this day and age.
"People are trying to make a buck by turning a house over and making it look pretty, and no-one's really got any idea what asbestos looks like.
"There's no identification, there's nothing there, especially for home handymen, so it's a bit of a bloody worry, really.
"It's scary as hell.''