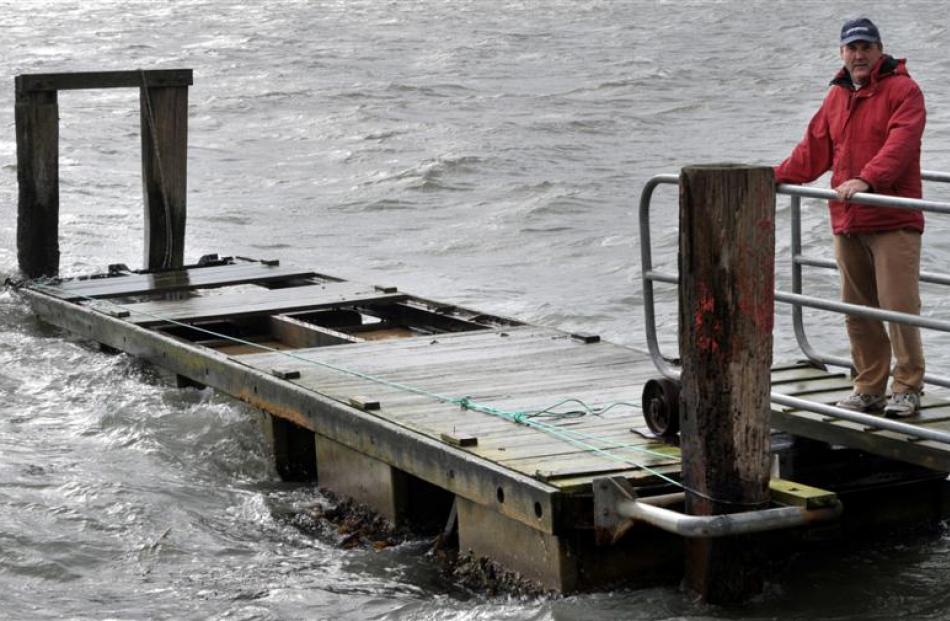 Macandrew Bay's floating pontoon is out of action after last week's strong winds damaged it beyond repair.
The 12.5m-long steel and wood pontoon at the Macandrew Bay Boating Club is to be removed and dismantled next week.
Club commodore Tony Martinowski said several days of strong winds and increased wave action caused the pontoon, which was well used by the whole community, to break up.
''All sorts of people use the pontoon, from recreational boaties and fishermen to children who spend endless hours jumping off into the water during summer. It will be sorely missed by a lot of people.''
Club secretary Mark Edwards said the pontoon was built in 1982 by club members with joint funding from the club and the Dunedin City Council.
It floats on hollow concrete floats filled with foam. It was upgraded in 2000 with the same mix of funding.
However, he doubted the council would be in a position to assist the club financially to any great extent this time and it was more likely the club would have to rely on private benefactors and the wider community.
The timing was particularly bad, as the club was raising $30,000 for a replacement rescue boat and had been applying for grants for that, so any funds for the pontoon would have to be found from other sources.
The club was still working out whether the pontoon could be saved or would have to be replaced, at a cost of $10,000 to $15,000.
The council had provided a small grant to help with lifting the pontoon out of the water, he said.
Once the pontoon was restored or replaced, the club was keen to see if the city council would take over ownership of it, he said.