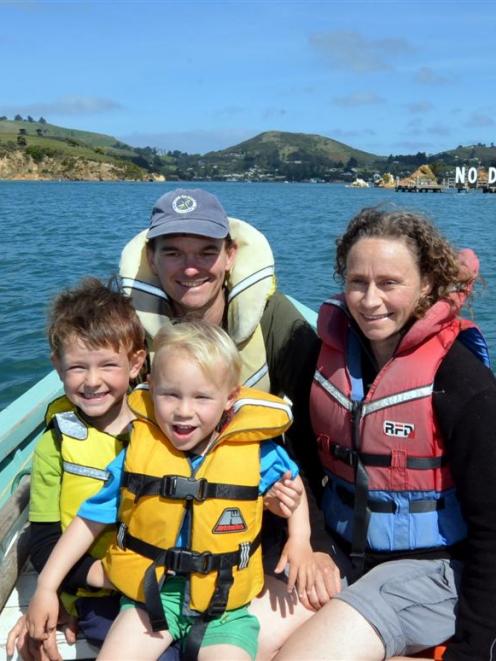 A Dunedin family living in the middle of Otago Harbour is lifting anchor.
Wayne Johnson and Anna Hughes emigrated to Quarantine Island with their sons, Eli (6) and Niwha (3), to take over as caretakers at the start of the year.
''We really wanted to have a family adventure that was a bit different and the island offered that,'' Mr Johnson (41) said yesterday.
''It's been an incredible adventure for us, as a family. We'll have lots of good memories.
''I've really enjoyed the tranquillity. The simplicity of life over there is so good.''
The 15ha island, which served as a quarantine station from 1863 to 1924, is managed as a public recreation reserve by the Department of Conservation and St Martin Island Community.
''It's been a big decision to leave. We thought we'd be there for two to five years.
"But, it's hard to have time for us. It's a very busy time over there.
"It's a classic hospitality job, really, and there's always a list of things to do a mile long. We're also quite social and it's not exactly the sort of place friends can just drop in on.''
They will return to their Tomahawk home on December 21.
''It's been a lot different to what we thought it would be,'' Ms Hughes, the Enviro-Schools regional co-ordinator, said.
''One of the things about the island is you can't do anything or go anywhere without getting on the boat. The boat was a novelty for the boys at first, but they would soon do anything not to get on the boat.
''It can also get pretty chilly over there. The extremes of weather, especially wind, would be the main feature, although there's always a calm side of the island,'' she said.
''The highlight has been being back in tune with nature. It's a beautiful place to be. There's so much wildlife around ...
''It's been amazing for the boys' relationship, too, as they've only had each other. It's also really developed their physical competence. But it's hard to get a babysitter with boat skills.''
Eli said he would miss swimming, visiting the island's cave and making mini-aquariums.
''I'll miss everything. It will be too crowded in town. It's never crowded on the island.''
''It's been funny having no neighbours and I've missed being in a physical community,'' Ms Hughes said.
''That's been a big part of the push to move back into town ...
''It's going to be nice to be able to pop next door for a cup of sugar again.''
St Martin Island Community Council chairwoman Jo Hunter said last night it was hoped a new caretaker would be appointed by the end of this month.