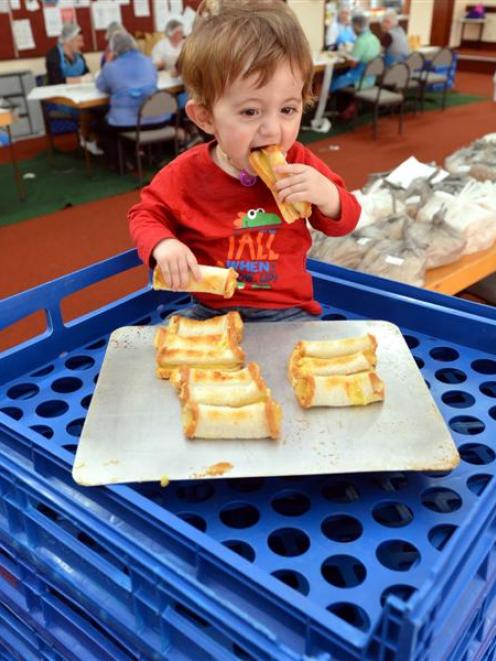 He might not be able to eat one, but Dunedin 15-month-old Brendan Forbes and his family know all too well the value of a good cheese roll.
Brendan got to taste a few cheese rolls in Mosgiel yesterday, as a team of 20 volunteers from Dunedin's Countdown stores mixed, spread, rolled and packed 6720 cheese rolls preordered by supermarket customers.
The cheese rolls are being sold to raise money for medical equipment for children's wards, as part of the annual Countdown' Kids Hospital Appeal.
Brendan was born with a severe case of laryngomalacia, a condition that means the airways are floppy and breathing is easily restricted.
His mother, Sera Forbes, an orthopaedic nurse, said her son spent his first two months in hospital and had since been in and out of Dunedin and Starship hospitals.
He had had major surgery twice - a tracheotomy and to insert a tube so he can feed through his stomach - and regularly got respiratory infections requiring hospital intervention.
Brendan was expected to grow out of the condition, but in the meantime the family's reliance on medical equipment was high and the availability of a range of good equipment was truly appreciated by affected families, Mrs Forbes said.
''It is always a struggle to get any funding for anything in a hospital, especially the paediatric unit.''
Debe McGarva, from Countdown in central Dunedin, said the team, who either took annual leave or came in on their day off, took about eight hours to turn 353 bags of sliced bread and 120kg of cheese, donated by Countdown suppliers, into 560 dozen cheese rolls.
Unlike many cases, the recipe for these fundraising rolls was no secret, cook Jonny Beyer, from Countdown South, said.
''Just lots of cheese, a packet of onion soup, throw in a bit of water and stir. Easy.''
More than $7 million has been raised by annual Countdown Kids Hospital Appeals across the country since 2007.