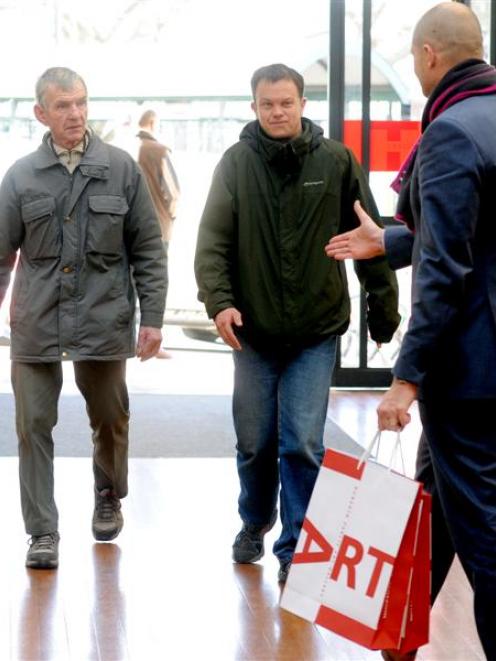 A change of art has led to a record year for the Dunedin Public Art Gallery.
The 250,000th visitor of the financial year strolled in at 11.25am yesterday, to be welcomed by a smiling gallery director, Cam McCracken.
Gordon McManus, who visited the gallery with Momona resident Magnus Fleming, said it was ''wonderful'' to be the 250,000th visitor.
''It's a great facility,'' he said.
It is the highest number of visitors since the gallery opened in 1884. The previous 12-month record, of 220,365 visitations, was set in 2011.
''We are delighted at the positive response the year's exhibitions and events have received. We were aware of a substantial influx of visitors, but to break the existing record by 30,000 before the year has even finished is a clear sign that our visitors like what we are offering them and is just great,'' Mr McCracken said yesterday. The jump in attendances coincided with the opening of the Playspace children's area in October and two popular interactive exhibitions.
''The interactive components in two of the exhibitions we have hosted over the past year have been a little out of the ordinary. Seung Yul Oh's 'Moa Moa' and 'Olafur Eliasson: The Cubic Structural Evolution Project' are two exhibitions that have included interactive elements. Both of these exhibitions have been extremely popular, with people coming time and time again to experience them.''
The result represented an increase of 50,000 (or 20%) more visitors on the same period, from July 1 to June 30, last year.
''Our visitor figures are collected from an electronic door counter that counts visitors as they enter the building. These figures are audited annually,'' Mr McCracken said.
''Unlike some other institutions, the Dunedin Public Art Gallery does not include visitors to the adjacent cafe in its visitor calculations, so this figure only reflects those people who came to experience the gallery.''
The most popular exhibitions included a collection of wedding dresses by Dunedin designer Tanya Carlson, ''Hotere Culbert'', photographer Gregory Crewdson's ''In a Lonely Place'' and ''Wonderwall: Works from the Collection''.
''There are different elements to each of these exhibitions that are going to appeal to different people,'' Mr McCracken said.
''Dunedin people are very proud of the gallery's collection and are very supportive of exhibitions, such as 'Wonderwall', that feature large numbers of works that have been drawn from it.''
The gallery now had an eye on extending the record before the end of the financial year, on June 30.
''It would be amazing to take the number up to 260,000 by the end of June. That would an extraordinary achievement,'' Mr McCracken said.
''But, we'd really need Dunedin people to get behind us to achieve it.''