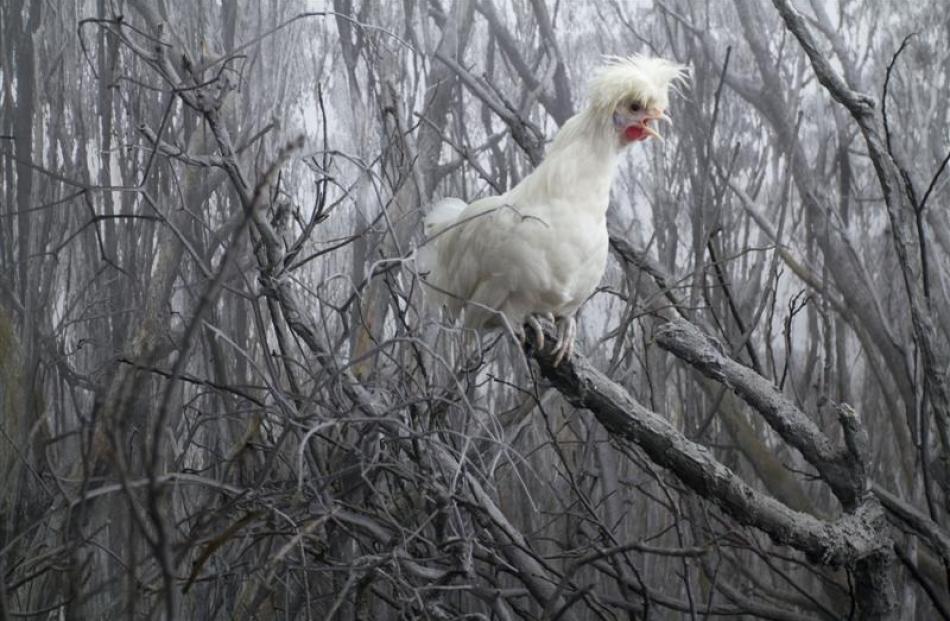 Many of today's concerns also worried people in the past, something artists need to be aware of, Dr Susan Ballard, co-curator of ''Among the Machines'', tells Charmian Smith.
Samuel Butler's novel Erewhon, set in a fantasy country where they banned machines because they might take over from humans, sounds as if it could have been written yesterday, Dr Susan Ballard says. With Aaron Kreisler, she is co-curating ''Among the Machines'', which opens at the Dunedin Public Art Gallery at the weekend.
Besides Butler's work, the exhibition was inspired by the notion of relationships of machines, technology, ecology and the South Island. Following ''Soundful'' last year, it is the second in a series of exhibitions collaborating with academics from outside the gallery, according to Kreisler, the gallery curator. These shows are intended to show audiences different artists' works and a range of ideas contemporary artists are interested in.
Butler lived in New Zealand from 1859-1864 and bought Mesopotamia Station in Canterbury. Erewhon (''Nowhere'' spelt backwards, almost) was published after he returned to England but was based on his time in New Zealand.
''The main character travels over mountains that are clearly the Southern Alps and when he gets to the other side, he finds this society in which all technology is banned, so when they find he has a watch he's put in jail. The reason they have banned technology is based on Butler's reading of Darwin, and they believed that the next stage in evolution would be handed over from humans to the machines, so to prevent the machines taking over, they banned them,'' Dr Ballard says.
She believes contemporary artists need to think historically.
''It's too easy to forget that the concerns of the world at the moment, in terms of ecology and climate, are concerns people had in the mid-19th century. We've forgotten industrialisation - although we could say it's all their fault, maybe,'' she says with a laugh.
Kreisler says many mainstream movies these days have some kind of apocalyptic vision of the future, usually involving machines or the unknown from deep space or something from another realm we can't quite figure out - the same concerns as 150 years ago.
''Also at a really simple level, as New Zealanders we are seeing our own landscape and our own sense of self replayed to us through cinema. We are a backdrop for feature films. When we are sitting in the cinema we are seeing the Southern Alps but other people are seeing Narnia or Lord of the Rings and other sublime landscapes. There's a repeat going on that fascinates us and also fascinates artists,'' he says.
Dr Ballard says: ''We came to the notion of this show together, thinking through the relationships of machines and technology and ecology from this place, from the South Island.''
Instead of seeing nature and technology as opposites, in the exhibition the two are thought of together and ''inflected'' in each other - looking into each other very closely, she says.
The co-curators started their discussions when Dr Ballard was at the Otago Polytechnic School of Art, but when she moved to the University of Woolongong a year and a-half ago, their discussions continued by email and Skype, and that is how they have communicated with the 13 Australian and New Zealand artists they have selected for the exhibition.
The curators chose artists and works that reflected these ideas, but also asked the artists to produce another work or a response to their asking about the work selected.
''The idea is that each artist is represented in some ways by two works, a work we thought fits with what we are thinking at the moment and a work they have thought fits. The idea that curatorial practice is a dialogue, not only between us as co-curators, but it's also a dialogue between us and the artists. The next dialogue that happens is with the audience. They come in and start having different kinds of relationships with these objects, these different experiences,'' Dr Ballard says.
They selected a work by Bronwyn Holloway-Smith called Pioneer City about creating the possible city for people who sign up for living on Mars. Rather than make a new work, she reworked the project, which now has four or five elements.
Daniel Crooks, an award-winning video artist who makes time-slice work, one of which is in the exhibition, always wanted to do a floor installation which would be a labyrinth, but was always asked for videos, according to Kreisler.
''It's a bit like being typecast. People believe that person should always repeat the process over and over again, which is a really fascinating thing because his work is about that - time repeating in different ways - so for him to make a new work that changes the way people see him as an artist is a fascinating opportunity for him.''
Aaron and Hannah Beehre's Toward Mt Terror, based on work they did in the Antarctic, is an interactive video that will respond to the viewer.
Another work, by Fiona Pardington, is a suite of sumptuous tightly-cropped photographs of women with moko that spells out ''erewhon'' on their chins, but the faces are upside down.
''There's an uncanniness about their eyes, so you are not sure if they are humans or replicas or ethereal beings. You are not sure if it's a moment of becoming or a moment of ending,'' Kreisler says. Pardington, Susan Norrie and Ronnie van Hout are senior artists whose work would not usually be exhibited among the other artists in this show.
''I think that's really important because it shifts understanding about their work, again a bit like making new work, it shifts understanding of where you locate her. That's a great thing about group shows,'' Kreisler says.
Like ''Soundful'', which will be shown in the City Gallery, Wellington, later this year, ''Among the Machines'' is planned to tour to other galleries.
---
See it
''Among the Machines'' is at the Dunedin Public Art Gallery from July 6 to November 3. On Saturday at 3pm there will be a panel discussion featuring contributing artists and the curators.
---